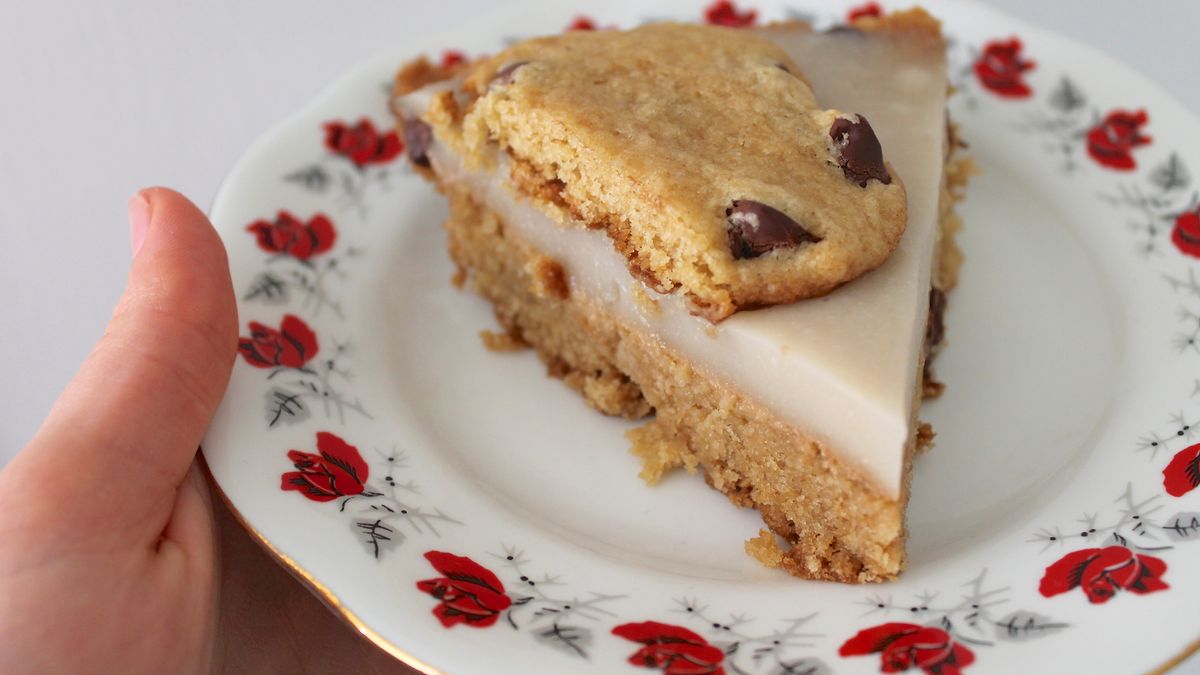 Food
Make This Vegan Dessert and Cure Your Sunday Scaries
It's care of a 19-year-old prodigy baker, but we promise you'll be able to make it too.
If we had the kind of clarity and drive that Clara Polito does at the age of 19, perhaps we, too, would have built a booming business. Probably not, but a girl can reconstruct the past as she pleases, right? Polito, however, not only has a full-on vegan bakery and business—called Clara Cakes—selling her goodies in Los Angeles, but she also just published a cookbook this week so that we can at least attempt to be a little bit more like her—or, rather, eat more like her. Which is where this delicious, easy, and Sunday-scaries-vanquishing recipe comes in.
---
Cookies 'n' Milk Pie
When I eat chocolate chip cookies fresh outta the oven, I drop the cookie in a huge mug of soymilk and let it soak, then proceed. I like my milk with some cookies. This pie is perfect for someone like me. You still get plenty of the chocolate chip cookie goodness, while the milk part is already done for you. I originally served this at L.A. Vegan Beer Fest as a secret menu item, and it was literally sold out in seconds. Make this and sell it out yourself by eating it all.
INGREDIENTS:
Chocolate Chip Cookie Crust
1 ¾ cups all-purpose flour
½ cup sugar
½ cup brown sugar
½ cup Earth Balance (melted)
¼ cup applesauce
1 tbsp vanilla
½ tsp baking soda
½ tsp salt
½ cup chocolate chips
Milk Pudding
1 cup canned coconut milk
½ cup soymilk
⅓ cup sugar
2 tbsp + 1 tsp cornstarch
⅛ tsp salt
1 tsp earth balance
1 tsp vanilla extract
DIRECTIONS:
1. In an electric mixer, beat the butter with the sugars for three minutes.
2. While the butter and sugars are mixing, combine the flour, baking soda, and salt in a separate bowl.
3. Once the butter and sugars are light and fluffy, add in applesauce and vanilla extract. Beat until combined.
4. Add the flour, baking soda, and salt mixture to the wet mixture. Mix until combined. Gently fold in chocolate chips.
5. Reserve ½ cup of cookie dough and set aside. Press the remaining cookie dough onto pie tin, evenly. Place in freezer for about an hour.
6. Bake cookie dough crust at 350 degrees for about 15 minutes, or until golden. Place on cooling rack.
7. Line a baking sheet with parchment paper and shape about four 2-inch cookie dough balls out of the cookie dough that was set aside. Bake at 350 degrees until cookies are golden, about six minutes.
8. Remove cookies from oven and place on a cooling rack.
While the pie crust and cookies are cooling, prepare the pudding:
1. In a medium saucepan, whisk the sugar, cornstarch, and salt together.
2. Stir in the coconut and soymilk on medium heat for about 6 minutes, whisking constantly. Once it's thickened and reached a pudding consistency, remove from heat and add vegan butter and vanilla extract.
3. Pour milk pudding into the cookie crust. Place four cookies around the edges of the pie and one in the center. Refrigerate for a few hours or overnight before serving.