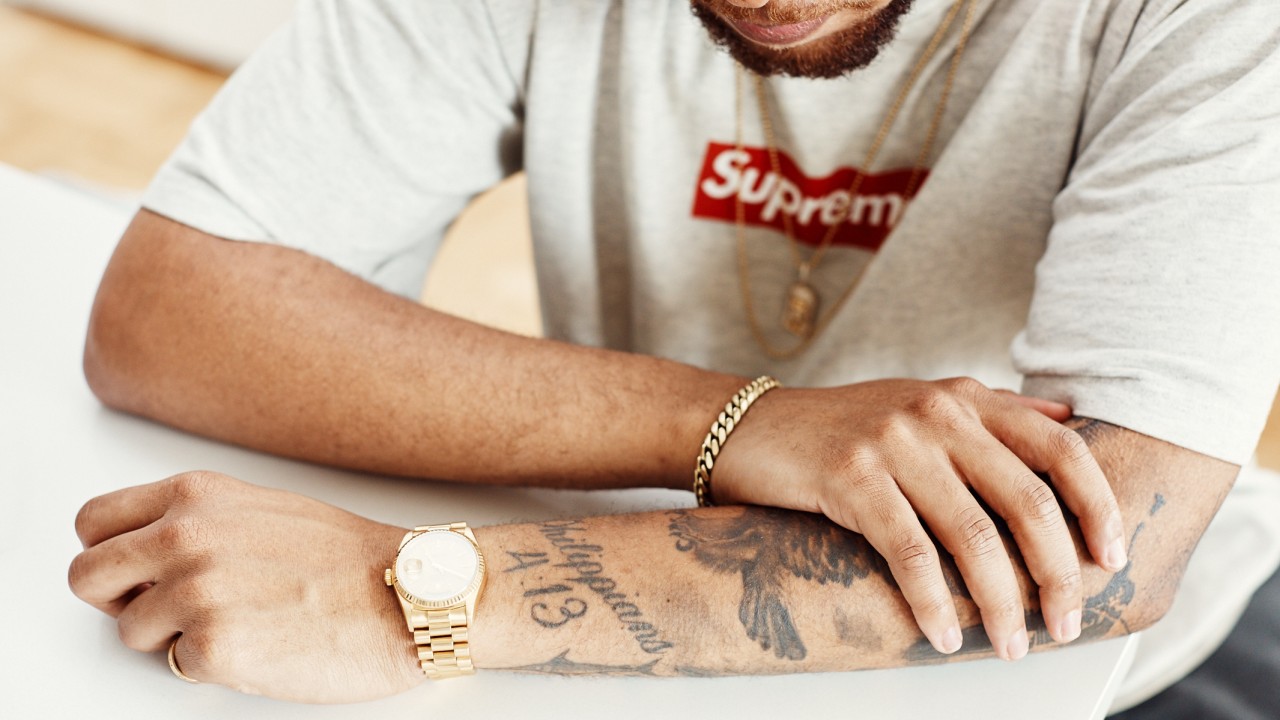 The DJ Whose Name You've Seen Pretty Much Everywhere
Chase B tours with Travis Scott and DJ'd both Kendall Jenner and Bella Hadid's birthday parties.
Whether you're music-obsessed, a regular at Up&Down nightclub in West Village, a Travis Scott fan, or you're just on top of your shit, we're going to guess you know the name Chase B. This New York-based DJ's list of accomplishments reads like that of a very well-rounded A-list roster, one that would typically take somebody a lifetime to get through. From touring with childhood friend Travis Scott to having residency at celebrity hot spot Up&Down, playing at a plethora of fashion events, and DJing for pretty much every celebrity ever (he was the one setting the vibes at both Kendall Jenner's and Bella Hadid's recent birthday parties), he's checking all the boxes.
Chase first got into DJing while attending Howard University in DC. "I had a radio show on campus and everything. I used to be in the club next to the DJ, MC-ing parties and shit like that," he explained. "Since I was always around DJs, I started picking up on different things, like the timing of different shit, and then I just thought I could probably do both by myself rather than assisting the DJ." Chase spent all of the free time he had outside of working parties and attending classes to teach himself how to DJ by way of his own CDJs, faithfully watching Jazzy Jeff skratch videos, and using Kid Capri as inspiration.

Upon finishing school and moving to New York, Chase started spinning at a wide variety of events, festivals included. Turns out different gigs means different prep. "If it's a festival, I'll put songs in a playlist because it's more fast-paced. In the club, you have about a minute or two to think about what you're going to play next, kind of going off the vibes," he told us. "For the most part, I just like to show up to venues early—I'll go an hour early to feel the vibe of the room, get the energy, see what songs are working and get that in my mind."
One of the crazy things that we admire most about DJs is their ability to do exactly as Chase said, read the mood of a crowd. When we asked Chase what his current go-to songs were to get the crowd hyped, he told us, "The whole Migos album is really good—'T-Shirt' is a huge song. 'Bounce Back' from Big Sean is picking up. Even '24K Magic' is big in Vegas. Major Lazer is still huge." But when he is chilling out at home, "I like emo stuff—old albums, '80s, R&B," he said. "I am around rap 24/7, so if there is an alternative, I take advantage of it."
Although a fan of blogs, he did admit that he prefers to be put on to new music by way of going out. "[It's] more important because you can see people's reaction to songs. On blogs, you just listen to music all day, and it kind of skews your taste. Being on the streets is culture in motion; you can actually feel music and see what DJs are playing or whoever is playing with an AUX cord."
In terms of artists he suggests keeping an eye on this year? "XXXTENTACION—he's actually in jail right now, but he has a song called 'Look At Me' that broke the Hot 100. He's gonna be huge. And Ashton Travis is gonna have a big year. Madeintyo as well," he exclaimed. "Kaytranada, I know he's been around for a long time, but I think a lot of big artists will start using his production—I think he is going to have a breakout. 2017 is going to be dope when it comes to music."