Hair
She's probably already worked out & meditated by the time you wake up—here's how she does it all. In collaboration with Dyson.
Meagan Wilson
Director
Matt Kazman
You can learn a lot about a person by looking at how they spend their morning. After all, how you start your day speaks volumes to not just the kind of things you're into, but what kind of person you really are. Are you an early riser who likes to leisurely ease into their day? Is it hyper-efficient, or the one time of day you steal away for yourself?
In our 'Mornings by the Numbers' series, we've collaborated with Dyson to illustrate how their new, practically weightless, and basically Nobel Prize-worthy Supersonic Hair Dryer is changing how we do mornings, by the numbers. After all, with drying time whittled down to mere minutes (on average six times faster than other models on the market), one question remains: what's a girl to do with all of that extra time?
---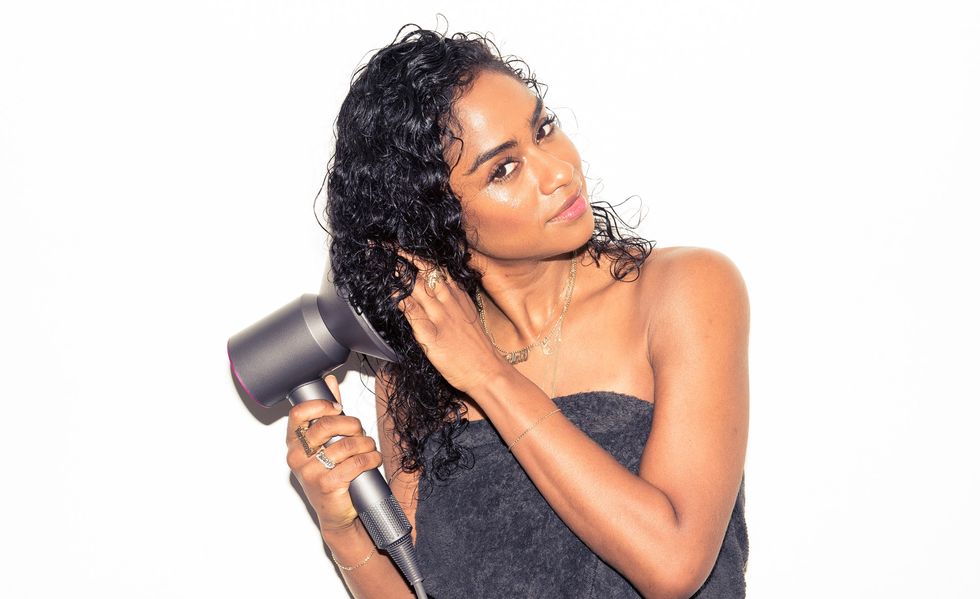 Vashtie Kola is busy. Between DJ gigs, directing, designing, globetrotting (while at her place, we helped plot her upcoming pilgrimage to the Louis Vuitton store in Paris during Fashion Week), we think it's fair to say that she has approximately zero time to spare. With her schedule in mind, we figured there was no one better to break down the perfect super-efficient morning for us—and in return, we pretty much turned her world upside down when we handed her a magenta-pink Dyson Supersonic dryer during her shoot. Like, we may need to cut a blooper reel of the above just so you can see her IRL-time reaction. (Don't even get us started on when she discovered the diffuser attachment is magnetized, and simply clicks into place.) In fact, here's a little BTS fun fact for you: we had to keep spritzing her hair with product for that 'just out of the shower' look in between shots because the Dyson would dry her hair too quickly (thanks in part to its ultra-speedy digital motor). Given that Kola's a lifelong air-dry girl, we think there's no better testament than to see she's officially a convert to the "blow-dry and go" side after experiencing its powers firsthand. As for the rest of her A.M.? Well, let's just say it involves custom Juice Press blends, serious double-tasking (knocking out emails on the treadmill!), and a no-joke supplement regimen (which you'll remember if you've read this).
The Dyson Supersonic, by the Numbers
---
—2,000—
Scientists & engineers involved in the development of the Dyson Supersonic (!)
—$71 million—
Cost of research & development of the dryer (!!!)
—6x—
Motor is on average (six times) faster than other dryer's motors
—3x—
Volume of air drawn into the motor compared to normal dryers (thanks in part to Dyson's patented Air Multiplier™ technology—basically this allows it to stream out high-pressure jets of air)
—20—
Times a second (!) the dryer's glass bead thermistor measures the temperature (the data is then sent to the dryer's microprocessor, which controls the patented heating element).
—4—
Temperature settings (high, medium, low, constant cold)
—3—
Airflow settings
—3—
Magnetic attachments
—16—
Patents pending on additional magnetic attachments
"Usually I wake up between 7 and 8. As soon as I wake up, I feed my cat—he usually wakes me up! I feed him, and then I do transcendental meditation for 20 minutes. I'll go back to make my bed, sit on my bed and meditate. Then I get up, get dressed for the gym, and go work out.
"I do a lot of cardio. I do, like, an hour and a half of cardio every day, but it's good for me because I get to do work while I'm doing it. I'm emailing, on social media, doing all the things I need to do, boom, done, in an hour and a half on the machine. Then I come home, and I tend to always be in a rush [laughs].
"I come home and get dressed, and because I'm always in a rush, I need things to be ready to go with me [laughs]. I usually have a smoothie for breakfast; I go to Juice Press when I'm on my way to the gym. Because I'm always running behind, I tend to snack a lot on raw fruits and vegetables, or sometimes I'll have soup. Something light, nothing too heavy.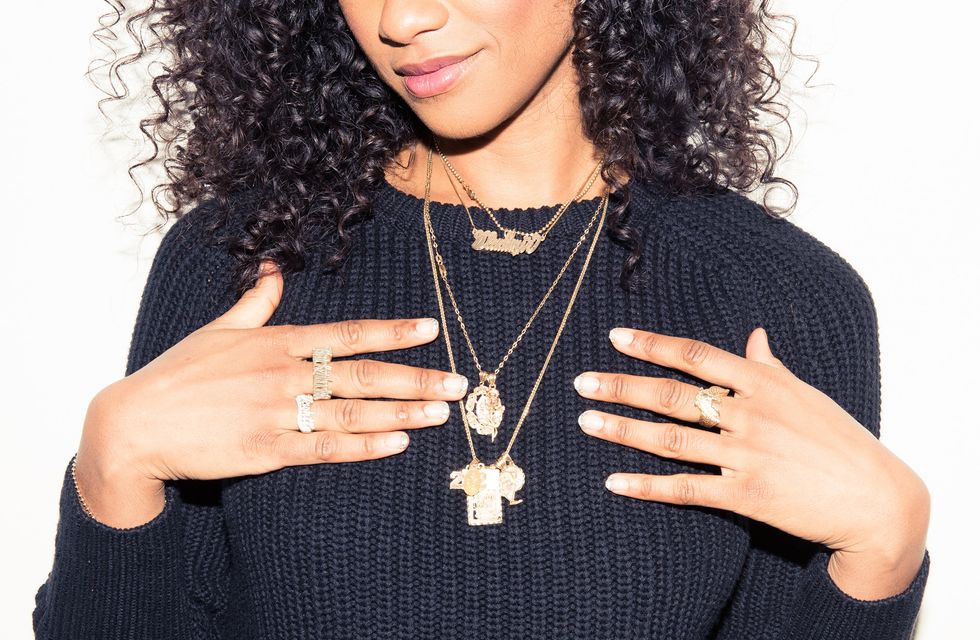 "Depending on my day, if I'm not doing a shoot and I'm not on set, I could be going to meetings, and in-between emails, and projects, or I could be getting ready in hair and makeup to go DJ for an event. My day-to-day tends to vary, but mornings are generally the same.
"My morning beauty routine is definitely the most simplified beauty process I could think of. My hair is more of the crowning glory—no pun intended. As long as my hair is done, then I don't have to do makeup. I generally just keep it pretty natural and curly when I'm on the go. Normally, I just get out of the shower, put some product in it, and lightly blow-dry. I used to skip that process, because it would take too long, but now I use the Dyson Supersonic and it takes, like, five minutes.
"I take a lot of supplements. Get ready for this! I start with either hot water or at least room-temperature water with lemon to re-energize my system. You've been fasting technically for 8 hours while you're sleeping, so it's really good to reset your body, alkalize it. Then I usually take a probiotic, an omega, a turmeric pill if I don't have turmeric in my juice, I take ProQ 10, a B12 supplement, Vitamin D, MSM, biotin for hair and nails, and I take a multivitamin. I take chlorophyll, which helps remove toxins and heavy metals from your system. Now I'm taking an iodine supplement; most people are iodine deficient.
"Generally, if I'm not going anywhere, I tend to not wear makeup. Even if I'm working, I just don't wear makeup unless I'm going to an actual event where I'm going to be photographed. If I do, it's very light. It's concealer, maybe eyeliner, maybe a lip gloss."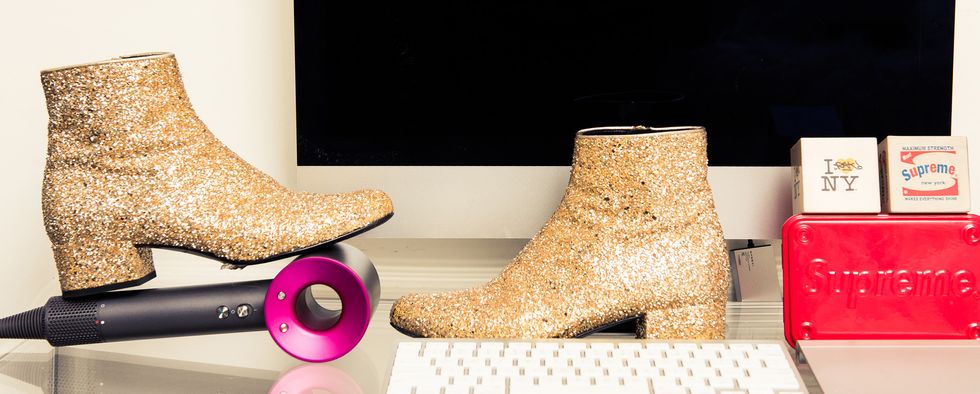 Vashtie Kola's Mornings by the Numbers
---
—Wake-up time—
7 A.M.
—Transcendental Meditation—
20 minutes
—Supplements—
11
—Cardio (while answering emails & checking social media)—
90 minutes
—Breakfast—
1 Juice Press smoothie
—Makeup routine—
15 minutes
—Dyson Supersonic Blow-drying—
5 minutes*
Beauty: Camille Thompson for Exclusive Artists Management, Angela Soto
*Results may vary depending on hair type.