The App That Will Help You Transform Any Room Into One Worthy of Architectural Digest
You don't need a huge budget, just a picture of the space.
Career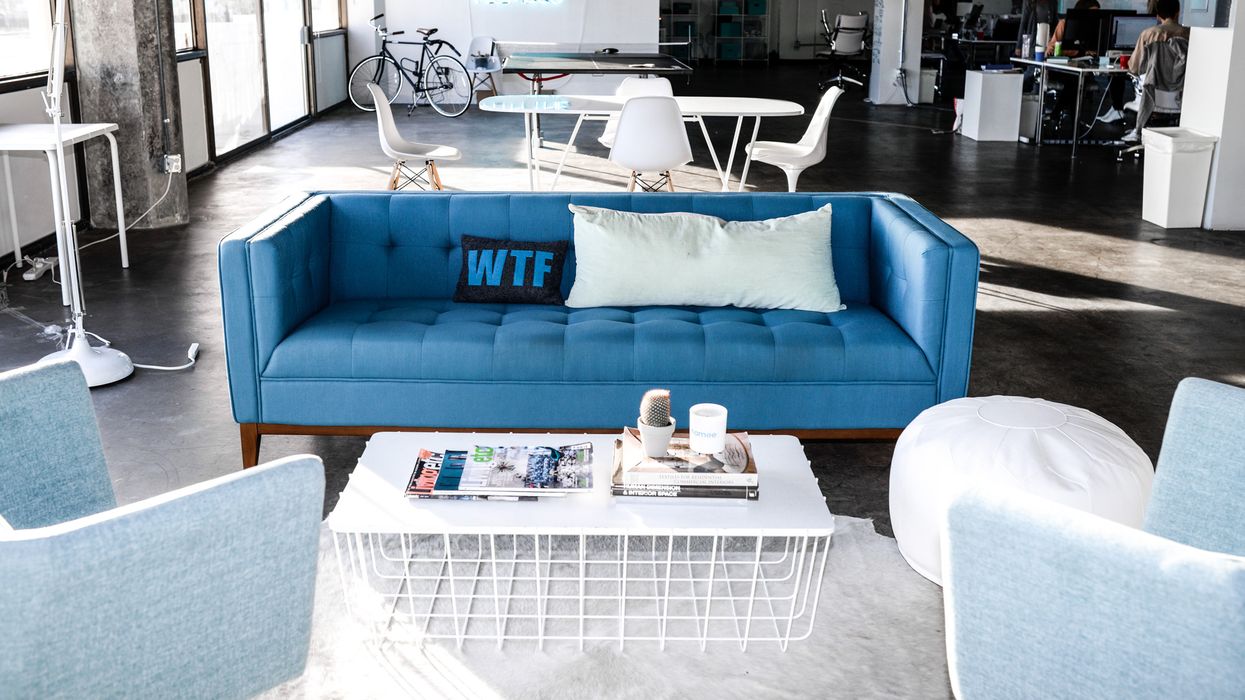 Welcome to Ladies Who Launch—a new series shining a light on all the women making waves in the digital space. Over the next few weeks, all leading up to SXSW, we'll be featuring some of the most inspiring women who are changing the way we think about tech.
We typically feel it after entering a rustic bar or someone's gorgeous, eclectic apartment: that urge to redecorate (or, scratch that, just decorate) our own little space. To buy shelves and fill them with interesting tchotchkes. To invest in art and quirky prints. The only snag in our big, brilliant plan? We're not exactly decorating pros, and we probably don't have the funds for trial and error, either.
Thankfully, there's Hutch, an app founded by college pals Beatrice Fischel-Bock, Lizzie Grover, and Madeline Fraser, along with CTO Benjamin Broca and CDO Ethan Gromet. After snapping a picture of any space or room, it'll connect you to designers who *do* know what they're doing, offering decor suggestions at an affordable price point. Pretty brilliant, right?
---
What inspired them to create the app:
"What we've seen, time and time again, is that furnishing your space and finding a space you really love to come home to is important. It's never really been that easy or that affordable, and so what we're trying to do is bring speed, efficiency, and affordability into the process of interior design." —Madeline Fraser
How Hutch works:
"If you take a picture of your bedroom, we'll send you back a redesign so you know exactly how it'll look. You could even go and take a picture of your desk at work that you think is kind of boring, and we'll send you back your desk at work with beautiful vases and flowers and candles. We clear the room with technology on our end and replace all your items." —Beatrice Fischel-Bock
Their target demographic:
"We cater a lot to the millennial demographic—it's much rarer for people in that demo to be moving to the suburbs and settling down. We have a lot of friends who are moving to new cities every year or two years to start a new job, and with that comes more need for furniture and décor." —MF
The affordability factor:
"For all the looks, we try to be really affordable, so the things we pull are a low to medium price point. We do have some pieces that we pull that are a little bit more expensive for people who want to spend more money." —Lizzie Grover
Advice for someone looking to start his or her own business:
"I think our advice is always just go for it. The way we started in college, actually, is we had this idea—we were doing all this stuff for our friends anyway—and realized this was a space that really needed some help. It's a massive industry. It's $200 billion dollars a year in the U.S. alone, buying furniture. We thought, 'Okay, what do we do next?' There was a business plan competition in college, so we decided we'd just try that. We weren't prepared, but we just kind of threw ourselves into it. We were one of the very few women groups at the competition, and we immediately got rejected after the first step. It was interesting because it put pen to paper and really started everything. Our suggestion is get a website and an email, step one. Just do that, get it down, so that it feels real. And don't think too much about you, you've just got to dive in." —BF
On the importance of having trustworthy business partners:
"I am always so thankful for the fact that we have such incredible partners and that we're not doing this on our own. I actually just had breakfast with another female entrepreneur, and she was talking about starting a company. She said, 'How do I do this?' and I said, 'Who do you have in your life that you can bring on and work with? Is there anyone around that has different strengths and weaknesses than you, that you trust, that can do this with you?' We've been really lucky with bringing in other people, I think, because we've been really open to that. I say, bring on more people that you trust and that you want to work with." —MF
On overcoming struggles:
"The struggle never ends. The key is to just keep going and keep on swimming. That's really it. You've just got to keep at it." —BF
"We just recently did a TedX Women talk and it was called 'Fail Fast, Fix Fast, Learn Fast.' That is our mantra, and has been our mantra since that business plan competition. It's something we tell everyone in the company, it's something that we really encourage in ourselves. You are going to inevitably come across issues or you may fail, but it's all about learning from those failures and picking yourself back up and continuing to move forward." —MF
Whether or not they ever disconnect:
"That's something I feel like we all struggle with every day, and it's becoming increasingly harder to disconnect with things like Slack and emails that are instantaneously supposed to be answered. We're young enough now that we don't have families, we don't have a lot of responsibilities outside of our job. I'm sure we'll figure this out as life makes us figure it out." —BF
If you're nervous to decorate your apartment:
"I would say it's very similar to what Bea said about starting a business—just go for it. There's only so many mistakes you can make, and I actually think worrying about it and worrying about putting a hole in the wrong spot or taking too many risks is more debilitating than it does any good." —LG
The future plans for Hutch:
"The future for Hutch is making the entire furniture-buying experience easy. Not just from picking and curating your space, but even delivery and assembly. They say in life the three most stressful things are death, divorce, and moving [laughs]. That's pretty crazy to us, and if we can relieve that moving element, that would be wonderful." —BF
On women supporting women:
"I think it's so important that women support [other women]. I think that's our duty. I also think it's so important to talk about the fact that we need men's [cooperation]. They are already there, and they need to share the table with women. They need to pass the baton—they need to be a part of this movement, because without men's help, it will go much slower." —BF