Fashion Week
They're working, too, guys.
Alec Kugler
For people who are working during fashion week, it's a whole lot more than just going to shows to see pretty clothes and make a shopping list for next season. We've gone deep on this subject already and found out exactly what big-time fashion buyers, designers, set designers, photographers, and runway critics do during Fashion Week—mostly it just sounds like a lot of (extremely rewarding) work. But, especially after last season's controversy sparked by Vogue.com editors' criticism of bloggers and their legitimacy at Fashion Week, we wanted to find out exactly what it was like to be a blogger—or, better yet, an influencer—at Fashion Week. So we went straight to our old friend and Cov-alum Aimee Song, who also happens to be one of the most powerful bloggers in the business. When we visited at her hotel suite during New York Fashion Week, we asked her all the questions, like whether she's ever been paid to go to a fashion show (no), if she borrows clothes (yes), and why she belongs at Fashion Week despite what those editors say (it's a good answer and it makes a whole lot of sense).
---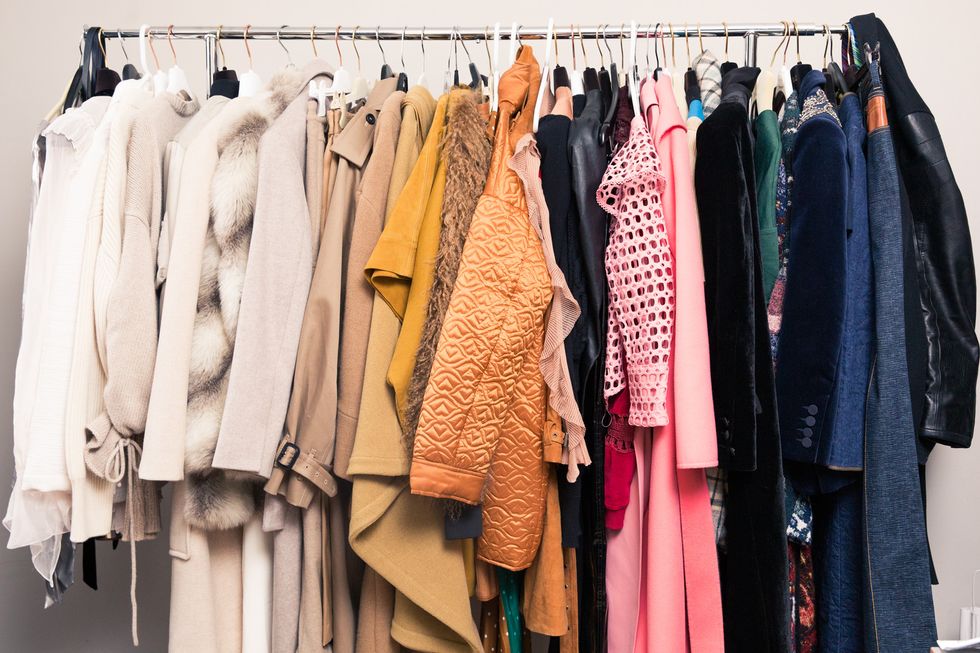 How she decides what to wear to the shows (and how many of her looks are borrowed):
"Usually prep begins two weeks before New York Fashion Week, but this season it was more like three days because I'm moving. I bought a house that's under construction, so I literally have my bed and I'm surrounded by boxes. I wasn't able to prep that well, but then again, I feel like some of my best outfits happen when I'm not thinking much and just putting it together the day of. Usually, for Fashion Week I pre-plan every single one of my outfits so I don't overpack, but this season I started packing the day of, or the night before.
"Fifty percent [of the clothes I wear at Fashion Week] are my own, and 50 percent are borrowed. For example, if I'm going to the Michael Kors show, they'll dress me in Michael Kors. It will be something that was literally just shown from their resort collection, or the last season, that's not available to the public yet. For those types of things, I always go for a fitting. I enjoy doing the fitting because I get to choose—I brainstorm with their stylist. It's nice because you're supporting the designer by wearing their pieces to the show."
How she decides what shows to attend:
"Any brand that I have an existing relationship with, that I've worked with, is always a priority to me. Then there are newer brands—like last season, I went to Sies Marjan for the first time because I've admired it. It was a new brand that I didn't have any relationship with, and I still wanted to attend. Sometimes I don't go back if I'm disappointed in the collection, but it really blew me away, and I could see the potential and how cool it was, so this season I went again. Any designer that I want to support, or that I find inspiring, I go to their show. Rosie Assoulin is another designer I have zero relationship with, but I find her shows and collections so inspiring and beautiful."
She's not making money by attending shows:
"Going to the shows isn't a brand development opportunity for me at all. For me, it's really more like attending a concert. I go with an open mind to see the collection—getting to see it in person gives me an adrenaline rush and inspires me; I get so many great ideas. I don't think of going to shows from a business standpoint. If that was the case, I would go to a lot of shows that pay me to attend, but I don't do that. The only business thing I think about during Fashion Week is creating content for my website, even though that's not a money-maker at the moment. It's part of my business, and I might not make money from posts in the short term, but eventually, because I do it and do it with passion, I will have business opportunities come from posts [made at Fashion Week]."
The power she wields with social media (as in, her followers will find her if she's filming live):
"Before, it was all about Instagram and Snapchat, but now it's a lot of Instagram Stories and Instagram Live. My following really reacts to videos—photos are pretty, but they really enjoy seeing the behind-the-scenes and my personality come out. I was having pho with Nicholas a couple weeks ago when we were in New York, and we were filming that [on Instagram Stories], and then we really had people come by. Yesterday we had by CHLOE, and, because they know how obsessed I am with it, people always go by to see if I'm there. I get tweets and Instagram comments.
"Because I'm with my team now, I feel a little safer. Before, I never really partnered up with a hotel—I didn't want to post I was staying at a certain hotel. Now, even since the following has grown, people are much more tame. I get cute presents and letters and stuff. It's no longer freaky, or I'm used to it. They're more respectful."
Why she thinks it's important to use her platform for good:
"I do get photographed a lot, and these images get re-grammed all the time, and they're being seen by a lot of people. It's not just on my account; it's also being seen on other people's accounts and other people with large followings, so this season I wanted to make a difference. With everything that's going on politically, I feel like so many people stay silent because it doesn't go with their feed or brand; they're scared about repercussions. If you have a social following, you have a responsibility to say something. I wanted to show my support, so on one of the first days I wore this jacket that said 'No walls between us,' and I wanted to make sure people saw that. I recently designed a new sweatshirt that says 'Girl Power.' With the Tied Together Business of Fashion campaign, I was just going through Instagram and then I saw that Imran [Amed] was doing this, so the day before Fashion Week, we looked everywhere for a white handkerchief.
"I want to show people I'm not all about myself, because fashion can be vain, but if you use that platform in a positive way, it can really make a difference."
She's the one blogger who avoids events:
"That's something that's different for me compared to most bloggers. I really enjoy what I do, and because of where I am now, I don't think of everything as a business opportunity. I only do things that I really enjoy. If there's a cool party that I want to go to, then I'll go, but I'm not going to go just to be seen, to get photographed, or so I can make connections. I live a really busy life and I'm in a long-distance relationship, so any free time I'd rather spend with my friends, my boyfriend, even during Fashion Week. It's like a high school reunion—everybody is here and they all want to have coffee and dinner, but I don't have time. There's only one me. To me it's so meaningless to get coffee just to talk about little things that don't really matter.
"In the beginning, I never had FOMO, and then my career was escalating and I was invited to so many cool events. There was a time when I wanted to do everything; I wanted to be seen everywhere and I wanted to fit in. It took me back to high school, when all the cool girls were getting invited to certain parties, and then you want to try so hard to get into that party. But when you do that, you're not yourself anymore, and you feel so empty and vain. I think I'm past that point now."
On that old blogger vs. editor debate:
"I understand the editors' point of view; where they were coming from was out of frustration. But they said it in a nasty way. We are the newcomers, so I understand how they can feel threatened—the advertisers that are advertising in their magazines are now spending their ad budgets on influencers and social media. The front row used to be all the editors, buyers, writers… Now the front row has been taken by influencers and people who can translate the images the fastest. Whoever can send out everything like the images to the most people in the fastest way gets the front row seat, and honestly, those are the influencers. If you ask anybody that's under 30, 35, they don't really read magazines—they're all looking at Instagram. I think I have more selling power than a supermodel despite not having a supermodel body because more people can relate to me over a supermodel or an editor.
"The Vogue editors were talking about how bloggers were wearing borrowed clothes, and what's personal style anymore, but in magazines whoever spends the most money in the advertisements in the magazine gets the cover outfit. That was kind of hypocritical. The thing I agreed with on their side was the street style photos, because it can cause a lot of traffic. But I definitely think there's room for everyone. I do still turn to Vogue or other magazines for inspiration. They're more aspirational; I just translate it to real life."