Living
Opal Tometi, cofounder of Black Lives Matter and executive director of the Black Alliance for Just Immigration, on the very real consequences of American immigration policy.
Alec Kugler
When we met with Opal Tometi, we knew that the Black Lives Matter cofounder was also the executive director of an organization called the Black Alliance for Just Immigration (BAJI). We also knew that in the wake of President Trump's executive order effectively banning immigration from seven Muslim-majority countries, and the court's subsequent strike on said order, that her raison d'etre is more relevant than ever.
What we learned, however, is that the struggle for immigration reform has been ongoing, and that policy under Obama presented similarly serious human rights concerns. Its effects (detention, deportation, the division of families) are things Tometi witnessed firsthand growing up in a Nigerian immigrant community in Arizona—and hers is a battle we all, more than ever, need to be aware of and join.
---
Her activism started with personal experience:
"I was born and raised in Phoenix, Arizona—my parents are Nigerian immigrants. I grew up as a young Black woman in a time where immigration was contested, and in the popular discourse folks were seeing migration as a problem. Our communities were being criminalized—particularly because I grew up around Black immigrants from Nigeria. I witnessed firsthand the impact of racial profiling on my own family members, people I went to church with and grew up with.
"My best friend's mom, who was a widow with four daughters, was sent to an immigration detention center and eventually deported. Her four daughters were all US citizens and minors; they were left without their mom when we were in high school. They came to live with my family and other families in our Nigerian community. I learned a lot about my own community and our ability to take care of one another, even when the government tears our families apart. 
"The experience lead me to the work that I do now, as the executive director for the Black Alliance for Just Immigration (BAJI). One of my first jobs, and a lot of my work as an undergrad at the University of Arizona, was working with women who had been survivors of domestic violence. I volunteered for about four or five years and eventually became a case manager at a domestic violence shelter. A lot of my work comes out of the women's rights movement and protecting survivors."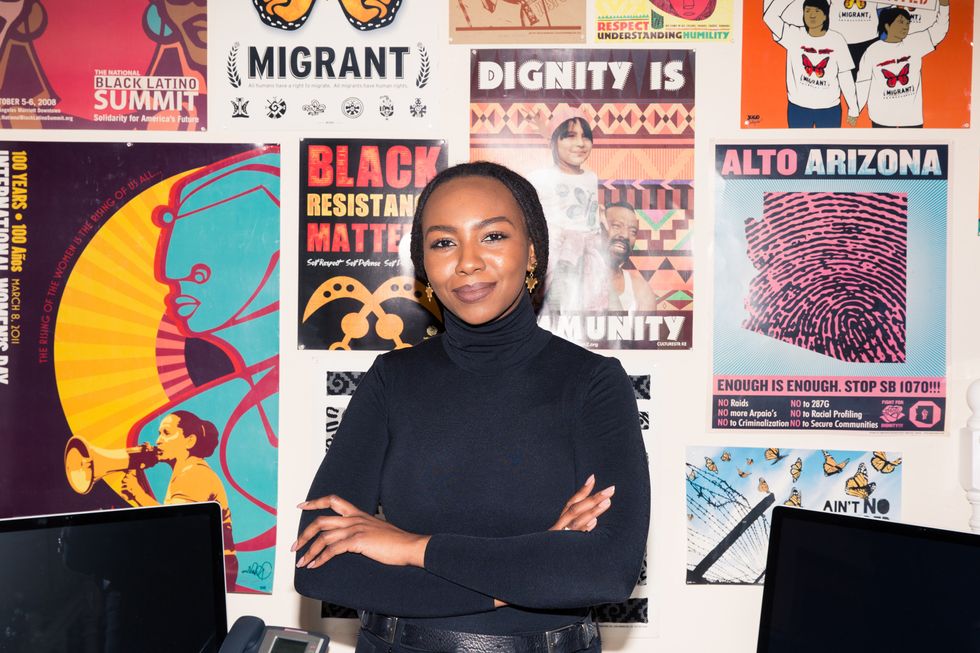 How she began working with BAJI:
"I started working at the Black Alliance for Just Immigration seven years ago, when they showed up in Arizona because of SB 1070, the most draconian anti-immigrant law in the United States. I had already been active and organizing, doing a lot of press coordination, primarily for Latino immigrants. At the time I really enjoyed doing that work, but I was very much aware of the fact that my family and other Black immigrants weren't part of the discourse. When I met the [BAJI], I was really excited because I finally could talk about my own story. I could talk about the ways that my dad was being racially profiled; I could talk about our experiences in immigration court, I could talk about the struggles that we had growing up as poor Black immigrants in Phoenix. I could talk about myself! Essentially, I felt like I found my tribe."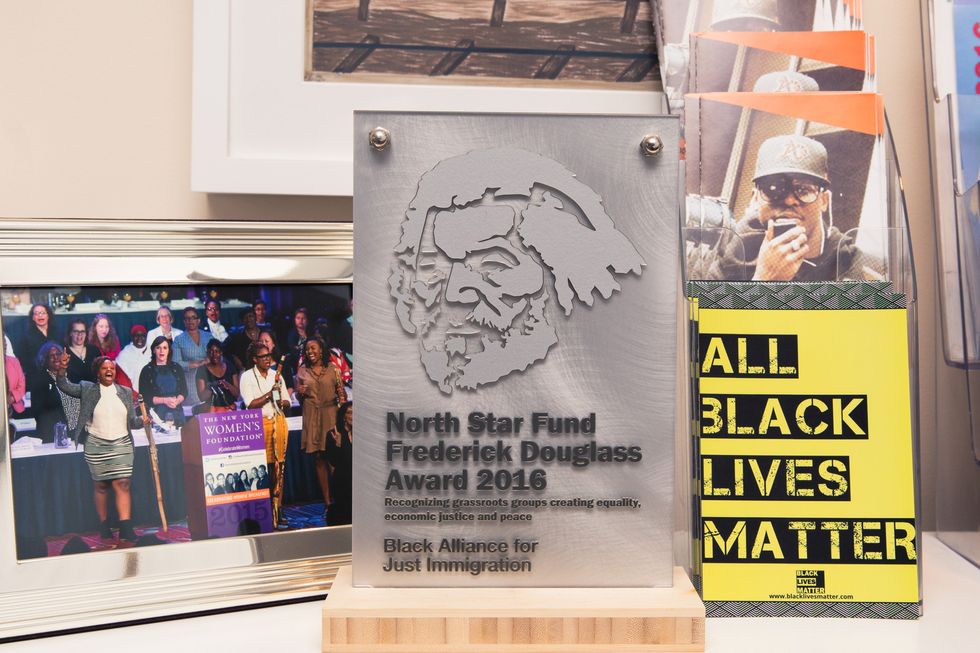 What her work with BAJI entails:
"We advocate, we organize across cultural alliances, and we raise public awareness to end racism and the mass criminalization of our communities and economic disenfranchisement of both African American and Black immigrant communities. We are the only national organization that works on immigrant rights explicitly. Our mission is really to create a thriving multi-racial democracy with racial, social, and economic justice for all of us."
"At the end of the day I think we, people of conscience, people who believe in human rights and dignity, are the majority."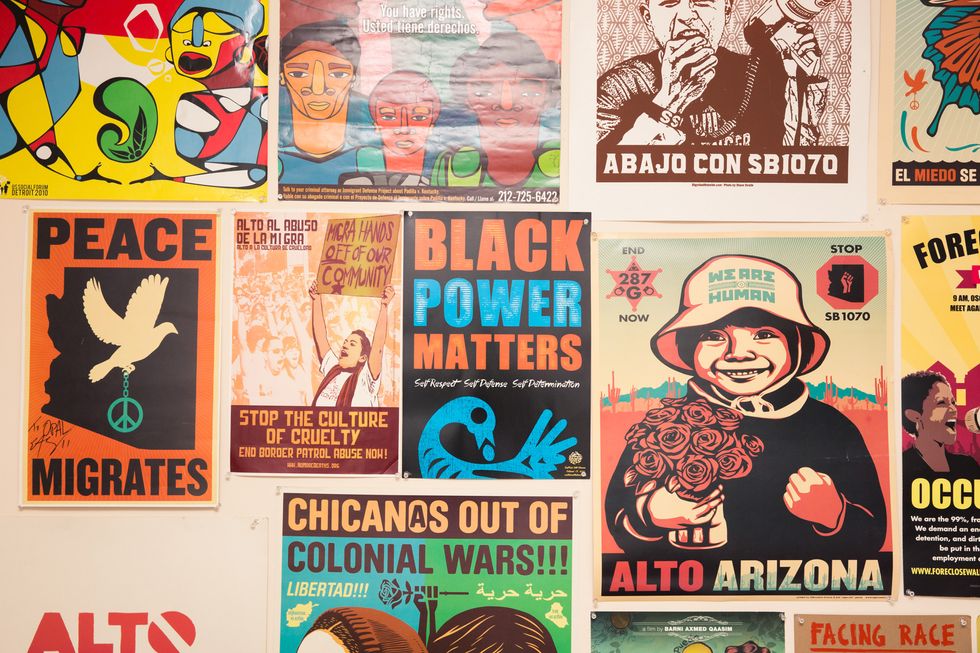 The long-standing immigration justice problems America struggles with:
"Sadly, the struggles that our communities have faced are structural. We have a flawed immigration system that does not account for the reasons people migrate in the first place. Oftentimes, people are literally forced to leave their home country because of economic instability, famine, and war. As a society, I think we missed that. We've been missing it for decades!
"The United Nations put out a report last year saying that there are currently 240 million people who aren't living in their country of origin and that this is a 40 percent increase since the year 2000. We are witnessing a massive shift: people are traveling from their home countries to different parts of the world because they are experiencing conditions that are intolerable. They are striving to make a living, and to have a life of dignity—really, just to survive. For some time now, our system hasn't accounted for that. And many times when people end up in the United States, and even in parts of Europe, they are criminalized; so we've seen this huge rise in the private prison system through the detention of immigrants.
"In particular, because Black immigrants are first and foremost Black, the racial profiling that Black people experience in the United States impacts these immigrant communities that I work with, whether from Africa, the Caribbean, or different parts of the Americas. What we are witnessing is [an] unprecedented level of immigration detention that separates families, destabilizes communities, and leaves children behind. We are also seeing deportation, which is really catastrophic for families when their loved ones are ripped from them and thrust back into poverty—which is oftentimes what people are trying to escape."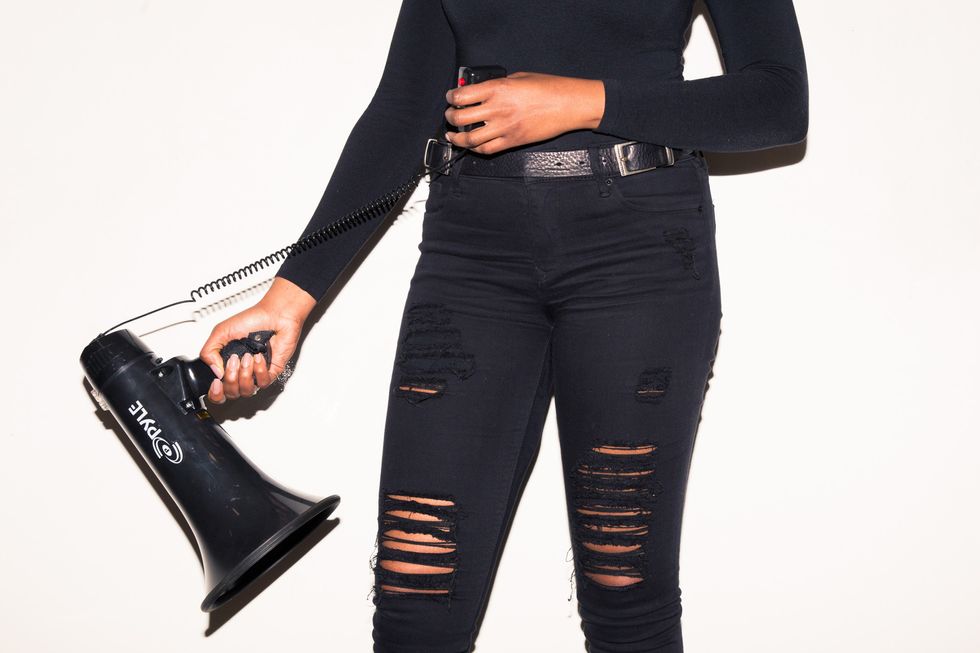 These problems aren't new, and they didn't start with President Trump:
"We've been seeing [immigration injustice] for quite some time now. Under the Obama administration, we saw the most immigrant deportation ever, at unprecedented levels. People really expected something different from our first Black president, and unfortunately we saw much of the same."
The difference President Trump makes—and how she feels about it:
"Our communities are reeling from his rhetoric as well as reality. It feels like almost every week there is something. Already, there's historic amounts of fencing and walls around the border. There are more patrol agents than there ever have been in history, and there is also quite literally a humanitarian crisis that is going on at the border. [When] I lived in Tucson, [I was] right near the border and frequently traveled to Mexico. I have lots of friends [there], and I saw firsthand the humanitarian crisis. People were literally and still are dying in the desert in pursuit of a better life because they have no choice. No choice! They are being tunneled into parts of the dessert that are the most grueling, the most harsh. A lot of women are being hurt and victimized as they try to get to a place where they thought they could have a better life. Sadly, when people arrive they might then experience another level of criminalization and victimization here."
Why immigration is a Black issue:
"There are also a lot of African immigrants, Haitian immigrants, Afro-Latino immigrants that have come across the border; it's also a Black issue. Any increase in law enforcement and militarization that is allowed in our communities impacts us really acutely as well. Donald Trump and the administration are creating new policies and practices that only increase the human rights abuses—that to me is what is most alarming and concerning."
Why we need to continue to be vigilant even though the ban was struck down—and why she's still optimistic:
"The courts have basically struck down aspects of the ban on refugees, but we have to continue to pay attention to this because it speaks to the intentions of this administration. I am paying attention to the ramping up of immigration enforcement systems that call for more border patrol agents to profile immigrants, but I'm really encouraged by the amount of everyday people who are getting out to the streets. It's been so beautiful to see the spontaneous rallies and protests at the airports and in front of city halls. At the end of the day I think we, people of conscience, people who believe in human rights and dignity, are the majority. When you see tens of thousands and, with the women's march, millions across the globe taking a stand, you realize that you are amongst people who want a different world. The majority is clear that we are already living in multi-racial societies—we just need this administration to get with it! Affirm the lives of all people, instead of attempting to demonize us and lock us up."