Each One of This Spanish Designer's Pieces Takes One Month to Make
His "pret-à-couture" show walked today in New York.
Designers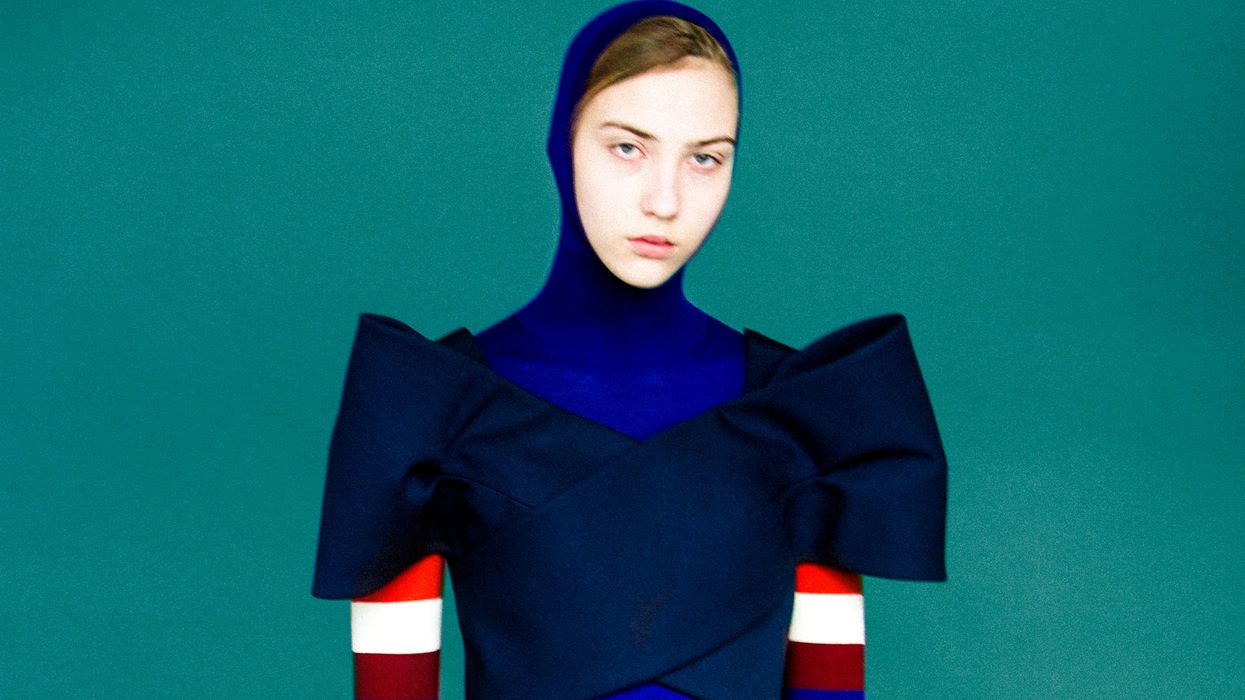 If there's anything that can melt a cold, hard heart and make you believe in the magic of fashion, it's Delpozo. There is literally nothing like it, especially during New York Fashion Week—it's not hyperbolic to call the show breathtaking. And it all comes from the mind of creative director Josep Font.
Last season, the show set was designed to resemble a bird cage. Live musicians played otherworldly music while models clad in miles of tulle studded with sequin "insects" walked serenely through a sun-lit room. In an industry prone to over exaggeration, it truly was a heavenly experience.
---
This season, we had the chance to meet Font in person and be walked through the collection—an experience we'll never, ever, forget. It was exactly the kind of once-in-a-lifetime magic moment that forever keeps you from feeling jaded. The collection is "pret-à-couture," which means "basically keeping those more traditional techniques, but giving it a more modern life in the sense of not having only one or two units in the world," Font explained to us through Carla Vazquez Jones, who works closely with him at the brand. He works and lives in Madrid, and speaks perfect, soft Spanish. (Can you tell how thoroughly charmed we were by him?)
His fall 2017 collection was inspired by architect and sculptor Max Bill, as well as Hungarian painter Jozsef Rippl-Ronai, and the fluttering wings and colors of a hummingbird. If you didn't know, the word in Spanish for hummingbird is colibri, which somehow seems a more appropriate descriptor, especially when practically whispered by the designer while he lovingly touched the sequinned embellishment on an oversized round bag called the "Moon Bag" for its shape (by the way, the embroidery on one of the large bags takes a solid 22 hours to be completed by hand).
Speaking of the collection, the hooded shape was key this season and was an integral part of the look he gave us an intimate view of. Consisting of a fitted knit with a tight hood, a cropped top, and skirt, it's classic Josep Font in the sense that it looks relatively simple, but is incredibly complex.
That sense of veiled simplicity is something Font returned to again and again while walking us through the collection, and it makes a lot of sense when you consider that each element in his collection—every single top, pant, skirt, or jacket—takes a minimum of one solid month of fittings to get right. Most take more.
"When you look at the top from the front, it seems as if your arm is going through the bow, but it's actually the effect. The top and the skirt are navy blue wool and silk," he said of the wool crop top. "Then it is worn with this long skirt that almost looks like a pair of pants. Then one of these hooded tops goes underneath. The hood is one of the themes of this season."
And about those hoods—most were plain cashmere knit, but a few were completely embellished with torpedo-shaped sequins mixed with rectangular or square ones in iridescent colors. The same fluttery sequins were also on shoes, chunkier knits, and gowns—but always in Font's signature oddly but perfectly mixed palette. "I love colors," he said. "I like having those unexpected and new ways of using different colors, like mixing yellow and pink. In fact, my fall collections have more colors than spring—I don't like that everyone wears black in winter." And just like that, the outlook for fall was considerably brighter.