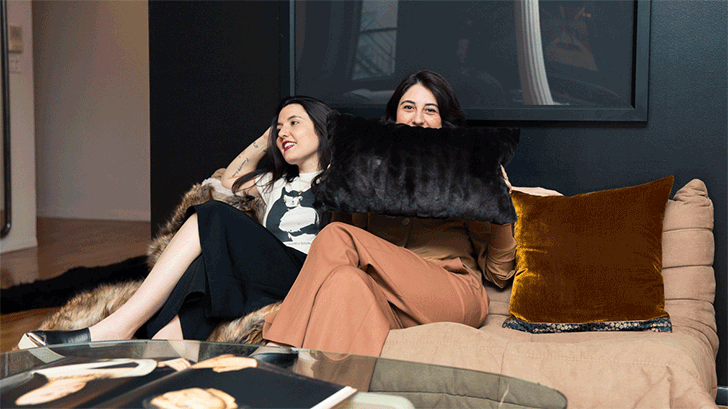 Interiors
This Romantic Downtown Loft Is the Perfect Blend of Minimalist and Maximalist
Elizabeth Baudouin and Natalie Shirinian make the perfect couple.
Alec Kugler
We've met a lot of creative power couples in our day, but even amongst that excellent company, Elizabeth Baudouin and Natalie Shirinian stand out. Between the two of them, they're a filmmaker, author, and they run NES Creative, a creative services agency for top talent in art, design, and culture (you might recognize their client—and all the lighting in their apartment—from this feature with Apparatus), and that creativity shows in their Tribeca loft.
With dark, moody walls, rose-print wallpaper, brass and marble accents, and an insanely cute Japanese Chin named Toni Deville (her Instagram is @thedevillewearsprada), the space is capital-R Romantic. It's also incredibly comfortable and warm—much like its inhabitants.
After munching on popcorn and pastries and spending a lot of time taking snaps of Toni (BTW, Japanese Chins were bred to live in a kimono sleeve, and if that doesn't make you believe in miracles, we don't know what will), we were ready to start planning BFF tattoos with the couple.
Click through to read all about how they met, how they blend their design sensibilities, and how they plan on spending Valentine's Day.
---