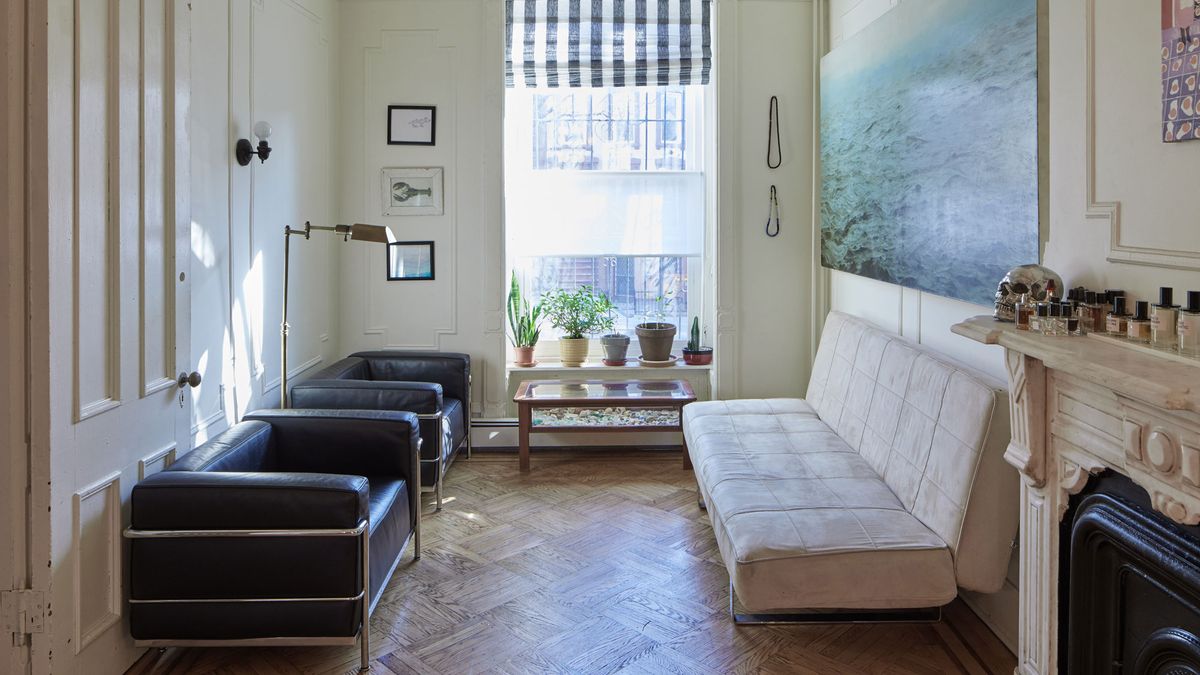 Interiors
What happens when an architect and a musician share a home and a cult-favorite fragrance line?
Zeph Colombatto
New Yorkers are often too well acquainted with how the simplest thing (think parking your car within a ten-block radius of your destination) can seem impossible in the city. The struggle is so real, people! But for the chic husband-and-wife team behind Brooklyn fragrance house D.S. & Durga, there's no annoyance too great when you've snagged the perfect prewar home. We dare you not to feel just a *teensy* bit jealous when you check out these photos.
David Seth Moltz and Kavi Ahuja have been together since a chance encounter on Avenue B (how classic New York is that?!) led to their first date, and now they've been creating their own unique fragrances for nearly a decade. With newly remodeled packaging, their elegant designs are a perfect reflection of their equally thoughtful Bed-Stuy house. The light-drenched space boasts original details from the 1890s, and an expertly curated collection of furniture and keepsakes are scattered throughout. Despite a taste for high-end furniture—Corbusier FTW—the couple's two children have free reign to enjoy and play inside and out (yes, they have both a backyard and a porch!).
Both Ahuja, a former architect, and Moltz, a musician, believe in not taking themselves or their space too seriously. Nothing is overly precious or irreplaceable, making for a relaxed, rock 'n' roll lifestyle that we can definitely get behind. Plus, a home designed by a pair of professional perfumers—you better believe that it smells as good as it looks!
Click through the photos to find out how something called "rapid sonic vibration"—seriously—can create different scents in different rooms of your house, and why it's good to remember that nothing is ever permanent.
---
1 / 41
"We kind of just stumbled upon this house in Bed-Stuy and loved it so much. It's all painted white and we saw it in the summer, and we loved this kind of white, breezy feel that it had. It's brownstone Brooklyn, so it's a gorgeous neighborhood and a really beautiful block. It's a lot of space for us and the kids. They have room to run around." —KA