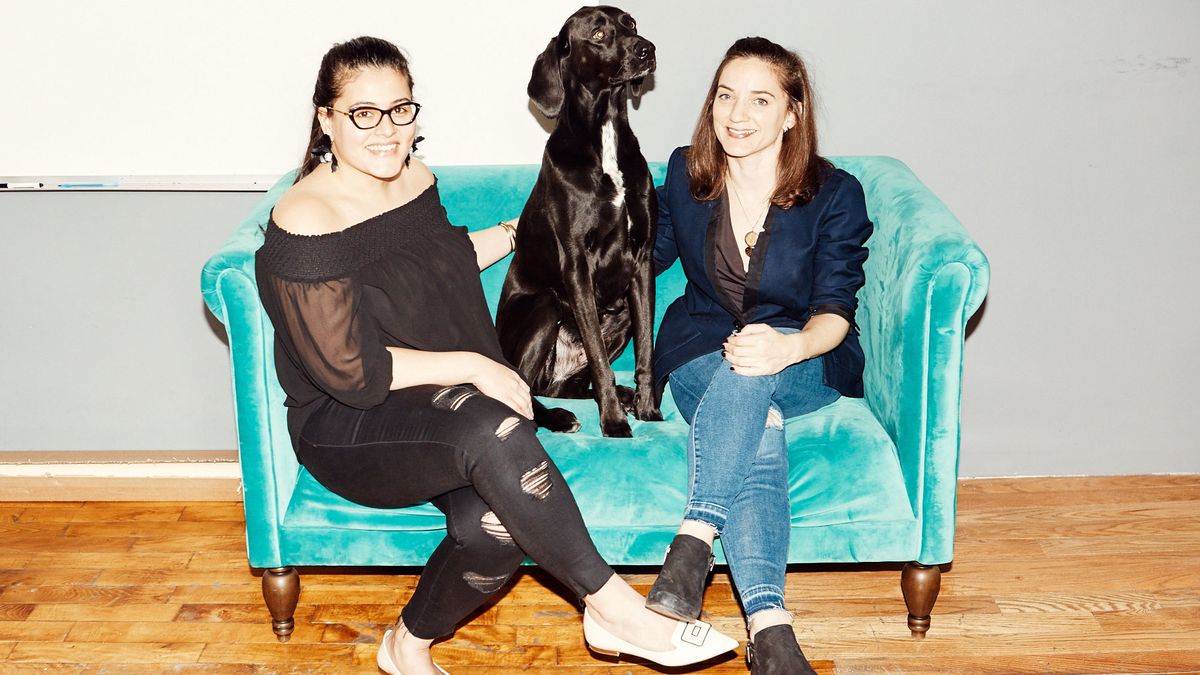 Designers
How Two Women Are Making High Fashion More Inclusive for Women of All Sizes
Dia & Co are taking out a full-page ad today to get the industry's attention.
Weston Wells
If you read the New York Times today, please turn to the Style section and take a look at that full-page ad. Do you see what I see? Dia & Co, a company that offers personal styling for plus-size women in the form of subscription boxes, is trying to get our attention—and there's nothing the fashion industry likes more than a full-page ad in the Times to do that, and on the first day of New York Fashion Week, no less.
---
Last week, we sat down with the co-founders of Dia & Co, friends and fellow Harvard MBA graduates Lydia Gilbert and Nadia Boujarwah, when this ad was still a much-guarded plan. But before we get into that, let's start at the beginning: "We started this business with the sole aim of serving a woman who we care very deeply about," says Boujarwah. "I have been that woman all my life, that has never stopped me from being interested in fashion or being interested in style. I thought it was pretty absurd for retailers to think that an interest in fashion stops at a specific size."
It was the clarity that the plus-size market (one that makes up 67% of American women) was an underserved one that lead Gilbert and Boujarwah to launch Dia & Co two years ago, and in that time, by consistently talking to their customers, asking them what they're looking for in terms of clothing, designers, price range, and fit, they've amassed a huge data set that essentially gives designers all the evidence they need to see to break into the market.
In just the two years since the company launched, the industry has already changed significantly, simply in that fashion for plus-size women has become a part of the industry's dialogue. "Early on, bloggers were the biggest and loudest advocates for our customer," says Gilbert. Adds Boujarwah: "We've had pretty notable watershed moments in the industry. Things like Ashley Graham being on the cover of Sports Illustrated; Ashley Nell Tipton winning Project Runway not only as a plus-size woman, but also designing for plus-size women; Christian Siriano coming out to dress celebrities on the red carpet that designers weren't designing for before."
As it works with any movement, there's been a whole lot of talk, in this case about inclusivity and diversity within the fashion industry, and still, for the most part, we see the same (white, thin, tall, cis) beauty ideals on the runway and in advertising campaigns. For Gilbert and Bourjarwah, the time has come for action. Says the latter: "Inevitably, when Fashion Week starts there will be conversations about how many models above a size zero walked down the runway, and designers commenting on creating more inclusive collections. But these are small steps. What we want to be able to see and what we want to take the lead on is really bringing action to the commentary and saying, "Yes, fashion industry, we will have this conversation in February as we will again in September. What are we going to do about it?"
What Dia & Co is offering—and you'll know this if you've seen the New York Times ad—is hard data that shows that women above a size 14 want designer clothes and are willing to pay for them. A whopping 78% of the women Dia & Co surveyed among their customer base and outside of it said that they would pay the extra money for clothing if designers made it. Right now, most designers don't make clothes above a size eight.
But there's a reason for that—it's one that Gilbert and Boujarwah are aware of and are there to help with. "One of the problems that we saw when we started was not only is the supply limited from an aesthetic perspective, but quality fit is very hard to find," explains Boujarwah. "It is more challenging to scale. If you are grading garments from a zero to a twelve, that is one thing, but grading garments beyond that really requires more math. If you're not taking the time to do that, you end up with garments that, even if they look nice, don't fit anyone! The arms don't make sense with the bust and the whole thing just doesn't make sense anymore. We can help with that."
In other words, they have the research that could help designers with precisely sizing and fitting their clothes. Another thing—and arguably the biggest draw for brands to pay attention to Dia & Co—is that they're a retailer: designers have a stockist ready to swoop in and buy whatever sizes they're willing to make. "We'll find the perfect customer," says Gilbert. "We know what she wants and what designers she loves and we'll make sure that she gets the product that she loves."
"Let's move past talking about this and begin developing product," argues Boujarwah. "We are sitting in a bird's-eye view position of the plus-size industry. We have all the data; we have an avid customer base who is eager to get access to more fashion and who, without a doubt, has expressed a desire to spend more money if she had more options. We can help do that. We are a partner in action to these designers. It finally felt like it required a really bold step."
Designers of New York Fashion Week: Your move.