Designers
Everything that Went Into Preparing for Brock Collection's Show
Today's 10-minute show was months in the making.
Alec Kugler
We have lots of warm and fuzzy feelings for our significant others. Especially this time of year, when life is pretty much just work and bad weather—and there's a particular Hallmark holiday creeping up with alarming speed—we feel especially grateful if we have someone to Netflix with under the covers. But despite this sentimentality, we're always kind of blown away when we come across a couple who are partners in business as well—here we were thinking that partners in life was plenty.
There are very few couples who do it as smoothly, seamlessly, and successfully as Kristopher Brock and Laura Vassar, the husband-and-wife team behind Brock Collection. Fresh off their big win with the CFDA/Vogue Fashion Fund ($400,000 and big-deal industry mentorship), we caught up with them a week before their show today at New York Fashion Week. They had just arrived from California, where they live with their young son, to put the finishing touches on their collection in their Garment District studio, cast their models, and bring all the disparate aspects of a fashion show together.
If anything could sell us into starting a business with our S/O (even one as fickle as a fashion label), it's Brock and Vassar's preternatural calm; the fact that even though their samples had yet to arrive—that they hadn't even seen some of their pieces IRL yet—and still, they obviously get such a kick and comfort out of working together. Here they outline exactly what it takes to design a collection and have it walk the runway at New York Fashion Week.
---
1. Begin as soon as the last collection is done.
Laura Vassar: "Honestly, the second that we wrapped our last collection we began researching for the current collection. We had nine mood boards: we had fabric research, jewelry research… From there, we narrowed it down and went into fabric development and we started sketching. Then we started fitting—we fit each piece three or four times."
2. Stay true to your inspiration and research.
LV: "We researched time periods and artists. I was looking at McNeill Whistler…"
Kristopher Brock: "16th century bridal dresses that were over-embellished... That was a lot of what I was thinking about at the beginning of research."
LV: "We were also thinking a lot about women. We thought about each woman that wears the collection, our customer, and then women that we admire and that inspire us. We look to those moments in life that define her and how beautiful real-life moments can be—sometimes they are as simple as a moment in the bathtub."
KB: "We recently started our own family, so pictures like the ones in the bathtub make us happy. I think that is what the collection is built from: your everyday. It always goes back to making clothing that women want to live in."
LV: "Separately, we begin to sketch and the designs evolve and then we bring them forth to one another and we talk about them. Of course there are points of tension when we feel so strongly about the pieces that we design, but we come together and make them something that we both really love. There are times when one person picks up after the other—like when I can't quite figure something out or he can't quite figure something out. After the research and inspiration, we begin to sketch and then we fit. I think in the fitting everything comes alive! You see how our initial idea has evolved."

KB: "For this season a lot of stuff actually stayed pretty similar to the sketches. We spent a lot of time working on initial sketches."
4. Develop fabric and prints.
KB: "We spent more time than ever developing fabrics for this season. We'll see all of the mills that we work with at the beginning of the season and the fabrics they are developing, and interpret it. We did a lot of prints this season on taffeta, cottons, georgettes…"
5. And then it all comes together right before the show...
KB: "This is the most fun part of the season, I think. What everyone has been working for starts to come together. We still haven't even seen a lot of the fabrics sewn up, so that'll be really fun. The end is in sight at that point! [laughs]"

LV: "It's always the beginning of a new chapter when you begin styling. We see new needs and we have to add in certain places or take away or entire things change. We work with Vanessa Traina to style. We start looks on the Sunday before the show with Vanessa. Then we start looks on Monday, and fittings on Tuesday and Wednesday."

KB: "The craziest part that I was never aware of when we started doing shows was the producer's job and everything that goes into it. The producer doing everything from the timing of when the girls walk out to the music and when the lights turn on and off."

LV: "Hair and makeup happens on Monday, but sometimes things happen and we change it the day of the show. It's a feeling and you just have to follow your gut."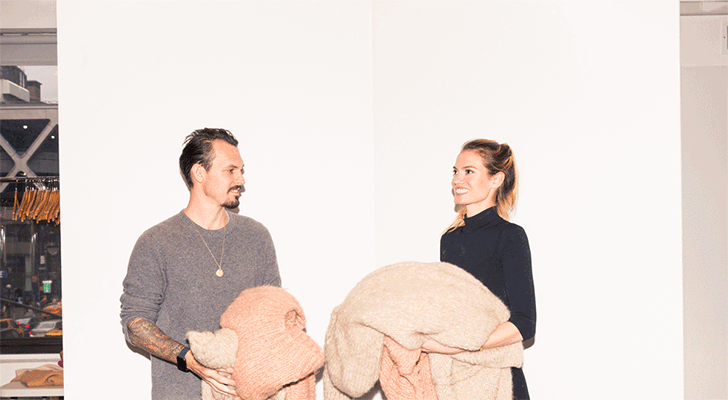 LV: "Sleep! [laughs]"

KB: "Last season we stayed up until four or five and had to be back at six to load the collection from here. Last season I think we slept, like, an hour the night before, so we were exhausted! We went back to the hotel to sleep, but it'll be different this year. I think we always say that…"