Designers
The designer of Kara on why she wants you to think before you buy.
Alec Kugler
The first thing to know about Sarah Law, the creative director and founder of Kara, is that the unaffected, totally comfortable cool she gives off in all these photos is 100 percent authentic—we hate that word because it's usually used to describe anyone who is the opposite, but Law, we promise, is authentically cool. We say it knowing that she'll cringe at the sentence. But the truth of the matter is that when it comes to running her business—founded in 2013—and designing her bags, she pulls no punches and is completely unapologetic about the way in which she stands apart from the industry.
---
It's probably for this reason—that she designs exactly and only the way she wants to—that retailers like Opening Ceremony, Olivia Kim's Nordstrom Space, Need Supply, and Barneys give Kara prime floor space. And it's also unquestionably why you see Kara bags worn not just by fashion insiders (a sure sign of success), but also by women who don't live and breathe fashion.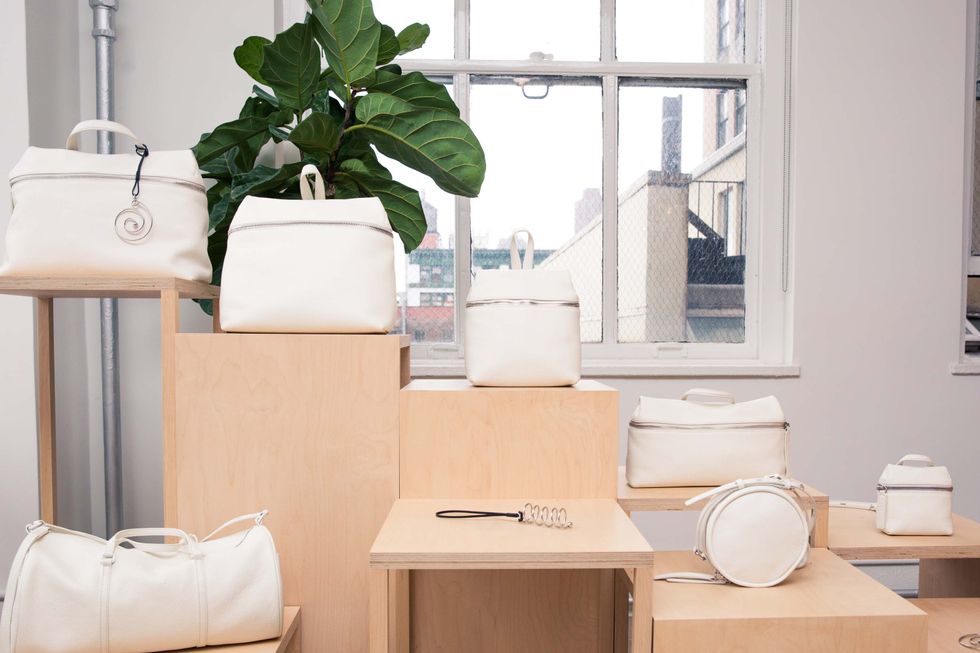 "I was so interested in making a brand and bags that felt like they weren't covered in hardware or logos," she explains. "I also liked the idea of a very active person, so the backpack and the other style that I designed—the dry bag, which was based off of an outdoor sporting-goods bag—had these references to the outdoors and active kind of thing."
Take a look at her backpack—the bag that Law's been making since the very beginning—and tell us you don't recognize it. If you say no, we won't believe you. "When I designed it and went to sell it at our first trade show, I was like, 'I might be crazy,' because nobody was wearing a backpack then," she says from the Lower Manhattan studio and showroom that's as airy and minimal and unfussy as her bags. "It felt very borderline—like it could totally work out or you'd literally never hear of the brand ever again. We got really lucky because it hit the market at a time when people were really receptive to that kind of style." So, yes, you can thank Kara for making it acceptable for you to wear a backpack to your finance job.
The thing about making a bag—high-quality though it is—that is as streamlined as the Kara bags are (it is for this reason that we wear them as incessantly as we do) is that copies abound, and those that buy the copies in all likelihood don't even know that they're investing in a rip-off. It's a challenge that has, well, become more and more challenging as the brand has grown. "In fashion now, people are either trying to copy the brand exactly as it is—copying Louis Vuitton or Gucci for its established luxury—or you're trying to copy the idea," says Law. She struggles with the latter; her backpack is so ingenious that she's seen it everywhere, from designer level down to the fastest of fashion. "In the beginning it was kind of funny; it was flattering. But now it happens a lot in a way that's lost its charm."
But it's not just the stealing that bothers her—this is the other way in which Law stands apart—it's that the copies signal something about the industry that she truly dislikes: the materialism. "It really bothers me because it makes it such a consumer product," she says. "Even though I make consumer goods, it's still my hope and my belief that you should shop and consume in moderation. Or even beyond moderation: You should be very careful about what you consume. A lot of fast fashion corrodes a lot of the work, the craftsmanship, and the quality that goes into making a product. For us to produce products faster, we would have to do them cheaper. The decision is, 'Am I going to compete with that and put out things faster and make them more disposable? Or am I going to make less money but make fewer things?' It's a choice you have to make."
Law has obviously made her choice; her collections remain tightly edited and very thoughtful. And the expectation is that you, as the customer, are just as thoughtful when you finally make the purchase, whether it's her now classic in a (hard-to-copy) hologram fabrication or a miniature duffle bag complete with silver bangle wristlet. Lucky for us, Law has also launched the Studio, an exclusive intimate shopping experience that allows customers to shop the brand's full assortment directly at the brand's headquarters and design studio in New York.
For people wanting to see and feel Kara bags firsthand (seriously why wouldn't you?) the space is open for appointments from 12-7pm on Wednesdays and Fridays, and on a walk-in basis from 12-7pm on Thursdays. You can even preview future seasons designs and pre-order, with complimentary shipping, of course. Don't be surprised if you find us hanging out in the gorgeous studio as well, contemplating our next purchase and playing with Law's adorable miniature (four-pound!) poodle, Thé.