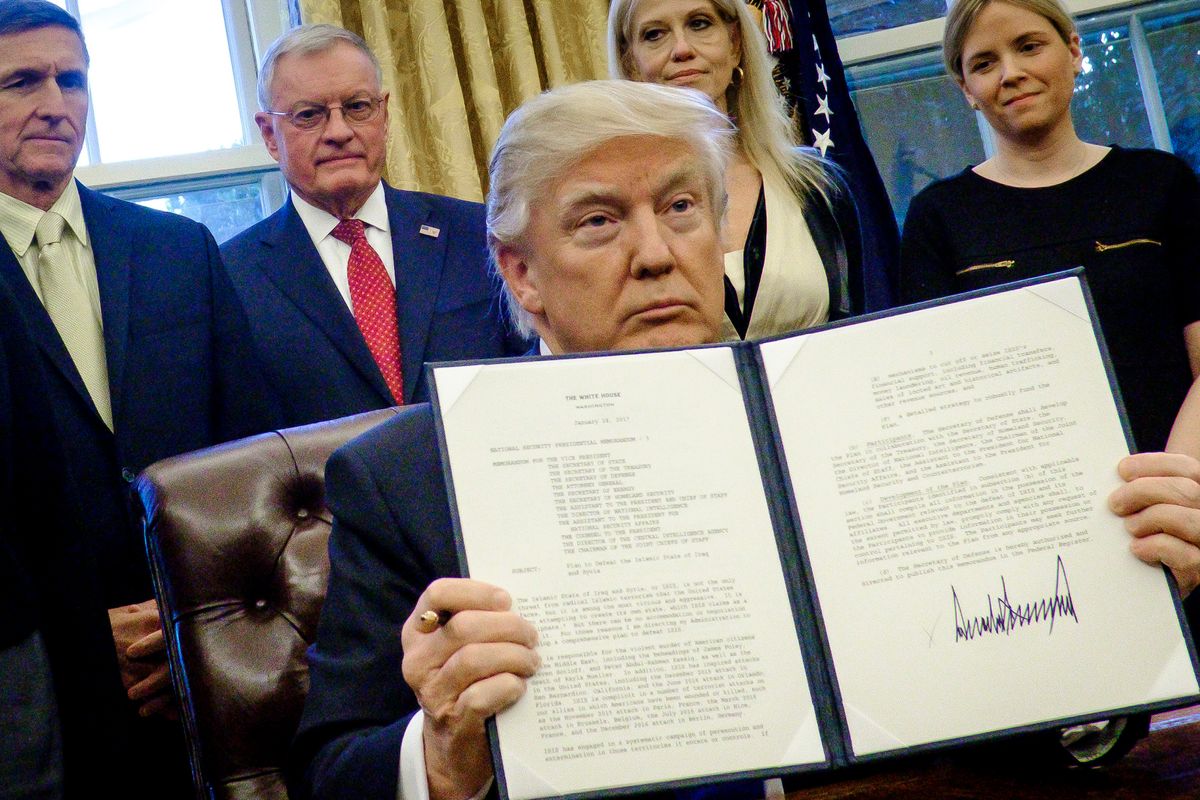 Living
The Cliffs Notes version of all his executive orders.
If you're feeling a little overwhelmed with the 'round-the- clock information overload that's been going on post #election2016, you're not alone. In between all he memorandums, executive orders and actions, (more on all that, here) and Twitter rants, we've compiled a list of everything #45 has done since his White House debut less than two weeks ago.
We like to think of this as a way to remind ourselves now and in the future that whatever this is isn't normal and urge you to, too. In other words, write it down so you know it's real.
Here's a look at what Trump and co has actually done so far, not including the many rumored plans and talks of what's to follow. Brace yourself...it's already a long list.
---
January 20th

: Ordered a freeze on all new federal regulations and hiring for federal jobs, except for existing positions in national security and the military.

January 20th

: Reversed a scheduled insurance rate cut, which would have reduced annual insurance premiums for first-time homeowners.

January 20th

: Ordered the National Parks Service to stop using social media after the service's account tweeted photo comparing inauguration crowds from 2009 and 2017.

January 20th

: Issued executive order for "prompt repeal" of the Affordable Care Act without a replacement bill.

January 21st

: Visited the CIA, where he called journalists "among the most dishonest human beings on earth", discussed his inauguration size and said the U.S. "should have taken the oil when it invaded Iraq."

January 21st

: Sean Spicer, White House Press Secretary, held his first press conference to condemn the press for inaccurate reporting of inaugural crowd size, saying that Trump's inauguration had the "largest audience of any in history."

January 22nd

: Kellyann Conway, White House advisor, defended Sean Spicer's false claims about inaugural size as "alternative facts."

January 23rd

: Reinstated policy that bans federal money from going to international organizations that promote abortions.

January 23rd

: Signed memorandum to withdraw the U.S. from the Trans- Pacific Partnership.

January 23rd

: Claimed that his loss of the popular vote was due to 3-5 million people who voted illegally.

January 24th

: Signed executive order resuming construction on the Keystone and Dakota Access oil pipelines.

January 24th

: Ordered the Environmental Protection Agency to end all communication with the public through social media and press. Also ordered freeze of all grants and contracts.

January 24th

: Ordered the United States Department of Agriculture to end all communication with the public through social media or the press. Also ordered USDA to stop publishing any papers or research without prior approval.

January 25th

: Signed executive action to prepare federal funds for immediate construction of a wall along the Mexican border.

January 25th

: Signed executive order to end federal funding to "sanctuary" cities and states that protect undocumented immigrants from federal prosecution

January 25th

: When asked about his thoughts on torture and waterboarding, answered, "Absolutely, I feel it works."

January 27th

: Signed executive order to rebuild and strengthen the U.S. military by providing it resources

January 27th

: Suspended US refugee admissions program for 120 days and Syrian refugee program for 90 days.

January 27th

: Blocked immigrants and visa holders from seven majority-Muslim countries (Iraq, Iran, Libya, Somalia, Syria, Sudan, and Yemen) from entering the US for 90 days, including green card holders, work permit holders, refugees, and those in transit.

January 28th

: Promoted his chief political strategist, Steve Bannon, to a position on the National Security Council and downgraded the role of the Joint Chiefs of Staff.

January 28th

: Got into heated phone exchange with Australian Prime Minister Malcolm Turnball over the US receiving refugees from Australia, which Trump called a "dumb deal."

January 29th

: Released statement that green card holders were exempt from the travel ban.

January 30th

: Signed executive order requiring that for every new federal regulation on small and large businesses, two existing regulations must be revoked.

January 30th:

Fired acting Attorney General Sally Yates for not defending the travel ban, accusing her of betraying the Department of Justice.
To be continued...