Celebrity
Meet the star of the next Gossip Girl. (Yep, we're calling it.)
Meredith Jenks
Laurel Pantin
If there's one thing we can always count on to get us worked up, it's a nostalgic revival. And the CW's latest revival is a doozy. Riverdale, a series based off Archie comics (remember those?!) debuts this Thursday, but an idyllic romp through a charming '50s love triangle, this is not. This version of Riverdale is much darker, and dare we say...sexier, than the original comics, which (not gonna lie) has us pretty excited. In anticipation of the show's release (we're going to call this as the next generation's Gossip Girl) we enlisted Camila Mendes, who stars as Veronica on the show, to model some of our favorite spring and resort looks. And after spending the whole day with her eating burgers and fries, getting a Portuguese lesson (she's Brazilian!) and exploring the Roxy Hotel in Manhattan, we can confidently say she is *nothing* like the Veronica we knew from the comics. She's game for anything, and incredibly bubbly—but mostly just really, really cool. We're officially fans.
---
Boots, Pierre Hardy
All about Riverdale:
"Riverdale is based on the characters of Archie comics. They've been around for 75 years, so we are really trying to bring the nostalgic elements of the comics into the way that we dress on the show and our hair and makeup. We want to keep a vintage feel. But at the same time it does take place in a contemporary setting, so we're constantly finding ways to merge the old with the new aesthetically. Even in the overall aesthetic of the show, in the way that they design our sets—we'll be at the diner and it'll be a mix of vintage cars and modern cars outside, but we're talking about taking Ubers and going on Instagram. We're constantly finding ways to allude to both. There is a part where Veronica get cyber-bullied on Instagram. And there are parts where we are like, 'Let's get an Uber.' We're teenagers in the modern time."
All, Miu Miu
On Veronica 2.0:
"My version of Veronica is a bit different from the comics, it still maintains the same essence as the character in the comics. In the comics she's very snobby and confident, and thinks very highly of herself. In this version she's a lot sweeter, she's trying to be a better person, she's trying to reinvent herself [after a scandal that] brought a lot of shame and embarrassment to her family, so she is recovering from that a little bit. She's humbled.
"I definitely relate to Veronica, one, her sense of humor and two, in her circumstances. I think I've experienced certain aspects of her life firsthand. I know what it's like to be the new girl because she is the new girl in town and I grew up moving around a lot in my childhood. It was a very unstable life, I never really got to identify with one place, so I was constantly trying to re-identify myself. Veronica moves to Riverdale and everyone already knows each other, and she has to find her place. She is totally out of her comfort zone and I definitely know what it feels like [laughs]!"
Dress, Delpozo
What initially attracted her to the role:
"When I got the audition, the thing I was most excited about was that they were making Veronica Latina. In the beginning, my agent and I saw the breakdown and before they had even announced that they were looking for someone multicultural, my agent said, 'Oh, you know they are probably going to cast a Krysten Ritter type.' A white pin-up-looking girl. I was like, 'Yeah, you're right!' So I disregarded it. But I was still really excited about the pilot. I was like, 'Ugh! I wish I could audition for that.' And then I meet with one of my girlfriends and she is super Latina and she is, like, going out for Veronica and she was like, 'They're making her Latina!' I was like, 'Oh, my gosh!' So I call my agent immediately and I was like, 'You need to get me in that room!' She told me, 'Don't worry, we're on it.'"
The agonizing audition process:
"The night before my audition they called me and were like, 'We finally got you in. You are literally the last person they are seeing on the last day at the last time.' I had a long monologue I had to memorize, but I knocked it out. Right after I left my audition they were like, 'You have a producer's callback next week, that went really well.' That's when I met the creator of the show and he seemed to love it. And then right after that they put me on hold for winter break. Everyone went on break.
"After that it was just going back and forth from L.A. to New York doing studio tests and another studio test and a network test and just back-to-back challenges. What really stressed me out was that the first studio test, before the pilot was green-lit, it was just me and one other girl. I was like, 'Wow! I'm really close.' They sent me back and brought us all back to do another studio test and this time there are, like, five Veronicas. I was starting to really have doubts. Clearly they were having doubts. The thing about Veronica and all of these characters is that everyone grew up with these characters and they have such a strong attachment and a personal connection, and an idea of who they should be.
"I was losing sleep, I would wake up in the night crying! I was feeling so anxious because it felt like I was on the verge of something. I was so, so close! Either my life was going to change and could transform into something I've always dreamed of, or it would just go about the way it was as if nothing ever happened. That was a really scary thought, that I could get so close to something that honestly felt so right. I had never felt so confident about playing a character in my life as I did with Veronica."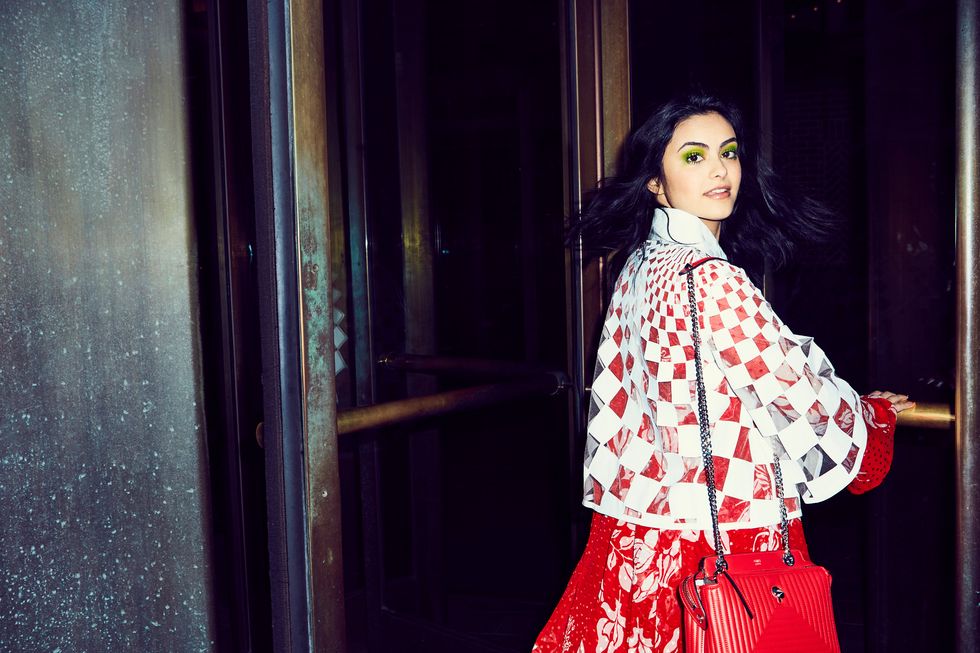 All, Fendi
On not wanting to play a stereotype:
"It was frustrating because all of the roles I went out for I never really felt like I was right for. Especially being Latina, people want to make use of that. So I would go out for shows like Blue Bloods and Shades of Blue, and all of these crime dramas where they are looking for these foster child Latinas, like 'underprivileged and urban,' as they would say. I never really fit that stereotype, and I didn't want to play a stereotype. I kept getting the note that I'm not 'urban enough.' So it's like, okay, I'm not urban enough and I'm not white enough, what am I? Why are there no roles out there that fit me!
"Veronica came in and it was the perfect balance. She was Latina! They wanted her to be ethnic, but that wasn't the point of her character. She wasn't a stereotype. She was just an American Latina. And that is how I identify, I don't need to play up anything. I am this character. Everything just kinda fell into place with her. So finally I get the call from my agent on February 26th. She was like, 'You got the role!' I was just immediately relieved; in the end they didn't even end up sending anyone else's tapes. They never found another girl to compete against me, and they didn't send any other tapes."
Dress, Elizabeth Kennedy; Shoes, Christian Louboutin
And dealing with rejection:
"You have to understand that there is a larger picture involved. At that point it's not about your talent. If you are at the network test you are clearly good enough to play that part. After that, it's assembling a production, a cast that looks good together, that works well together, everything just kinda needs to fit. That is not a very obvious thing. You can't take it personally. You just can't. It's easier said than done. But if I were not to have gotten the role I would have been devastated and really sad, but I wouldn't have taken it personally. It wouldn't have made me feel that I was a bad actor, I just would have been pissed off about my luck. Because this really is a game of luck."
Dress, Elizabeth and James
Makeup: Brigitte Reiss-Andersen; Hairstylist: Matthew Monzon; Shot on location at Roxy Hotel.