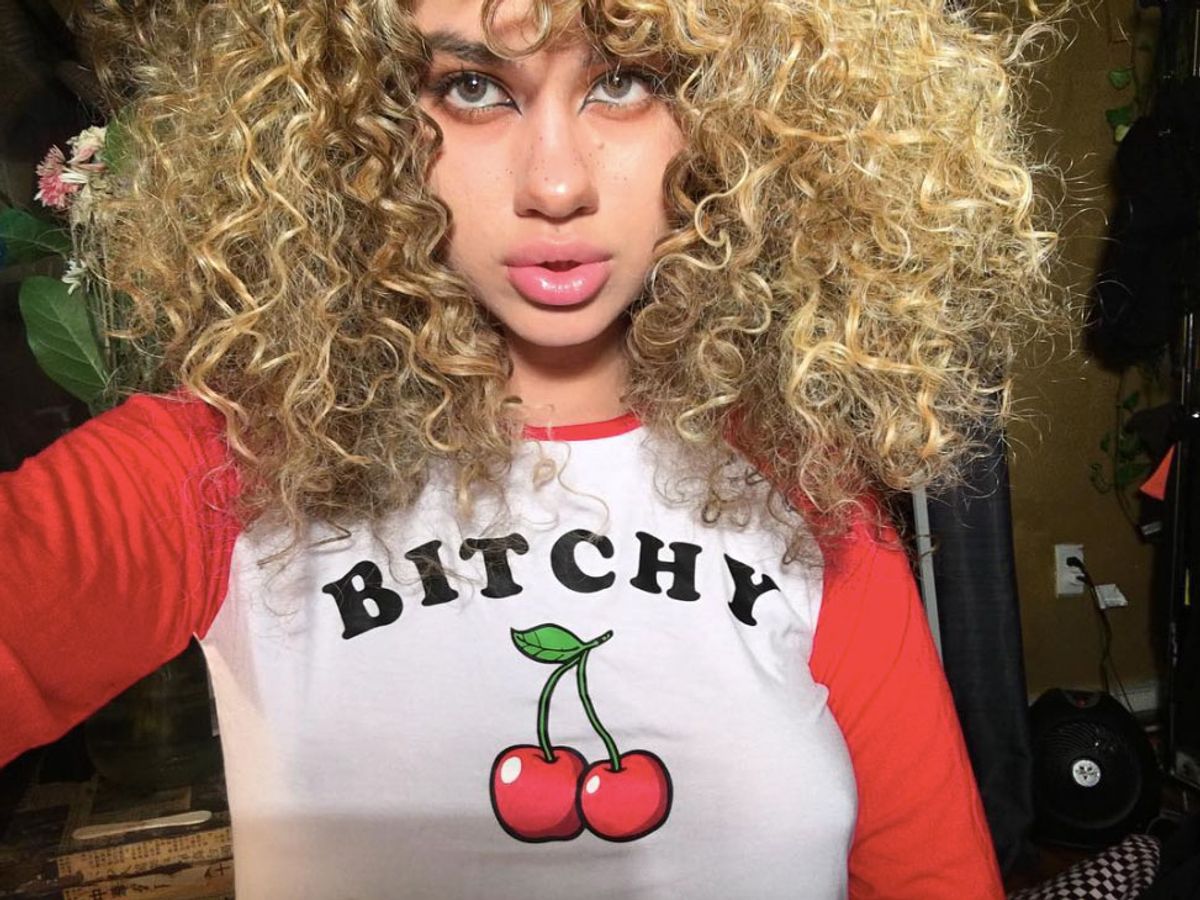 Models
Plus, her "clean pores over everything" motto.
Welcome to My Beauty MO, a brand-new Coveteur interview series talking beauty, the signatures that define our subjects' looks, how they really feel about them, and the products they use to get there.
---
The first thing you notice upon scrolling through model Apple Drysdale's Instagram feed is her blonde curls. They're hard to miss considering a) how gorgeous they are, and b) the fact that those ringlets take up half the frame. Enough so that we felt the need to blindly call her up, because being unapologetically nosy about people's skin/hair/makeup routines is just par for the course in the beauty editor business, and ask her exactly what she does. The best part came when we found out she's a fan of the high-low mix—so much so that her top hair-styling products (aka how she achieves ringlet perfection in the first place) can be found on the shelves of your local CVS. Yup, you could call us impressed.
Her entire skincare routine from cleanser to makeup remover:
"I have very oily skin, so using charcoal soap is my savior in cleaning my skin in the mornings, it draws out dirt, excess oil, and toxins from pores. After washing I tone my skin using Mizon Camomile 90% Toner and mix it with sunscreen. The brand I'm using right now is Ossion UV Perfect Sun Cream SPF 50. Sunscreen is so important in protecting your skin from the strong ultraviolet rays of the sun. I mix my sunscreen with Cosrx Advanced Snail 96 Mucin Power Essence—it has real snail goo in it and is really great at keeping your skin from drying out. My sister introduced me to a lot of Asian brands that are great.
"In the PM you'll catch me taking off my makeup with Neutrogena Oil-Free Eye Makeup Remover, it's amazing at taking off heavy waterproof eye products and has cucumber extracts to smooth skin. Try it, you'll love it! After, I'll use Mario Badescu Facial Spray with Aloe, Herbs and Rosewater—I use it over makeup, too.
"I love using skin masks, two of my favorites are the Boscia Luminizing Black Facial Peel Mask, and Queen Helene Mud Pack Masque. I haven't had any real skin disasters—I once got a microdermabrasion and didn't care much for it. I just stick to staying hydrated and keep away from sugary snacks that can cause pimples around the face!"
The 401 on *those* curls:
"I like to use a diffuser to get them bigger. For products, I love ORS Olive Oil Replenishing Pak, you can find them at Walmart or CVS, and Curl Renew Reactivating Milk Spray by Garnier Fructis, it helps tame frizz and define bouncy curls with coconut oil."
Her holy grail makeup products:
"I adore Milk Makeup and Becca Cosmetics for their highlighters. My favorite foundation is Maybelline Fit Me Dewy & Smooth. The golden eyeliner that I've posted on my Instagram a lot (and I get a lot of DMs asking me about) is Liquid Genius by Ruby Kisses in Luxurious Gold. It's amazing, smudge-proof, really easy to apply, and peels off—and only $3."
"I have a few go-to lip colors: NeverMind Cosmetics lipstick in Whatever, Sephora Collection Colorful Gloss Balm in Tan Lines, and Urban Decay Vice Lipstick in Vanished."
Her self-care rituals:
"Working out is important during stressful times, another thing is talking to my family, it's a big stress reliever for me. I drink carrot juice for healthy eyes and vitamins. And I take fish oil for memory, vitamins D and C, and Biotin pills for hair growth, nails, and skin."
Desert island product?
"Elizavecca Hell‑Pore Clean Up Mask, because if I'm gonna die on [an] island, I'm gonna die with clean pores."
Favorite feature?
"My beautiful big round button nose!"
Beauty icon?
"My sister and Naomi Campbell."
Beauty advice for your younger self?
"Practice makes perfect!"