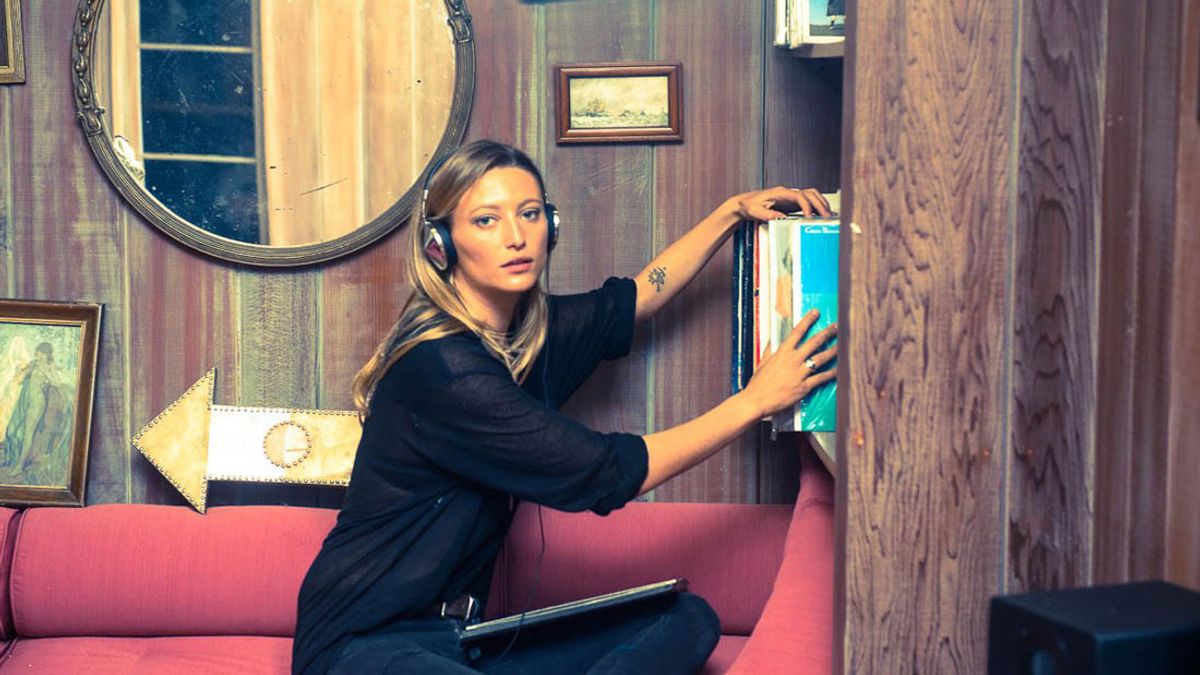 Living
Let your feminist flag fly.
With a new era set to begin this week (ugh), there's no better time for us to rise up and make waves. And between girls' clubs like The Wing, purchasing power-pink swag, and all the feminist vibes coming from social media, female-driven podcasts are giving us life right now.
After all, while it's great to see the super femme spirit, it's also powerful to hear it—not only are we seeing the world through rose-colored glasses (or of the millennial-pink variety), we're hearing it loud and clear too.
So whether you need a dose of girl power while on the way to Saturday's Women's March (wherever you're joining in; there are 370 sister marches worldwide and the number is increasing daily), or are looking for some laughs and Beyoncé-level "Run the World" female empowerment, these podcasts hosted by women for women will give you all the feels. (PS: they're all available for download on whatever podcast app you use—proof that the best things in life really are free.)
Turn up and rise up...
---
Presented in stand-up comedy format, 2 Dope Queens hosts Phoebe Robinson and Jessica Williams (the queens in question) rant about sex, romance, race, and living in NYC, and are joined by their fave of-the-moment comedians. If their names sound familiar, there's good reason: Williams was formerly a senior correspondent on The Daily Show (and the woman so much of Twitter tapped to take over hosting duties), while Robinson recently released a book called You Can't Touch My Hair: And Other Things I Still Have to Explain.
Shout-out to Robinson who also hosts a podcast called Sooo Many White Guys (executive produced by Broad City's Ilana Glazer), which features people who are slaying in their fields and aren't straight white dudes. Also, get behind the fact that Robinson consistently drives home the message that women can both gossip about hot celebs and intelligently discuss hot-button issues like equal pay.
Consider this a fist bump for anyone sick of the notion that women talking about and reveling in sex is somehow taboo or shameful. New York-based comedians Corinne Fisher and Krystyna Hutchinson swap sex secrets—often with one of their exes in the room—on their podcast and are putting the power in female hands in the process. Through stories of one-night stands and interviews, Corinne and Krystyna focus on empowerment and owning the conversation. Their mission? Encouraging women to feel comfortable with having more great, shame-free sex. Interesting to note that Guys We F**ked debuted 10 years after SATC ended its run; Carrie and the girls started the conversation, and now Corinne and Krystyna are taking it to a whole other level. They're fierce—just don't call them sluts.
Everything Lena Dunham touches is girl-power gold. Listening to the Girls creator and star chat about the power of female friendships with Emma Stone and Amy Sedaris, productivity with genius novelist Zadie Smith, her fascination with pop music and Camila Cabello's departure from Fifth Harmony, and, of course, one of Lena's most popular topics, body love ("Sorry to be a bitch, but I'm not going to apologize for my size.") is everything. Oh, and passing along the message: don't ever call Lena "sweetheart," "babe," or "honey."
No list about feminism-related pop culture is possible without the entrepreneur who sparked an entire #Girlboss movement. It's safe to say that Sophia Amoruso has become larger than the retail brand that launched her career. Girlboss Radio is the ultimate inspirational sesh with female entrepreneurs, leaders and creatives who are crushing it across industries.
Hosted by Forbes writer Clare O'Connor, this podcast is rich (for reals). Clare has interviewed self-made women like The Wing cofounders Audrey Gelman and Lauren Kassan, Glossier's Emily Weiss, and a whole slew of boss babes. They get real about the good, the ugly, and the totally bad-ass that comes with founding a business, closing a seed round, or seeing the cash roll in.
This podcast speaks to our inner geek-chic persona. Co-hosted by Tricia Bobeda and Greta Johnsen, the "nerdettes" discuss everything they're obsessed with right now. They've recently had Phoebe Robinson on (see 2 Dope Queens) to chat about the anti-feminist reality of rom-coms like Pretty Woman and how bad-ass Peggy in Mad Men is in a segment called "Late to the Party." In short, their topics are always on point and on time.
Coined as "a podcast for long-distance besties everywhere," Call Your Girlfriend is basically like eavesdropping on gal pals Aminatou Sow and Ann Friedman. Aminatou is cofounder of Tech LadyMafia, which supports women in technology, and you likely know Ann from her columns in publications like ELLE, The Guardian, and The New York Times Book Review. The podcast format is basically a phone convo between these two besties as they cover everything from pop culture and gender identity to politics. This line from their bio is all you need to know: "We're highbrow and lowbrow, unapologetically feminist, and not afraid to real-talk each other about everything from menstrual cycles to workplace dramas."