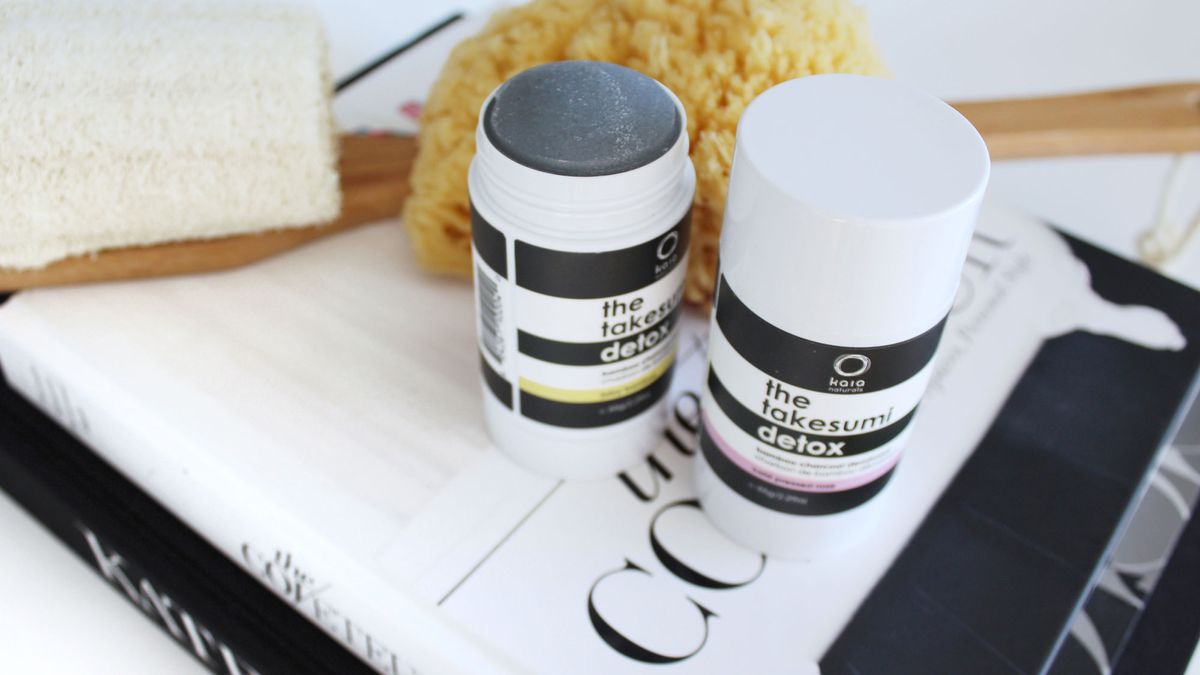 Health
I did the whole four-week program—side effects and all. Here's what happened.
Say what? A detox for your armpits? Yup, it's happening. It is January, after all, the month we hit the reset button, wipe the slate clean, and kick off the year feeling (read: smelling) fresh.
For me, the words resolution and detox go hand in hand and I consider the start of a new year the perfect springboard to launch into an assault against my bad habits.
By now you've probably juice-cleansed the holiday cheer (think: copious amounts of spiked nog) right out of your system, jumped on the minimalism* bandwagon de-cluttering your home within an inch of its life, and loaded up on enough fitness apps to burn out your operating system (the only ones you actually need to download, here), all in hopes of kicking the year off on a healthy note. While you're at it, how about trying a different type of detox on for size?
Sure, it sounds a bit out-there, but a deodorant detox is in fact a thing, and one that can actually do you a lot of good at that. Armed with the knowledge of all those toxic chemicals I know are lurking in our beauty products, I've begun to take steps to detox my beauty routine, swapping out those toxin-laden products for cleaner alternatives. But deodorant has proven to be one of the more challenging items to replace, and, I'll be honest, it's an area I'm reluctant to take any chances with. But indulge me and allow me to introduce you to a product that actually changed my life.
*If you haven't seen the buzzed-about Netflix doc yet, what the hell are you waiting for?
---
WHAT IT IS
The Takesumi Detox Bamboo Charcoal Deodorant from Kaia Naturals is a deodorant like no other. It is 99 percent natural, aluminum-free, paraben-free, vegan, and made with a combination of activated charcoal and natural fermentation technology to fight odor-causing bacteria. Unlike many other natural deodorants on the market, which are made with baking soda (a known irritant) as one of the primary ingredients, bamboo charcoal is the star ingredient in Takesumi (pronounced Ta-keh-su-mee), a time-honoured Japanese secret for odor control and detoxification.
HOW IT WORKS
Charcoal has a porous surface that acts like a magnet, binding substances, such as bacteria and toxins, to draw them out. It is ideal for eliminating toxins from the body and has the power to clean deep inside sweat glands. Swapping out my old deodorant for this one allowed my body a chance to rid itself of built-up toxins and bacteria.
Brace yourselves: this process does require some commitment. First off, it is a four-week detox—I repeat, a four-week detox (aka 28 days!). But let's be real, it's applying deodorant once a day (ok, maybe twice), not Barry's Bootcamp. Second of all, as with any detox worth doing, you may experience some less-than-pleasant effects while your body's doing its thing and adjusting to the product. To help give you a sense of what you might be in for, the folks at Kaia have outlined what they call the Stages of Detox to guide you along the journey. The second and third weeks are considered to be the pinnacle of the purge, during which you may notice your pits to be a little on the smelly side and sweating more than usual. Both totally normal and to be expected.
Now stay with me here. Don't kibosh this thinking you can't possibly stick it out for two weeks emitting anything other than your go-to Le Labo. Allow me to state the obvious and remind you that everyone is different, and experiences during the purging phase may vary. The idea is that once the four weeks are up your body will have completed its purge of toxins and adjusted to the product. Continue to use it as your daily deodorant, allowing the power of activated charcoal to act as a daily detox for your underarms.
THE VERDICT
Having gone through the four-week detox, I'm impressed. I really didn't experience any of the unpleasant effects (and even if I did, they were so minimal I hardly took notice) that I was psyching myself out for. I chalk that up to my existing religious use of natural deodorants and a pretty healthy lifestyle. Tracking my progress with a quick whiff at the end of each day left me shocked at zero traces of odor (ok, maybe not zero, but certainly nothing the slightest bit offensive), and very rarely did I feel the need to apply more than once a day.
While I did my very best to adopt all of Kaia's tips (drinking plenty of water, exercising, avoiding processed foods, etc.) to enhance my experience on the detox, full disclosure: I was right in the thick of festive holiday celebrations and my typical diet and lifestyle was somewhat derailed. Kudos to Kaia for creating a product powerful enough to hold up during a time when tensions can run a little high and chaos can wreak havoc.
What's more, I didn't experience any skin irritation that is typical with many other natural deodorants on the market. Six weeks later and this deodorant is still going strong, keeping me fresh and odor-free day-in and day-out. The generous-sized stick lasts a good 4-5 months (depending on use) and the three scents (Juicy Bamboo, Cold-Pressed Rose, and Lime Mint) are subtle, yet pleasant. The best part? That's the only smell there is.