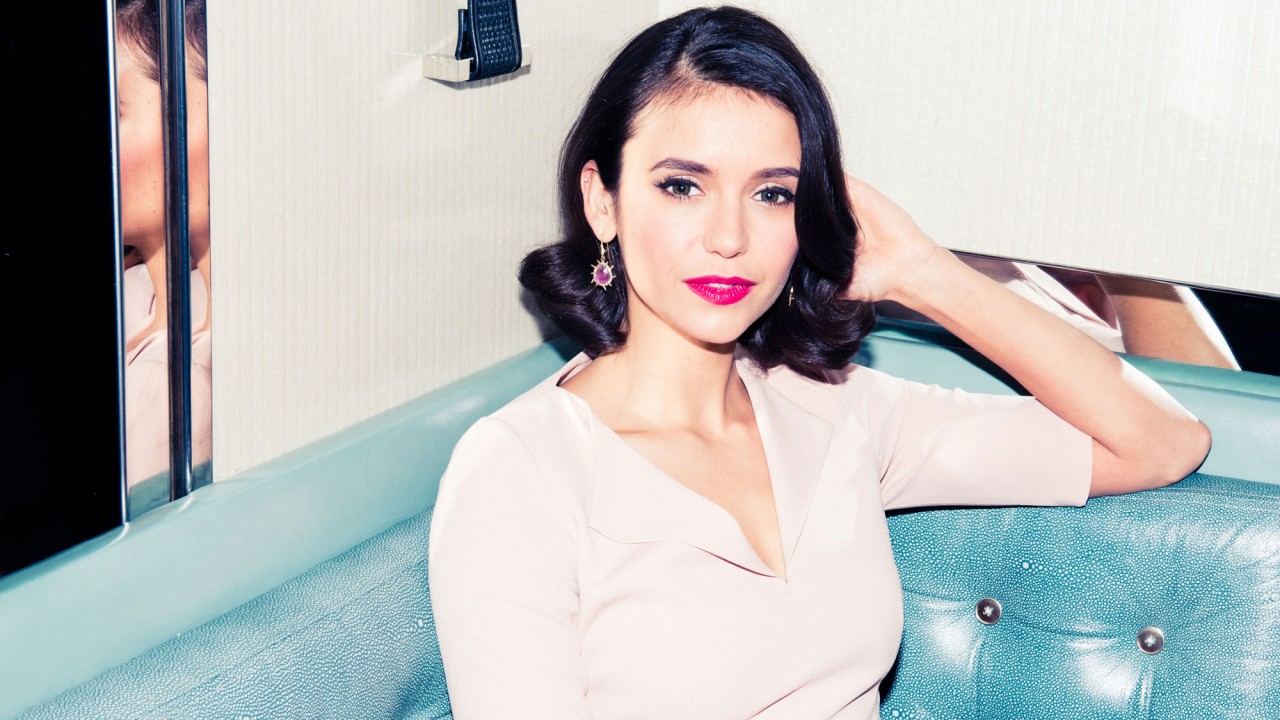 Nina Dobrev is a Self-Proclaimed Dorky Prankster
She can totally relate to her XXX: Return of Xander Cage character, techy Becky.
It's only 10 AM, but Nina Dobrev's already lived a full, eventful day. An appearance on Live With Kelly had her up and out early, and despite the mid-morning time, she admits to having more than one cup of coffee. When the star opts to order another—her third, she says casually—we don't really blame her. We know what it's like to feel tired, and, after all, Nina's not a vampire.
Still, if Nina's exhausted, she certainly doesn't show it. Her makeup is flawless, her outfit's adorable, and her freshly cut bob is full of voluminous curls, giving off a glamorous old-Hollywood vibe. She's more than happy to tell us about her new film, XXX: Return of Xander Cage, in which she plays a tech wiz, Becky, and reveal a bit more about her on-set prank wars with co-star Ruby Rose. 
What it was like filming her first big action film:
"The movie is a roller coaster ride and it felt that way filming it as well. It was so fun and exciting and new—especially for me, because I've never done an action movie before and it was such a big-budget action film. Probably about 80 percent of it was practical and the rest was visual effects, so a lot of the things you see on screen are happening around us. It was genuinely scary. There wasn't a lot of acting required—I was just reacting to my environment." 
Her favorite scenes to film:
"The group scenes were probably my favorite. Whenever the whole group's together we can play off each other. In between the takes, we would make jokes and get to know each other. The cast is so multicultural that I personally learned a lot about different places that I didn't know about—little fun facts. Now I feel like I have homes in so many different countries because we all became very close. I'm welcome in all of their living rooms [laughs] and they're welcome in mine as well." 
On how she differs from her tech wiz character:
"I'm like my character and I'm very dissimilar from my character in many ways. She's afraid of everything. I'm afraid of nothing. But she's a bit of a dork and a geek, and I'm very much like that. I'm clumsy just like Becky is. I'm not like Becky in that I'm not very technically-inclined. I was not gifted with that ability to fix things, probably because my dad was the one who was a computer specialist. Whenever something broke at the house, I would just scream out his name and say, 'Dad! Fix it!' and he would. So I learned nothing growing up." 
An invention she wish existed today:
"If I were to invent something, I would invent—and I can't believe we haven't done it yet—I really need teleportation devices. This whole plane and traffic situation is not my jam. I need that to be eradicated so we can get to places faster." 
How those prank wars started with Ruby Rose:
"I was bragging about being the best prankster, that I could scare anyone and no one could ever scare me. So she said, 'Challenge accepted.' When she said that I immediately, that same day after we wrapped, ran to her trailer and hid behind a cupboard so when she entered, I scared the living bejeebus out of her. That sparked a whole war. She put the head shots of herself in my trailer and I put the crabs in her trailer, because she was crabby with me on set. We kept on going back and forth for a long time. At the end of it, we were both terrified and couldn't leave our trailers because we thought the other one was plotting something at all times. Which we were."
A prank they couldn't post to social media:
"She got, like, a Taylor Swift impersonator to come to set and the poor girl ended up being a fan. When it came time to come into the trailer and sing a Taylor Swift song to me, she got nervous and hit her head and started bleeding. So that one wasn't really post-appropriate." 
Who she would prank if she got the chance:
"George Clooney or Brad Pitt. I've heard that they're pranksters from the films they've done in the past. It would be really cool to be in a prank war with them because they're pretty clever. I would like to try to out-do them and see if I could succeed." 
On her upcoming film, Flatliners:
"The film is so beloved. Any time I mention it to anybody, everybody knows about it and has fond memories. This new take is sort of a departure from the last one, in that technology has changed so much, and the advancements in medicine—doctors can actually do a lot of things we do in the film. It's a lot more grounded in reality, and our director, Niels Arden Oplev, who directed the [original] [The] Girl with the Dragon Tattoo, is a stickler for detail. He wanted it to be as real as possible, so we had to go through three weeks of medical training. I had to learn to play the cello and do swim lessons and all these crazy things. It was a blast. I had a great time."