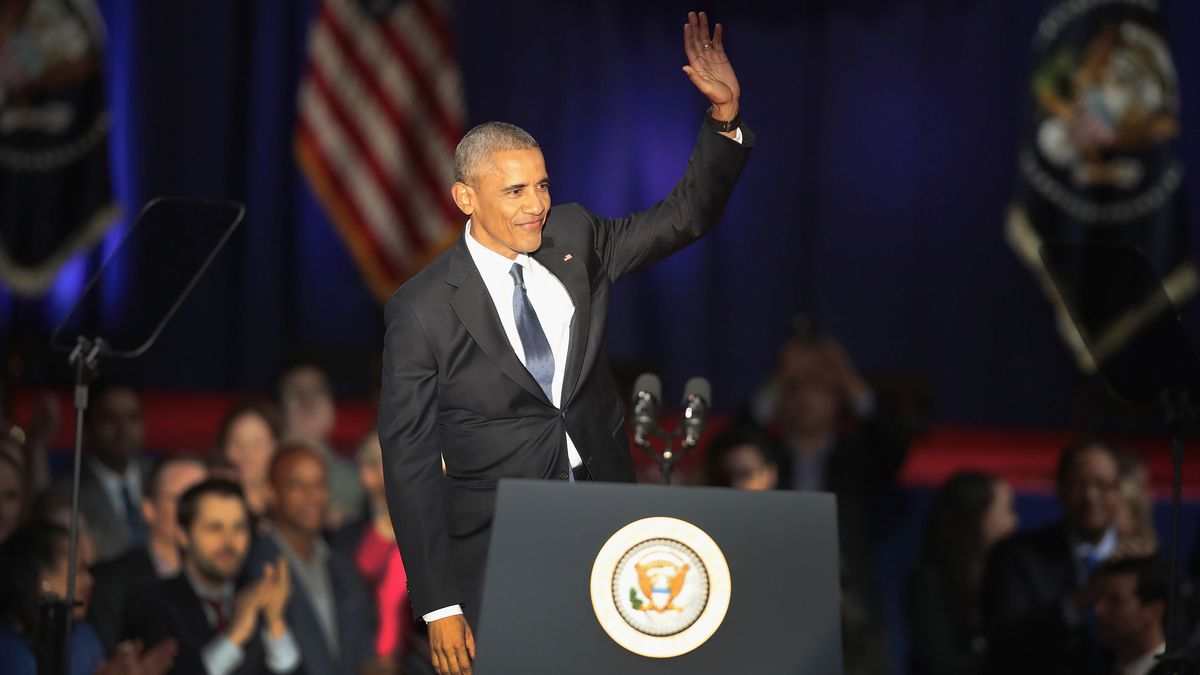 Living
Bookmark the YouTube clip to keep in your back pocket over the next four years.
A day after President Obama's rousing Farewell Address and nine days until Inauguration, one song has been stuck in my head: "One Last Time" from the blockbuster musical Hamilton. An ode to George Washington's course-altering decision to step down after his two terms of his presidency, the song is a revolutionary reinforcement of the country's budding democratic tradition. (Lest we call the cultural phenomenon that is Hamilton a shining and brilliant example of liberal identity politics in the arts, it also resonated with Vice President-elect Mike Pence, who said: "I…really enjoyed the show. Hamilton is just an incredible production, incredibly talented people. It was a real joy to be there.")
"One Last Time" tells the story of Washington's writing of his Farewell Address in 1796, and Alexander Hamilton's insistence he stay and block their political rival, Thomas Jefferson, from assuming the position. Washington powerfully sings about setting a history-making precedent: "And if we get this right/We're gonna teach 'em how to say/Goodbye… If I say goodbye, the nation learns to move on/It outlives me when I'm gone." (Not a coincidence: Obama actually quoted Washington's address in his speech.)
---
This message resonates with Obama's address last night in which he stressed the help he received from George W. Bush's staff during his transition to office, and echoed his commitment to do the same for Trump's administration. It's not an exaggeration to call Obama the embodiment of class in American politics; let's go back to the beginning, when Trump ignited the birther movement.
The state and preservation of our democracy, and what it means to be an American citizen, were a central theme of Obama's speech. He used the word democracy 20 times in his farewell speech, more than the last 15 presidents combined; as if to say: people, we are back to basics. Obama's credo—at once comforting and a real hard truth—can be summarized as follows: "The work of democracy has always been hard. It has been contentious. Sometimes it has been bloody. For every two steps forward, it often feels we take one step back. But the long sweep of America has been defined by forward motion, a constant widening of our founding creed to embrace all, and not just some."
He urged us to stay vigilant in protecting our values and way of life, and refrain from targeting any particular group. And his statement "I reject discrimination against Muslim Americans who are just as patriotic as we are" drew some of the night's loudest applause. The speech was also steeped in gratitude, for the American people; for his staff; and for Michelle and his daughters. Watching Malia Obama wipe her tears throughout the speech had this emotionally fragile writer whipping out the tissues.
I admit I've cried a couple times in the past few weeks: watching Michelle's most recent speech and looking at a collection of White House official photographs. I am sad because I'll miss him and sad because my political innocence is lost. The exhilaration, and, yes, hope of 2008 have been replaced with cynicism and fear. But my Trump-induced melancholy is nothing compared to what our 44th president must feel, and yet he gets up there not discouraged, but instead preaches action and civility. Again, he showed up as the bigger person.
And then Obama said goodbye with his familiar "Yes, we can. Yes, we did. Yes, we can." He wasn't a perfect president, but he saw the best in us and infused the office with dignity. He made history—a history I don't plan on forgetting anytime soon.