Makeup
YSL Beauty's new face on glitter, doing her face in the backseat, not hiding behind makeup, and why you really need to pick up coconut oil already.
Travis Schneider
Welcome to My Beauty MO, a brand new Coveteur interview series talking beauty, the signatures that define our subjects' looks, how they really feel about them, and the products they use to get there.
---
Staz Lindes is the very definition of what it means to be a model now. Meaning, of course, that it's something that doesn't actually define her at all. When she's not walking for the likes of Saint Laurent (she's YSL Beauty's latest ambassador), she's playing shows with her band, The Paranoyds, and she's more likely to post something protesting the Dakota Access Pipeline or calling out one of Trump's latest cabinet picks than she is a recent shoot. Which is exactly how we knew she'd have a nuanced take on her own beauty routine—and we were right. Here's what she had to say when we caught her at The Ace Hotel theater in downtown L.A. (Lindes is a native) on the eve of YSL Beauty's new pop-up shop opening.
YSL Beauty's Pop-Up Shop at The Ace Hotel is open January 10th through 11th. 
"At that age, I was generally pretty insecure. I wouldn't even wear a bikini publicly."
Where her relationship to beauty first began:
"I've always been obsessed with makeup; I probably started wearing lipstick and doing eye makeup when I was, like, twelve [laughs]. I went through a whole experimentation phase; and then back to nothing at all when I was in my later teens."
What her beauty routine looks like today:
"Now, I get to wear stage makeup, so I do full looks, which is fun. But typically I'll wear a little bit of eyeliner, mascara, and lipstick. I love the Kiss and Blush liquid lipstick in Number 11—it's really fun to do an exaggerated line with it. And the Full Metal Liquid Eye Shadow."
"I get weary of the crazy tutorial YouTube concealer contouring stuff."
How seeing makeup as a choice helped her overcome insecurities:
"I did use makeup as a statement, but I also remember feeling like I could never go a day without wearing it. It wasn't until I was 18 that I realized I could. At that age, I was generally pretty insecure. I wouldn't even wear a bikini publicly. I definitely used it as a form of expression, but I also used it as a shield in a way. Now it's the complete opposite. I only want to use it to exaggerate and express, rather than hide behind it."
How she gets ready for shows with her band, The Paranoyds:
"It's me and two of my best friends, so we'll all get ready and do our makeup in the car beforehand. There's a lot of glitter involved (the girls like using chapstick on the lid as a base for glitter—using just that on the lid is a good way for glitter to stick). If there's a green room it's easier, but typically we're crammed in a car passing around the tools. One of us is not a makeup expert, and has one of us do it for her, but me and the keyboardist both were super into makeup in high school and stuff. Sometimes we all match the colors. We never show up in makeup, we always do it as a ritual together."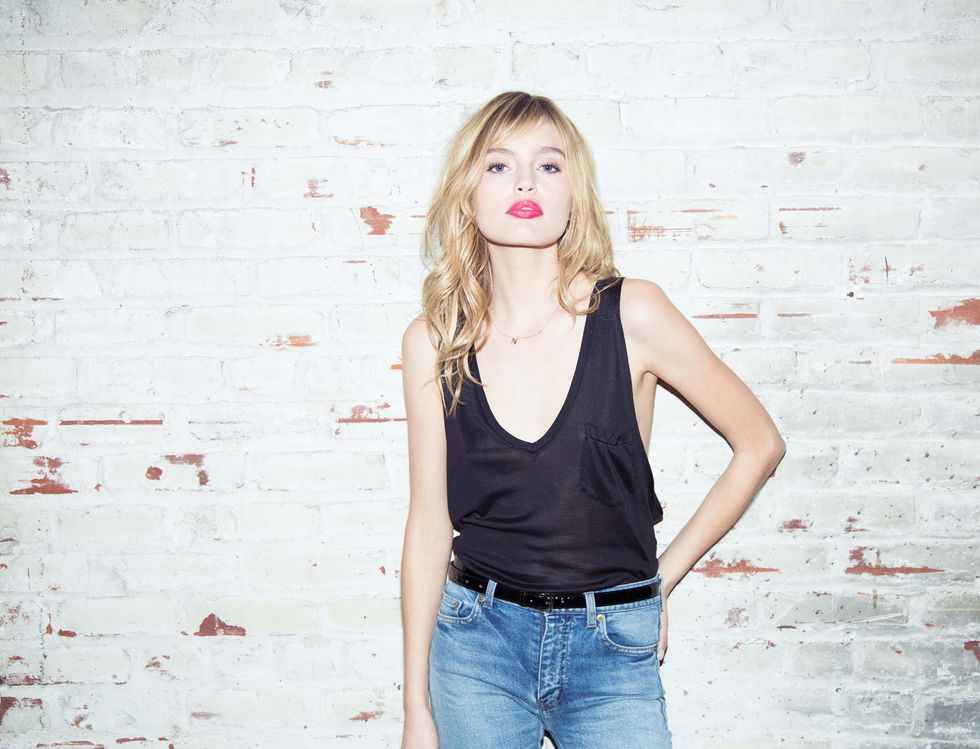 "I think you should really introduce coconut oil into your life."
Her unexpected (and all the more amazing for it) beauty icons:
"I love the stage makeup that Siouxsie Sioux does. I also love the makeup that Divine wore in the John Waters movies, super scary makeup. For the more natural day-to-day stuff, I like the stuff Debbie Harry wore. There's so many amazing photography books now that documents the punk scenes in L.A., New York, and London. I'll get inspired by that."
The beauty trends she'd rather sit out:
"I get weary of the crazy tutorial YouTube concealer contouring stuff. To me, that plays in with hiding behind makeup, rather than expressing yourself with what you have already. If it makes you feel good that's fine, but I can't get on board with something that's hiding who you truly are. I always find that people look way better without anything on. It's crazy, even when you go halfway through one of those videos and there's just pure white under the eye, you're like, 'What the hell? Where is this going from here?' [laughs]"
"I only want to use it to exaggerate and express, rather than hide behind it."
Why you should stop washing your hair (& the secret to getting away with it):
"I've stopped washing my hair with products. I think your body starts relying on it, and it doesn't help improve the quality of your hair. At least for me. [When you don't wash], it starts [to get] greasy, and you'll be like, 'Oh, there's no way this works,' but your body actually produces what it needs naturally."
The beauty advice she wants you to actually use:
"I think you should really introduce coconut oil into your life. I do pulling in the morning, I use it to get rid of makeup, I use it as a lotion, some people use it for their hair. And I'll use apple cider vinegar. Apple cider vinegar's great for your hair and skin and to drink, it keeps you really healthy. Those are my two faves. I'm gonna get sponsored by them [laughs]. That'd be great."