Why You Should Make Southern Portugal Your Next Vacation
Where the wine is cheaper than water and there's a bucket list-y beach around every corner.
Travel
If Facebook has told us anything in the past few years, it's that when it comes to travel, the trends are oh so real.

First, everyone flooded your feed with technicolor buckets and neon body paint in Thailand. Then there they were, wrapped in Moncler and petting wild ponies in Iceland. Now, everyone and their brother/mother/significant other is high-tailing it to the Iberian Peninsula, roaming the tiled corridors of Lisbon and committing selfie sacrilege in the Sagrada Familia.

I'll admit I'm 100 percent guilty of destination-copycatting. But if I learned anything this year, it's that the roads less traveled, towns less touristy, and hotels less Instagrammed are often way worthier of your vacation time. Case in point: Southern Portugal. From its off-the-Google-Map rentals to its breathtaking beaches, here's why you should put SoPo on your wanderlist (and then check it off, like, right now).
---
1. You've probably already pinned a Portuguese beach or two.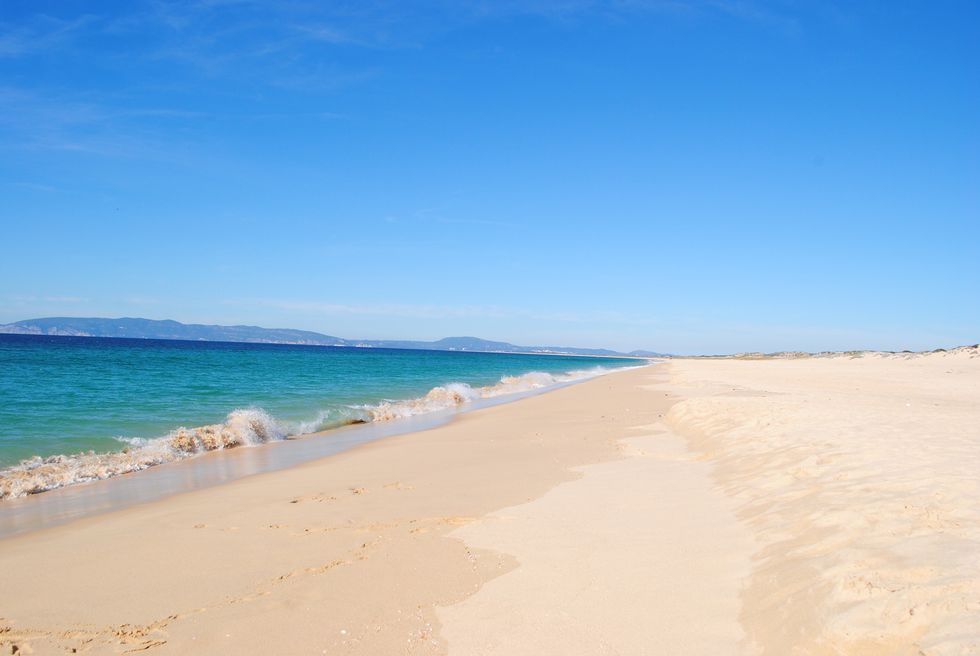 About an hour and a half south of Lisbon, you'll find Praia da Comporta: miles upon miles of powder-soft sand, lined with beach bars with thatched tiki umbrellas, hammocks, and colorful beanbag chairs. Detour southwest to the island Madeira, and you can play mermaid at Doca do Cavacas, natural infinity pools scooped out of the volcanic rock. And with its turquoise tides and terracotta-tinted cliffs, we dare you to find a more worthy backdrop for your Solid & Striped than Praia da Marinha in the Algarve (the Michelin Guide named it among the top 10 most beautiful beaches in Europe).
2. Because you can stay in an art-filled villa one day...
The first thing we noticed about Arraiolos—a teeny town east of Lisbon—was the abundance of sheep. "If you're lucky, you'll see them all over the property in the morning," François, one half of the Parisian couple who own and operate Villa Extramuros, told us as we toured the grounds, lined with more than 100 olive trees and dotted with countless cacti.

Villa Extramuros is the kind of place Tom Ford would shoot a glossy art thriller. With its clean lines, inky infinity pool, and profusion of designer knickknacks (a disarmingly Glock-like water pistol rests on a side table), it looks more like a modern art museum than a place you'd allow—let alone invite—strangers to sleep.

As stunning as the building's bones are, it's what's been removed that makes the villa so special—a cubic courtyard carved out of the center, where we ate breakfast surrounded by emoji-perfect orange trees with a horizontal strip sliced out of the white stucco bordering our balcony, so it looks like you're staring into a panoramic photo. If sleeping inside an Architectural Digest spread is your jam*, Villa Extramuros is a must-stay.

*Speaking of jam, François and Jean Christophe make their own. It's heavenly.
3. ...And a dreamy cabin in the middle of nowhere the next.
We pulled up to Cabanas No Rio just as a La La Land sunset descended over Carrasqueira, Portugal. Google Maps had some trouble registering where we are: a pair of retrofitted fishing cabins nestled between rice paddies on the edge of the river Sado. Tufts of pillowy, natural succulents line the edges of the cabins, and the 2016 Supermoon hangs what seems like inches over our heads. We feel like we've stumbled into a watercolor painting. It's magical.

The exterior of the cabanas may look rustic, but inside, they're filled with little luxuries like a Nespresso machine, spotless Wi-Fi (#rare), box sets of Louis Vuitton city guides, and a fluffy canopy bed. Lift up the wood-plank countertop and you'll find a stovetop and stainless-steel sink. The coolest feature? The walls of the shower push away, so you're just standing under a steamy stream, the only civilization in sight being a teeny Lego-brick skyline miles in the distance.

In the morning, a local named Deolinda dropped by to prepare us breakfast. She spoke no English and we spoke no Portuguese, so we giggled and Googled and hoped we didn't say anything too offensive. We drank fresh-squeezed orange juice and ate fried eggs and sheep's cheese on our private dock (not kidding—this place was beyond) and promised each other we'll come back.
4. You're always just a short drive away from a castle.
From the Game of Thrones-y Castelo dos Mouros to the candy-colored Pena Palace, Portugal is chock-full of some of the most breathtaking turrets and towers we've seen since, well, The Crown. Now, if only Google Maps had a "nearby" function for pastel fortresses...
5. The wine is cheaper than water. (Literally.)
I questioned my sanity when the vinho tinto I bought at a gas station for 1 euro 50 not only didn't burn going down, but actually tasted bom (not a typo—it's Portuguese for "good"). A half-liter of rosé at a hole-in-the-wall restaurant will set you back as much as a latté at Alfred's Coffee. "A really good bottle should cost you around three euros," we were advised by an American expat. #Splurge.