Urban Decay's Founder Would Have Been a Beauty Blogger in Another Life
Wende Zomnir is the original beauty junkie.
Career
We'll tell you this right now, Wende Zomnir, cofounder and chief creative officer of Urban Decay, walks the walk and talks the talk. When it comes to beauty executive-dom, the woman knows what she's doing—effortlessly, too: when you meet her, running game on what is interesting and edgy and adventurous in beauty is seemingly part of her DNA. Urban Decay was launched in the '90s, when Zomnir and her partner, Cisco Systems founder Sandy Lerner, looked around the luxury beauty market and realized there was nothing but beige, mauve, and pink. Crazily enough, more than 15 years later, in an industry that has changed astronomically (see: buying product as advised by a 16-year-old from her bedroom in Texas via YouTube), Urban Decay can still stand by its "beauty with an edge" M.O. Here, we sit down with the "original beauty junkie" (Zomnir would probably be that beauty vlogger from Texas had she been born 20 years later) to talk about why self-expression rather than a beauty ideal is the keystone to success in the beauty industry, and why the YouTube and blogger revolution is the best thing that's happened to the industry.
---
How Urban Decay was born out of an aversion to pink:
"[When Urban Decay launched] there was no Sephora, no Ulta—there wasn't really a home for alternative makeup. The department store was prestige makeup. It was this very boring environment... It was very beige. A big crazy color story was mauve or berry. We really wanted to break out of that. My partner, Sandy Lerner, wanted to create high-quality makeup in fun colors—blacks and greens and purples that would blend beautifully. That was our goal right from the outset. We had a super clear vision. We were like, what do we do that makes it really stand out and makes it totally different? We came up with this tagline: Does pink make you puke? We were raw and edgy and grungy, and we wanted to completely shock the cosmetics industry."
Why Urban Decay is really about self-expression:
"I had been in advertising and I learned a lot about being resourceful and about being in the business world, but I wasn't feeling very fulfilled. I felt like a cog in a wheel, and I knew I wanted to do something more with self-expression. That's really the basis of the brand—this whole idea of not covering your flaws or changing yourself, but how do I express myself through makeup? One day it might be super minimal, but I might put a fine green line on my eyelid—that's my self-expression. That, to me, is what makeup is all about: a little playground for your face. It's not about needing to be the most beautiful girl or not leaving the house without makeup on. It's what do you want to look like today? We always say that Urban Decay is that cool girl in the room that is also really nice—and I know a lot of really different cool girls. Not everybody fits the mold."
How she's maintained an entrepreneurial and creative company culture despite being owned by a massive corporation:
"The tone and the way you communicate with your team is really important, but that's kind of superficial. In the end, it's really about people being empowered to make decisions and hiring great people who share your vision, who want to do great things for the brand, and just do whatever it takes to get the job done. I think that's what creates an entrepreneurial culture: it's not feeling constrained. Feeling like even though you might work in the sales department, but you have a great idea for a product and feeling like you can be heard. Great ideas can come from everywhere. It's my job to come up with a few, but also cherry-pick the best ones from everybody."
What it really means to be the Chief Creative Officer of a beauty company:
"It looks so different every day. Some days you're doing PR and shoots. Earlier last week I was at a shoot with Ruby Rose, and then the night before I was at an event with her for Equality Now. Then I was at a meeting with L'Oréal. Next week, we're just going to hole up in the office and just work on product and ideas. Sometimes my job is very public and sometimes it's very dig-into-your-rabbit-hole and get-really-granular."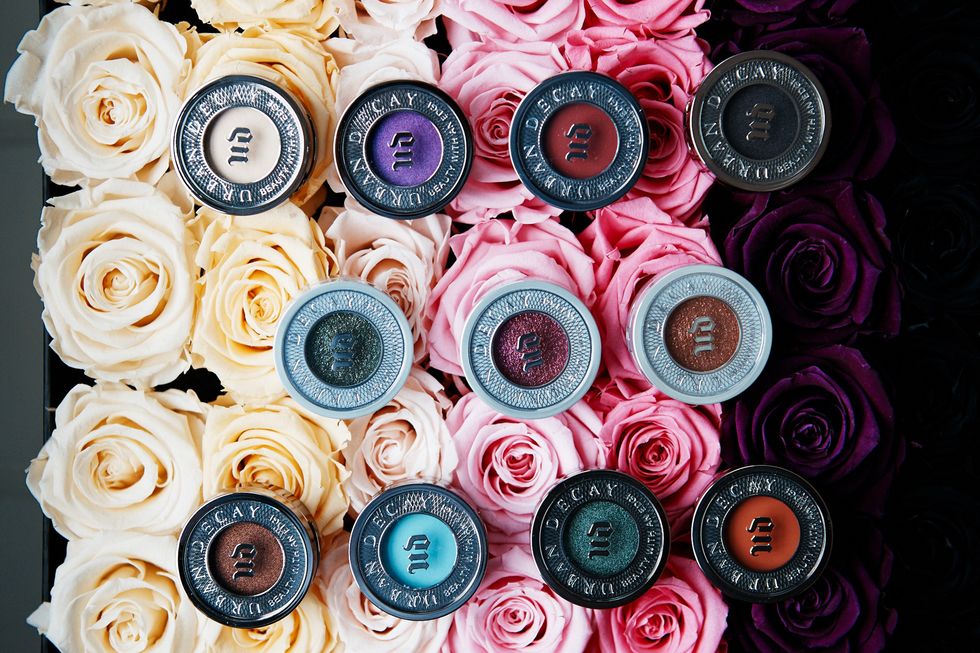 Why the social media and YouTube revolution has been great for Urban Decay:
"The biggest change is that social media has allowed the woman who is that beauty junkie to influence other women. I remember when I started, I would come to New York and I would call all these editors and none of them would wear makeup and they weren't really in that beauty junkie mind-set, and yet they were the influencers for these women who loved, loved makeup and were buying tons of it. I kind of was the original beauty junkie. I would show up like this [wearing all this makeup] and people would look at me like I was bananas. Now, I don't really wear much at all compared to some of these influencers, but I think it's great because they're really truly road-testing. They're not guessing because it's a pretty package, or it fits on the page, or their photo editor liked it. It's the real deal. The industry has changed to being very real. The other thing that's really cool is five years ago I couldn't have sold a color corrector. I love color corrector, but I couldn't have sold one. And now, thanks to all these influencers on YouTube, everybody knows how to use a color corrector. The industry has definitely changed for that person who loves and uses makeup. Anyone can kind of dive in and be their own makeup artist."
Why philanthropy has always been at the center of what Urban Decay does:
"We started with philanthropy right from the beginning. Even when we didn't have money as a brand, we started by providing local domestic violence shelters with empty lipstick cases because then they could put information about domestic violence hotlines inside the lipstick case. If you send a woman home with a sheet saying 'Here's how to get help if you get beaten,' the abuser sees that, and then they get beaten. We were putting it in lipstick cases so that the information was secret and hidden and she felt like, 'Okay, I've got this in my handbag whenever I need this information, it's here for me.'
"The brand began with this idea of empowering other women who needed help. When we got to a certain size we had been doing a little donation here and there, and we finally said it's time to take this idea and put an umbrella around it, focus our energy and make it more of a vision. So we created the Ultraviolet Edge. We funded it by creating a product, our eyeshadow primer, and 100 percent of the selling price goes into the fund. So if you buy the primer for $20, we put $20 in the fund. We do the matching with our customers. The more they buy, the more we donate. It's not a percentage—it was really important to us that it was all the money."
To find out more about what Zomnir and the Ultraviolet Edge are doing for women all over the world (and to get involved!), click here.