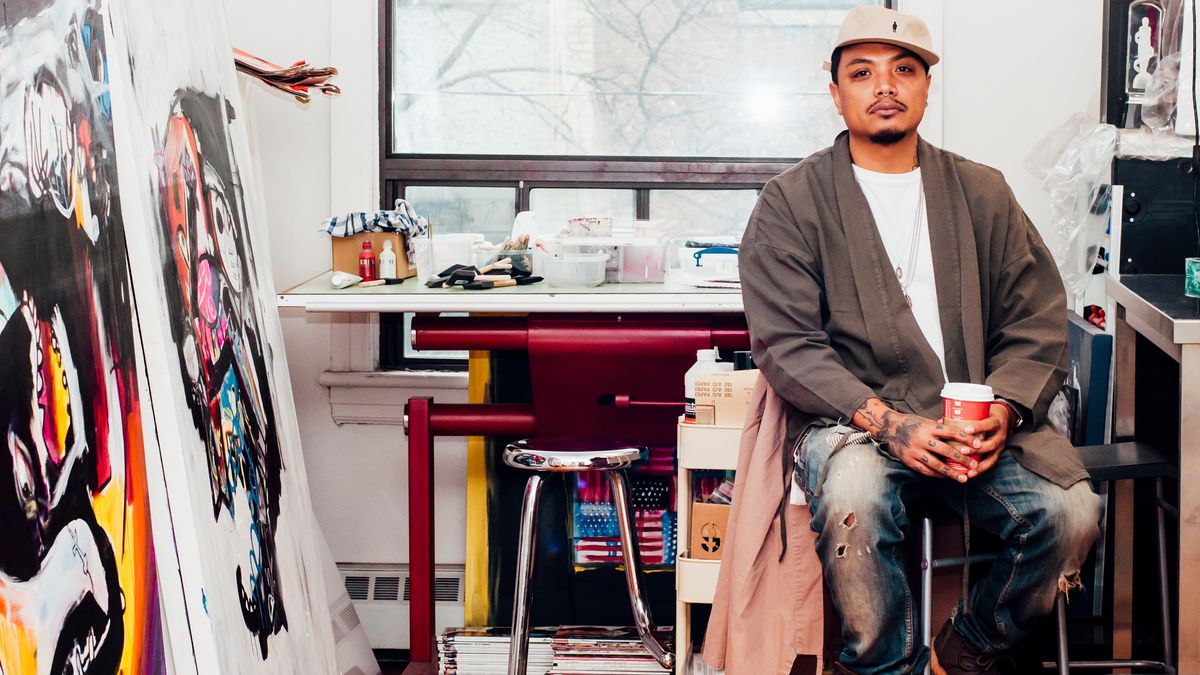 Career
Bryan Espiritu talks being compared to Basquiat, painting himself as Bart Simpson, and merging his two brands.
Steven Lee
Step into Bryan Espiritu's home and you can instantly tell that you're in the space of a creative. Canvases (both blank and finished) are propped up on the wall, sketches litter the top of a desk, stacks of magazines peek out from under a table, and there are paintings, drawings, and other artistic mementos everywhere you look. Part designer, illustrator, and artist, Espiritu never stops, as evidenced by the size of the fan base for his well-known clothing line, The Legends League. But, as we realized when we arrived to photograph Espiritu, there's way more to him than clothes. So we sat down with him to talk all things art, and what inspires him.
"Everyone says, oh, you're just trying to be like Basquiat, oh, you're just trying to be like Picasso," he says "I would be lying if I said I wasn't informed by my contemporaries, I'd be a fucking liar. There are a lot of people who don't acknowledge the people that they're directly stealing off of."
---
Espiritu approaches his work with spontaneity, never planning it out and simply going with the flow. "I haven't lived my life in a planned or structured environment, so the way that I paint has to be reflective of that," he says. "I walk away from it a lot and walk back to it while it's still blank. This is gonna sound really weird, but I cry a lot when I'm painting—it takes a lot out of me."
There are hidden messages in Espiritu's work. He always paints himself as Bart Simpson, a symbolization that seems humorous, but means a whole lot more. "I feel like he's not necessarily the smartest kid [or] the coolest kid, he still kind of gets bullied, [and] his dad's kind of a shithead." He laughs. "I pull a lot of my inspiration from my childhood—bad shit—and I feel like if I could be a cartoon, I'd be him. I think about Bart and his relationship with his dad—my dad was [like that]. It doesn't well me up to think about that—I think if you have no levity when it comes to the serious shit that happens in your life, it's too heavy, man."
Espiritu throws himself and his past into his work, using painting as a creative outlet. "It comes from creating these monsters in my mind, calling them up" he says "We have fight or flight in us, and when you're in that mode you're ready to respond in whatever way necessary for you to stay alive. When I think back to all the things that happened to me or that I made happen to myself, I can utilize [those moments] as inspiration to call on that fight or flight response and be creative with."
Recently, the owner of a new Filipino fusion restaurant in Toronto, Dolly's, reached out to the artist, asking him to paint a mural for the space. So, in true Espiritu fashion, he got to work painting his own rendition of the Last Supper. "I took all six of the [Last Supper] elements and painted two figures, male and female, for each of them, so that I had 12 figures in total, to act as the disciples. I don't believe in god, so I left him out completely," he says. "The thing that I frequently try to do, is not necessarily being different for the sake of being different, but I do my best to exercise my mind in ways I don't think anyone else has done yet."
Seen in the mural at Dolly's, and in many of his other pieces, is an abstract background is filled with letters facing every which way. To those who don't know the artist, it would look to be an abstract collage, but Espiritu told us about its hidden message. "In May 2015, I was writing in these sketchbooks with a fat sharpie and drew an e in a certain way," he says. "From that I developed this alphabet which became a resurrection of what I was doing when I was a kid, [which was] writing in a way where nobody could know what I was talking about."
This year Espiritu is focusing on aligning both his art and clothing brand, something that will benefit both ventures. "Most people know me from The Legends League and I think for the last few years it went in the direction of being predominantly clothing," he says. "Mentally there became a little bit of a business disconnect between the clothing line and me because I don't just do clothes. What I'm working on right now is realigning the fact that the brand and I are inherently the same thing. That means that if I'm doing an art show and it's gonna be my shit, it's Legends League-related." This year, an art show is well under way, and, if his dreams come true, we can look forward to a collaboration between himself and Dutch artist Parra. "Parra is one of my favorite artists ever and I would love to collaborate with him, but on a level that's less popular."
If you're wanting to get ahead of the game in the art world, we highly suggest keeping a close eye on Espiritu—it'll pay off.