Career
And start planning your next piece.
Alec Kugler
Within the strange micro-communities on Instagram (design fiends, fitness buffs, sexy…doctors), if there's one category that potentially rivals engagement rings and wedding photos for the most popular arena, it's tattoo artists. The app is responsible for some of the biggest trends in body art, and riding the crest of that wave is Mr. K, a Korean artist who works out of Bang Bang's shop in downtown Manhattan.
When we found ourselves with a sad little patch of bare skin, desperately crying for an intricate and feminine (but never girly) design, we hopped on his months-long waiting list. He's become famous for his extremely detailed and sometimes micro-sized work—often tattooing Fornasetti designs, dog portraits, and—his most popular of 2016—a floating rose under a super realistic glass bell.
---
What we *didn't* know just from stalking him on the 'gram was that he's also a Parsons grad, who used to design his own streetwear line. It all makes sense, considering his fantastic sense of personal style, not to mention his knack for composition and technical skill. Even more surprising? He's only been tattooing for about a year and a half.
We grilled him on how he got started, what sets him apart, and the biggest tattoo trends of the year.
On getting started and making the switch from fashion to tattooing:
"Since I was young I liked drawing—I was influenced from my mom, who was a painter. I graduated from Parsons with [a] graphic design degree, and I worked in fashion for almost 10 years before starting my own streetwear brand, K47. After a couple of seasons designing and running the business, I realized it wasn't what I wanted to do. I wanted to draw more. I asked a friend, who was manager at Moonsheen Tattoo at the time, to teach me [the] basics of tattooing. Nobody was surprised when I started tattooing because everybody around me knows that I've been a big fan of tattoos for [a] long time."
His first-ever tattoo:
"My first tattoo was the word Spirit. When I was young my father used to tell me, 'Life is truly lived only with an awakened mind and spirit.' As soon as I came to New York for school, 13 years ago, I went into [a] random shop on 8th Street called Infinity Tattoo and got it done. And that's where I met a friend who taught me how to tattoo."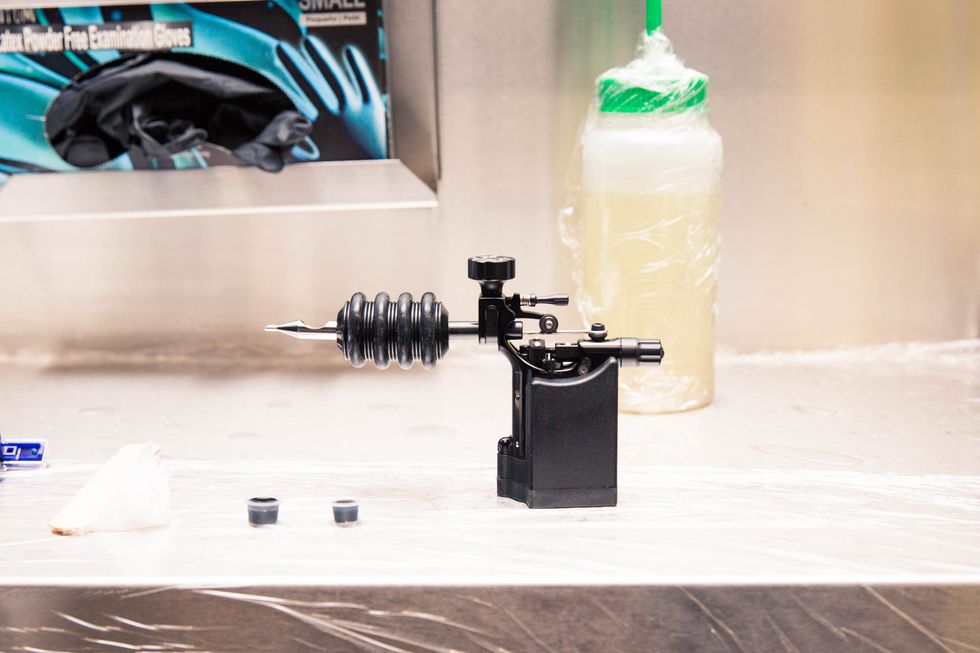 And the first one he ever gave:
"The first tattoo I did was on a friend who taught me how to tattoo. After few months of learning, practising, and locking myself in at home, I finally got to tattoo a 6-inch skull with flames on his thigh. It was pretty big for [a] first tattoo! I was nervous, and my hands were shaky for the first five minutes, but then I got the hang of it and finished. That was exactly 17 months ago from now."
What sets him apart:
"Tattoos are all about design and skill. Since I come from a design and drawing background, I can give clients both and even make it micro-sized."
On 2016's biggest tattoo trends:
"The most popular tattoos now are small and simple ones that don't take up a large part of the body. I also do lots of insects and animals in micro sizes."
Advice on getting a first tattoo:
"The first tattoo is alway the hardest for everyone. I recommend going with something simple, small, and meaningful on [a] visible spot—because it'll make you want a second tat sooner!"
Why tattoos are so addictive:
"One is never enough! Whether it's your first one or the tenth one, your eyes get stuck to that empty space around the tattoo you just got or that last spot you want to fill in. There's only the first tattoo, never the last."
His advice for aspiring artists:
"Dedicate lots of time and passion. Draw a lot of anything—drawing skills will help you a lot in this field. Then, practice tattooing on orange or grapefruit skins. Their texture, curves, and moistness are similar to tattooing on skin. That helped me a lot to prepare for the real skin tattoo."