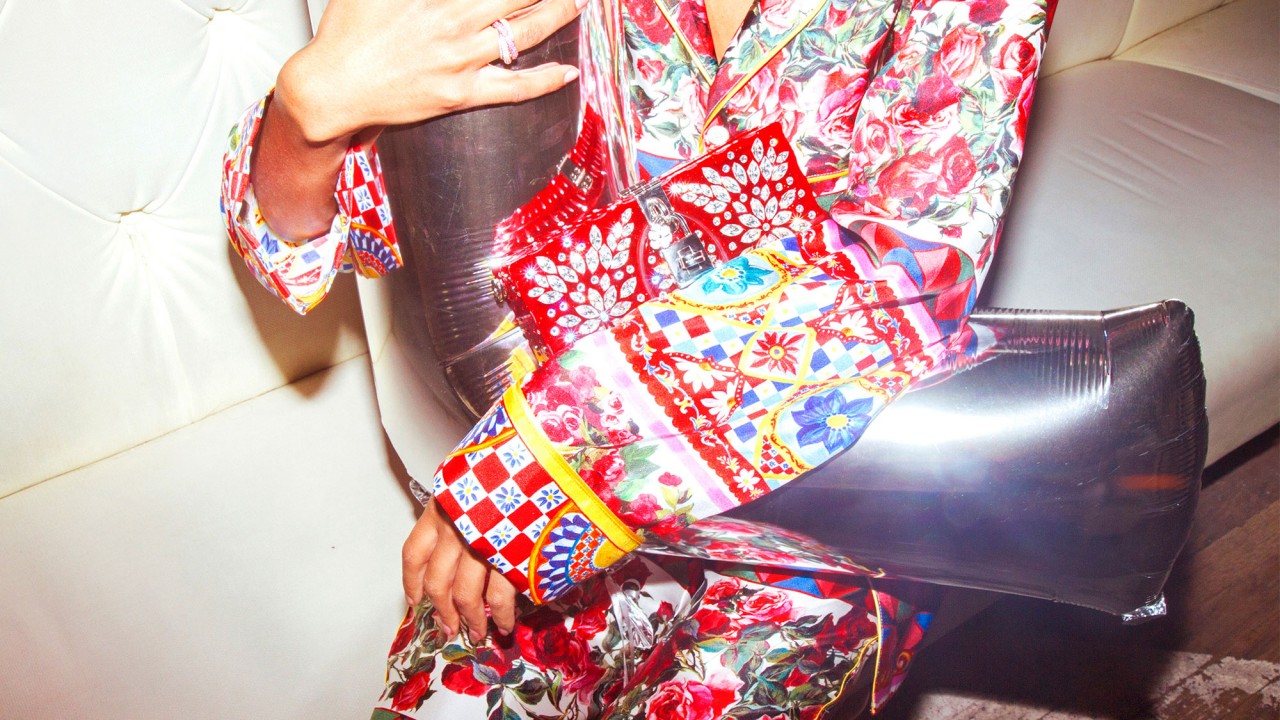 What We're Wearing Over the Holidays
You made it!
Regardless of what or how you celebrate, we're hoping that the end of the year means you actually get the chance to really relax, whatever that means to you. It might entail holing up at a ski lodge with your entire extended family (at least that's what we've heard), or taking three flights and a train to the most isolated island without cell service Hopper could offer (again, that's what we've heard). Whatever things might look like for you, just know that we fully support you in your endeavors—even if you plan on locking yourself in the bathroom with your dad's expensive bourbon during Christmas dinner. Actually, especially when that happens. Here's what the next two weeks-ish looks like for us—and what we'll be wearing in the meantime.
Meagan Wilson
Editorial Manager
1. Ellery Top: As I write this, I'm mentally preparing for the next item on my to-do list: tackling packing for a last-minute trip to Miami the next day. I'm going to be wearing some variation of this all week long.
2. Saks Potts Coat: Once I am back (sigh), however, shit will hit the fan. "Shit" being how terrifyingly low the temperatures have gotten in Toronto, which will likely only be intensified when I walk off the plane. I'd like to spend my days doing the whole family thing in the cold wearing something like this.
3. Dr. Jart's Ceramidin Sheet Mask: I intend to mask, at minimum, once a day for the next two weeks-ish. Dr. Jart's sheet masks are a favorite.
Alicia Cesaro
Senior Editor
1. Tabula Rasa Dress: Thankfully I'll be escaping the cold of NYC and having a different kind of white Christmas—sitting beachside in Florida with my fiance's family before heading over to Cuba. Where I'll then embody the IRL version of the red dress dancing emoji while wearing this for our New Year's Eve party in Havana.
2. Alexandre Birman Sandals: I literally cannot wait to be free from heavy socks and boots in favor of these ankle-tie leather sandals all vacation long.
3. Rahua Omega 9 Hair Mask: My naturally dark but highlighted hair has become quite, um, sensitive in the last year and I've declared chlorine and sun to be enemy number one. In the hopes of still swimming but keeping away brassiness, I'll be coating it in this Rahua mask before and after all water activities.
Laurel Pantin
Editorial Director
1. Uniqlo Leggings: I'm going to Chicago for Christmas this year, where it's currently 21 degrees. Therefore, I'll be layering Uniqlo Heattech leggings under everything I wear, and on their own when I'm chilling at my in-laws'.
2. Sandro Shearling Coat: Due to the extreme freezyness of Chicago, I'll also be bringing this burgundy shearling coat to cuddle up in while buying last-minute gifts.
3. Marysia Swimsuit: After a few days in Chicago, we're meeting my husband's dad in Florida. So going from one extreme to another! I can't wait to swim and run around in this Marysia one-piece (I always opt for a one-piece around my S.O.'s family).
Dana Burke
Social Media Manager
1. 3x1 Denim Dress: My family lives in Florida, so Christmastime is an excuse to pretend it's summer and play in the sun. I basically live in minidresses when I'm home because, one, they're easy to pack, and two, it's really nice to not have to wear 10 layers of clothing (or pants) in December.
2. Mansur Gavriel Slide Sandal: Another benefit of Florida's 80-degree winter? Open-toed shoes. I got a pedicure just so I can wear these bad boys all week long.
3. Needle & Thread Embroidered Bomber Jacket: Last but not least, I always pack a light jacket for nights out just in case it drops below 70.
Jodi Taylor
Assistant Editor
1. Karl Donoghue Shearling Vest: I head north for the holidays, so an extra shearling layer can never hurt. Plus, it can be worn over a turtleneck or dress when I'm indoors sipping on some mulled wine.
2. Nike Roshe Two High: You've got to be practical in freezing-cold weather, which means I never go anywhere without winter boots. Nike has been my go-to over the years for a good-looking yet practical boot, and this year is no different.
3. Gucci Striped-Side Trousers: Loungewear is key for the holidays (hi, delicious food and a bottomless glass of wine) and these Gucci trousers are practically begging me to purchase them. To me, they seem perfect to snuggle up in post-turkey.