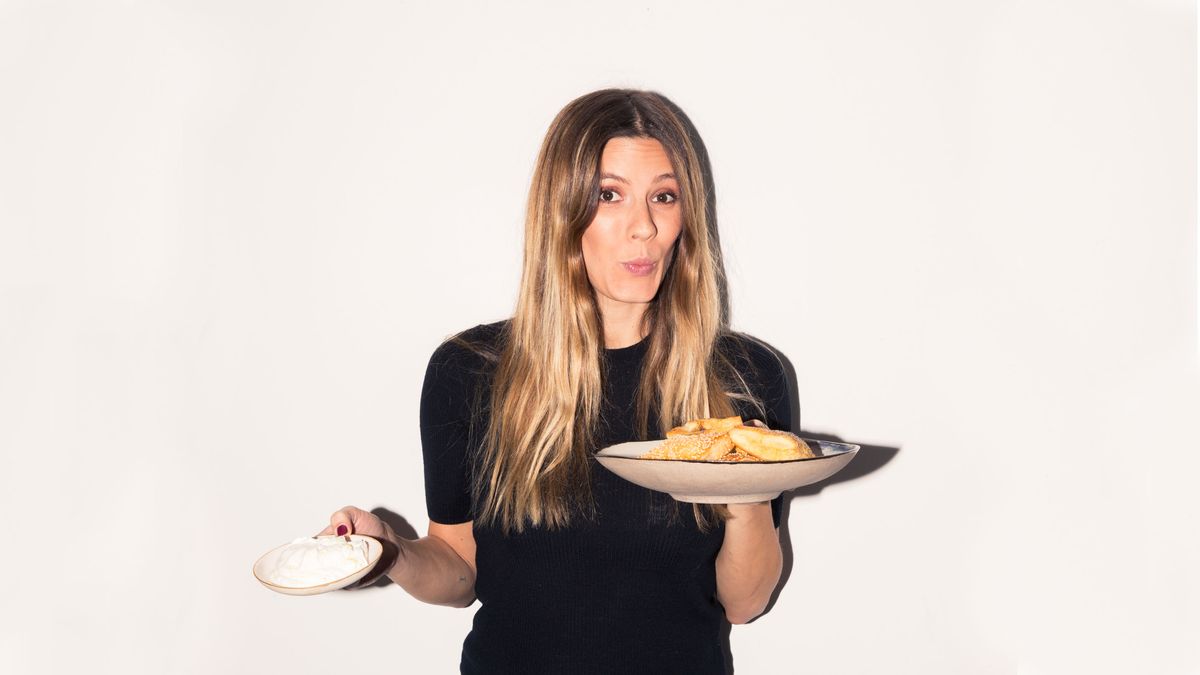 Entertaining
2 Delicious Pastry Recipes You Can Actually Make at Home
These lamb and cheese burekas are exactly what's been missing from your life
Alec Kugler
The closer we get to the holidays, the more and more we're thinking about food. We've upped our fitness game over the past month, just so that we don't feel guilty about stuffing our faces with everything in sight over the next few weeks. With the holidays so near we have already begun to plan out everything we will be cooking up this season. Seeing as how we are major pastry fans we turned to television and food personality, Eden Grinshpan of Eden Eats, to show us how to make 10/10 burekas—both a meat version and a cheese version because, balance. Grinshpan knows what she is doing when it comes to the kitchen, so it's a given that these two recipes will have your family singing their praise to you.
---
SPICED LAMB BUREKAS AND LEMON YOGURT DIP
INGREDIENTS
1 package of frozen puff pastry
1 tablespoon extra virgin olive oil
1 lb ground lamb
1 small yellow onion
1 teaspoon baharat spice (or 1/4 teaspoon cinnamon with 1/2 teaspoon cumin and 1/2 teaspoon ground coriander)
2 teaspoons harissa paste
1 egg (whisked to make an egg wash)
Sesame or poppy seeds
Salt and pepper to taste
DIRECTIONS

1. Preheat the oven to 350°F.
2. Remove the puff pastry from the freezer to thaw out slightly.
3. Heat up a pan and add in the olive oil. Place the onion in and sauté—seasoning with salt and pepper. When translucent, add in the ground lamb with the baharat spice.
4. Sauté until the lamb starts to brown (you want that brown color, it means flavour). Add in the harissa paste and check for seasoning. Turn off heat and let the mixture cool.
5. Remove the puff pastry from the package and cut into square shapes. Place a little bit of the cooled lamb mixture in the middle and brush one corner of the puff with egg wash.
6. Fold the corner over, making a triangle shape, and press down on the edges to seal. With a fork press down the edges. Do this with the rest of the filling.
7. When they are all shaped, place them into the fridge to rest for 15-20 minutes.
8. Remove from the fridge and brush with egg wash. Sprinkle with sesame seeds or poppy seeds and place in the oven for 15- 20 minutes, or until lightly golden and puffed.
9. Serve with yogurt dip*.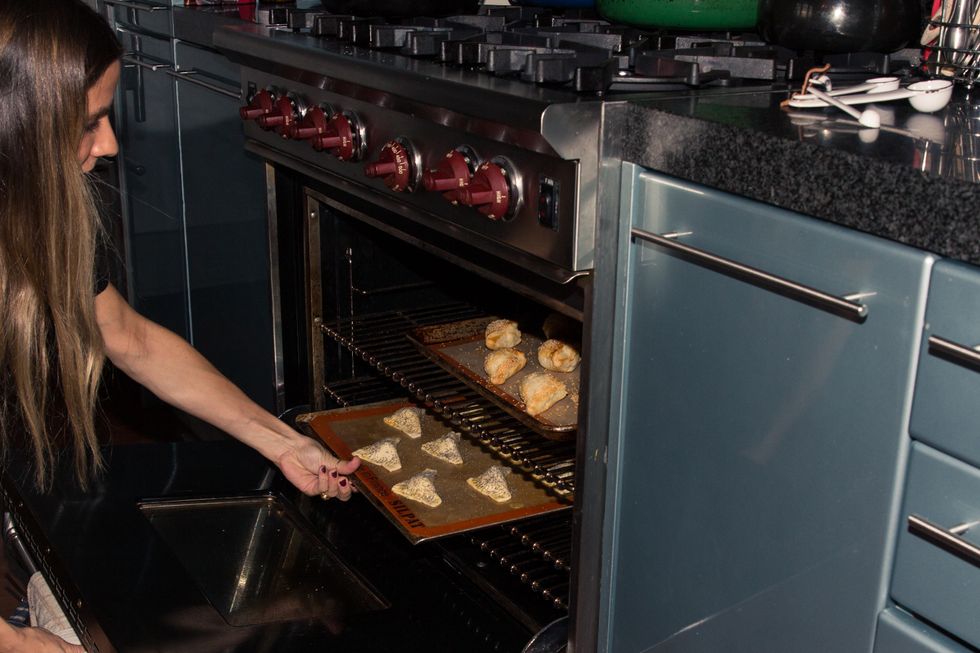 *LEMON YOGURT DIP INGREDIENTS
1 1/2 cups of greek yogurt
Zest and juice of 1 lemon
Salt to taste
DIRECTIONS
1. Mix all of the ingredients together and place in the fridge until use.
CHEESE AND SUMAC BUREKAS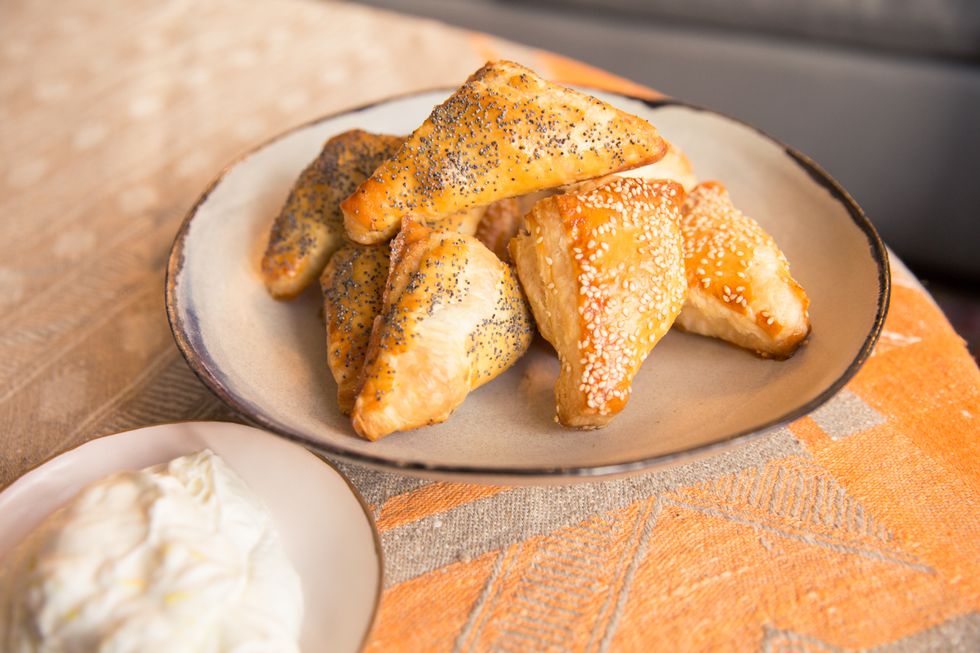 INGREDIENTS
1 package puff pastry
1 teaspoon sumac
1 cup cream cheese
1 cup feta
1 egg (whisked to make an egg wash)
Sesame seeds
DIRECTIONS
1. Preheat the oven to 350°F.
2. In a bowl, mix together the cream cheese, feta, egg, and sumac very well.
3. Cut the puff pastry into squares and place a dollop of the cheese filling in the middle. Brush the egg wash on the edge of one side and fold over so it's a triangle.
4. Seal with the fork and place in the fridge for 15 minutes.
5. Brush with egg wash and sprinkle sesame seeds on top.
6. Bake for 15-20 minutes and serve.