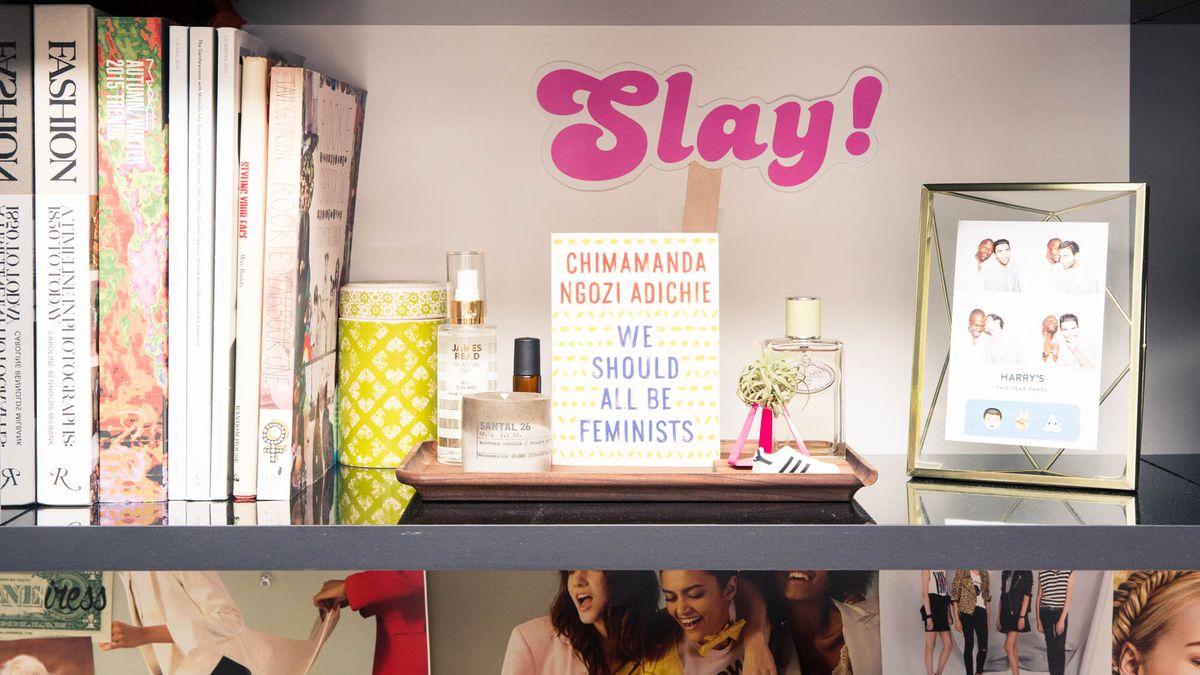 Living
Required reading now that Trump is (probably) officially our president.
A week after the election Hillary Clinton told a crowd "There have been a few times this past week when all I wanted to do is just to curl up with a good book, or our dogs, and never leave the house again." All we can say is, we feel ya, Hillz. It's cold, the holidays are here, and books just feel right. But more important, with everything that is happening, books also feel absolutely goddamn necessary. Usually we read books to help us escape, but the reality is that reality is SCARY right now (see: everything Trump does). The electoral college also votes today and even though we are holding out for a miracle, chances are nothing will change. The good news (there is always some!) is that the world is still filled with bad-ass ladies who are using the power of words to make change happen in their own way.
Moving forward, change will be necessary, and a lot of people and causes are going to need our help. Honestly, there has never been a better time to read about the experiences of those who are different than us and learn from some of the empowering ladies who have and are paving the way for equality. So go ahead, curl up by the fireplace with one (or all six) of the following and get informed and inspired to kick some ass and do some serious good. The world needs all the well-read Nasty Women it can get right now.
---
My Life on the Road by Gloria Steinem
Emma Watson—you know, actress, ivy league graduate, and UN Women Goodwill Ambassador (essentially the definition of beauty and brains)—had this first on the reading list of her book club. Do we really need to say much more? In her autobiography about political organizing, feminism, and overall bad-ass babery, Gloria Steinem chronicles how and why she has spent more than half of her life on the road fighting for equality. Oh, and did we mention she listened to Martin Luther King Jr. speak at the 1963 March on Washington, organized the National Women's Conference in 1977, and has been present at almost all of the most important political events of the last FIVE decades? Yeah, bad-ass is right.
We Should All Be Feminists by Chimamanda Ngozi Adichie
There is always a good reason to blast "Flawless" by Beyoncé (and if there isn't, we'll find one). But have you ever wondered why the song screams girl power? Probably because a sample of Chimamanda Ngozi Adichie's TEDTalk "We Should All be Feminists" is featured in it. Adichie's feminist manifesto of the same name establishes (in just 64 pages!!!) that feminism is about justice and "[a] fairer world. A world of happier men and happier women who are truer to themselves." Bow down.
The Complete Persepolis by Marjane Satrapi
A graphic novel that combines political history and memoir, Satrapi's Persepolis is considered one of the best pieces of nonfiction of the past decade for a reason. The protagonist, Marji, is a sassy Iranian girl who (like all of us at some point in our adolescence) is obsessed with listening to rock music, wearing leather jackets, and rebelling against her parents and society as a whole. But unlike most of us, she also grew up in Iran during and after the Islamic revolution. Satrapi's story manages to be sad, funny, smart, and revealing all at once. But most of all, it is indispensable in understanding a culture that is so often wrongfully perceived and represented.
Redefining Realness by Janet Mock
There are nearly 700,000 Americans who identify as transgender and Mock has emerged as a poignant voice for this community that is so often left without a say. In her memoir, she writes of her experience as a young trans woman of color, stating, "I believe that telling our stories, first to ourselves and then to one another and the world, is a revolutionary act. It is an act that can be met with hostility, exclusion, and violence. It can also lead to love, understanding, transcendence, and community." Can we get a hell ya?
Citizen: An American Lyric by Claudia Rankine
In this beautiful work, Rankine effortlessly weaves essay, art, and poetry as she relays incidents of everyday racism and examines the often heartbreaking reality of race in America. Rankine's political poetry has always been important, but as Dan Chiasson wrote in the New Yorker, "It is an especially vital book for this moment in time."
Notorious RBG: The Life and Times of Ruth Bader Ginsburg by Irin Carmon and Shana Knizhnik
Supreme Court Justice Ruth Bader Ginsburg is the OG. From being one of nine females in a 500-person class at Harvard Law to serving as one of the three female justices currently on the Supreme Court, she has overcome gender-based discrimination at all levels to inspire millions with her vigor and passion for justice. In a biography that's as fun as it is compelling, Carmon and Knizhnik discuss Ginsburg's extraordinary life, revolutionary work, and intense workout routine (RBG does planks and squats at 83!!!). You can't spell truth without Ruth. And if you don't know, now you know.