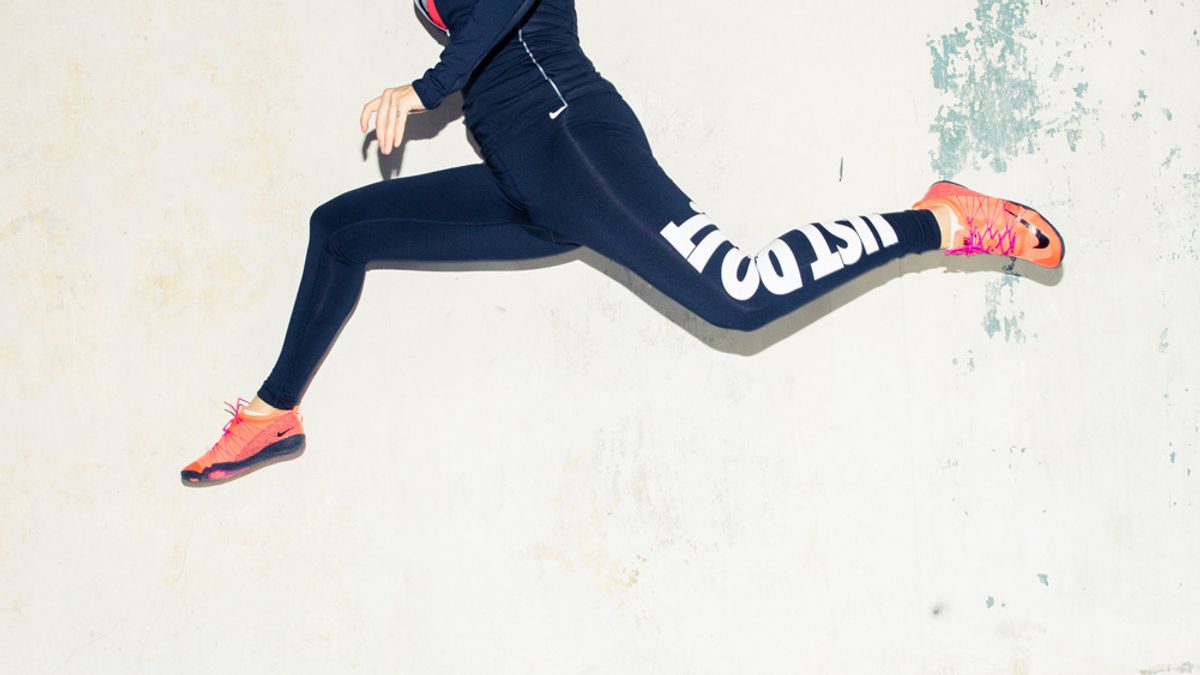 Health
Your future self will thank you.
January 3. You wake up crazy-early and practically sprint to the gym you because you want to get rid of your overstuffed-turkey feeling so badly. That 6:30 AM yoga class you used to take (uh...once) is suddenly packed. There's a line for the treadmills, so you climb on a bike. Grumbling but determined, you go back day two, but by day three you're out of clean sports bras. No wonder these habits don't stick.
Like clockwork, post-NYE, it's detox time. But by then, well, you're exhausted. You're broke. You don't know where to start, and you sure don't feel like planning anything. That's why, this year, detox planning starts now, while you're still operating in pre-holiday overdrive. So do your future self a favor and read on for solutions you can plan this week to address all of your January woes.
---
If you'll need to sweat it out…
Nothing kills that once/year urge to work out so hard like a stale wardrobe. Add a few items from Net-a-Sporter or Outdoor Voices to your Christmas list, or channel your favorite Hadid with leggings from Alo Yoga. If you're actually a gym regular (bravo!) and can't stand the annual influx of resolutioners, add a class pack to the wish list and bypass all that chaos for a guaranteed booked-ahead spot at your favorite studio.
All that champagne can do a number on a girl's head, nevermind returning to an office after (not enough) time away. Download a meditation app (10% Happier is totally om-free) and give this anti-stress, pro-focus habit a try. Pick an app now and drop it where your Instagram usually sits for a handy reminder to actually start the program.
If 2016 was, uh, particularly taxing, or you never exhausted your 2016 PTO, go ahead and book a yoga retreat or a session at a sensory deprivation spa for January now, before everyone else realizes they need one (or you're broke from those festive heels you've been eyeing).
If you'll need a night/week/month in...
Whether you're looking to save your wallet or your liver, stock up on loose-leaf teas from Bellocq, Mariage Frères, or Harney & Sons, plus a strainer (you pay a huge premium for those cute little pre-made bags). A cozy Saturday afternoon tea with the girls is way better than Friday night drinks, which involve cold, darkness, and overpriced alcohol. Gross.
Speaking of cozy, if a significant other could affect your resolve to stay in (and/or you value feeling fabulous), ditch the college sweatshirt and flannel in favor of washable silk pjs from Everlane or a Restoration Hardware cashmere robe. Way more alluring, but you can still send Mom the link. Picking out a new show or meal service to start together can also make staying in something to look forward to.
If you need to get your apartment night/week/month-in ready...
Staying in only works wonders on the brain if your apartment isn't cluttered AF. Do a closet purge, and be serious about it. Schedule it now with your most um, direct friend or sibling who understands your style (or can at least smell that "This time I'll wear it!" lie). Weird books from a now-defunct book club, the coffee maker you replaced but kept as a backup… Let. It. Go. Send out a group text, and if your friends don't want something, a local charity shop will.
"I'm never drinking again!" isn't a savings plan, nor is it sticking. When's the last time you had a sober Valentine's Day? Yeah, we thought so. The finance app game is strong these days, and many are aimed for people who aren't so finance-minded. Mint is great for building budgets, or if that's too daunting, Personal Capital shows all your balances, including credit cards, checking accounts and your 401(k), in one easy chart that gives a full picture of your *net worth* with a single log-in. Pick one now and place it next to your meditation app for a regular reminder to check in.
If you'll need your glow back…
Glossier masks are excellent to request from an underpaid younger sib, or ball out and schedule a full-body session at Tracie Martyn's spa, where you might run into Naomi Campbell or DVF, nbd. For something a little more lasting, find a volunteer opportunity that works with your schedule (New York Cares is a great resource) or sign up with an organization like Team in Training that helps you fundraise for a cause while you train for a half- or full-marathon next to cancer survivors. 'Cause a little perspective goes a long way in starting the year off right.