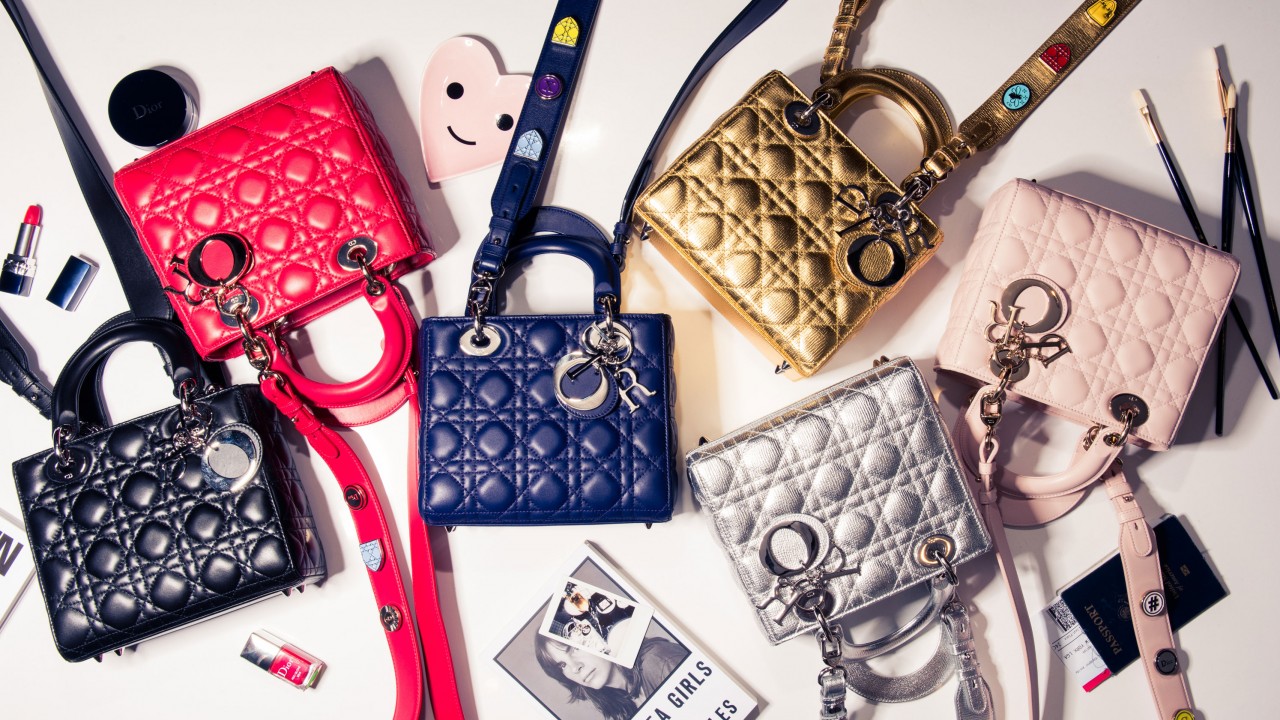 If Lady Dior Bags Could Talk
What the contents of your bag *really* says about you. In collaboration with Dior.
You know that movie trope of children's toys coming to life when there's no one around? In our time raiding closets, we'd be lying if we said we haven't started to wonder what would go down—or even, what does go down—when we're not around. After all, we've seen some very specific style archetypes emerge from our findings, and we can only imagine that those items are an extension of their owners—especially handbags. What you can learn from their contents is pretty revealing—after all, it's unlikely that a Type A entrepreneur with a packed iCal is the same girl whose bag spill more closely resembles a hurricane, right?
Handily supporting us in our thesis that handbags are usually a direct extension of the woman carrying them is Dior's new take on the iconic, classic Lady Dior, with the My Lady Dior line. If the "My" didn't give it all away, the concept is simple enough—a range of shades from the storied fashion house's Cruise 2017 line come complete with a customizable strap and a plethora of personalized Lucky Badges that speak to the brand's history and the Lady carrying them. Get it? By allowing the brand's signature handbag to underscore individuality, and express a little personality, the idea that women do, in fact, contain multitudes comes across loud and clear. If bags could talk, here's what we'd think they'd say.
 
"Fiiinally, a little downtime to get started sketching out my calendar for 2017. Ugh, my phone is at 73%—I can't deal with being lower than 80. Where did I put that Mophie?"
Who she is: A painfully cool and equally ambitious entrepreneurial type with a serious eye for design (the cleaner, the better).
Her bag: Classic black (because it's sleek, clean, and goes with literally everything).
Her badges of choice: A black and silver bee (because she's a busy one), a bold rose (a gift from her boyfriend—they were also Mr. Dior's favorite), and her first initial.
What's inside: Her membership to The Wing, a pristine Smythson planner, Dior pressed powder compact (she's not a fan of shine), pink lipstick (the only color cosmetics she really wears), a (fully charged) iPhone, sunglasses, and (a well-loved copy of) Paul Arden's Whatever You Think, Think the Opposite.
 
"Two hours until Emma's birthday—time to start getting ready. First, champagne. Next, break out that new highlighter palette—maybe I can get away with some glitter, too? I wonder if she's going to have that insanely flattering photo booth back tonight?"
Who she is: Quite literally, a Pretty Young Thing—almost always in her uniform of a metallic slip dress and bomber.
Her bag: Silver, because it somehow manages to be subtle, albeit sparkly.
Her badges of choice: A pastel pink hashtag (because she lives on Snapchat and Instagram) and a baby Lady Dior bag (again: because she lives on Snapchat and Instagram. #meta).
What's inside: A shimmery pastel pink-and-purple eyeshadow palette, oversized pearl earrings, a pretty pink lipstick, her rose-gold iPhone plus, Polaroids from the other night, and her Soho House membership.
"That barre class was exhausting. Pretty sure I officially deserve at least 15 solid minutes of stalking Snapchat after that. Are there any new filters today? I wish they'd bring back that really pretty one… I should probably post my matcha. And my manicure. Wait, do people still want to see that? Is matcha over?"
Who she is: A Bella Hadid-worshipping athleisure fan who can usually be found in leggings, a sports bra, and really cool sneakers.
Her bag: Cherry-red, to match her favorite limited edition sneaks.
Her badges of choice: Whatever makes the strongest statement—she's not exactly shy. Her initial is her favorite (she's a sucker for anything custom).
What's inside: Massive headphones (affixed to her head everywhere from the treadmill to flying first-class), mirrored aviator sunglasses, green juice, BB cream, a subtly glossy lip balm (like Dior Lip Glow), her favorite imported fashion magazine, and a bottle of water the size of her head.
 
"There's only two days until opening night for this exhibit… Let me run through my to-do list one more time before this studio visit. Wait…we seriously haven't secured a kombucha sponsor yet?!"
Who she is: A downtown gallery owner who deals exclusively in up-and-coming, soon-to-be-blue-chip artists.
Her bag: Pastel pink. She's all about classics with her clothing (like the camel coat here), so with accessories, she opts for anything that feels cool and punchy—but pretty.
Her badges of choice: She loves the Dior logo—very Warhol-meets-90s-logomania.
What's inside: Dog-eared copies of Eileen Myles novels, a well-loved brown leather planner, arty Dior cuffs, a printed silk scarf, locally-farmed blueberries from her CSA box, The New York Times and the latest issue of Art in America.
 
"So. I have exactly 45 minutes to first review our proposal before sending it off to the investors, then finish up that Powerpoint, and then finally call my mom, all before that conference call with Jamie from the West Coast office. Whether or not that will actually be possible with this airport lounge wifi remains to be seen, but here we are. I wonder if I should have a glass of Malbec before we board? I do need to sleep on this flight or I'm going to be a wreck during the presentation tomorrow morning... Bottoms up?"
Who she is: The very definition of never not working, she's never without either an espresso or a good, strong cocktail at her side. She racks up frequent flyer miles at an astounding rate, and somehow manages to be constantly tapping away at one of her two iPhones and her laptop, all at once. She's overscheduled, and likes it that way.
Her bag: Sensible navy, of course.
Her badges of choice: This is where she subtly adds a bit of color—along with a poppy polish and bold power lip. She loves the classic cannage—inspired by gold Napoleon III chairs from Dior's first couture show, Monsieur Dior believed the pattern was a symbol of simplicity and elegance (spoiler: she does too).
What's inside: A perfectly sensible serving of almonds, a notebook that somehow manages to be completely immaculate despite traveling everywhere she does, her laptop, two iPhones, passport, boarding pass from her last whirlwind work trip, and a luxe lipstick in an especially bossy shade of red.
 
"Okay, I have to stop procrastinating on this design proposal. I guess I'll just start sketching things out first… Where did I put those Copic markers? Ugh, I know I have them here somewhere... Wait, let me apply some of that glittery purple lip gloss before I start anything. There. Much better."
Who she is: A creative director-slash-graphic-designer-slash-digital-illustrator-slash-photographer-slash... well, you get the point. She does it all, and does it well, too.
Her bag: Gold—and she pulls it off!
Her badges of choice: Surprisingly, she's pretty minimal with it... just kidding. She goes for an ever-changing array of the boldest and brightest.
What's inside: A worn copy of George Lois' Damn Good Advice (essential reading for anyone in a creative industry), a tri-colored pair of So Real sunglasses, assorted mismatched statement jewelry, a neon nail polish, and assorted paint brushes and art supplies.
Find yours—and customize a Lady Dior that's all your own here.