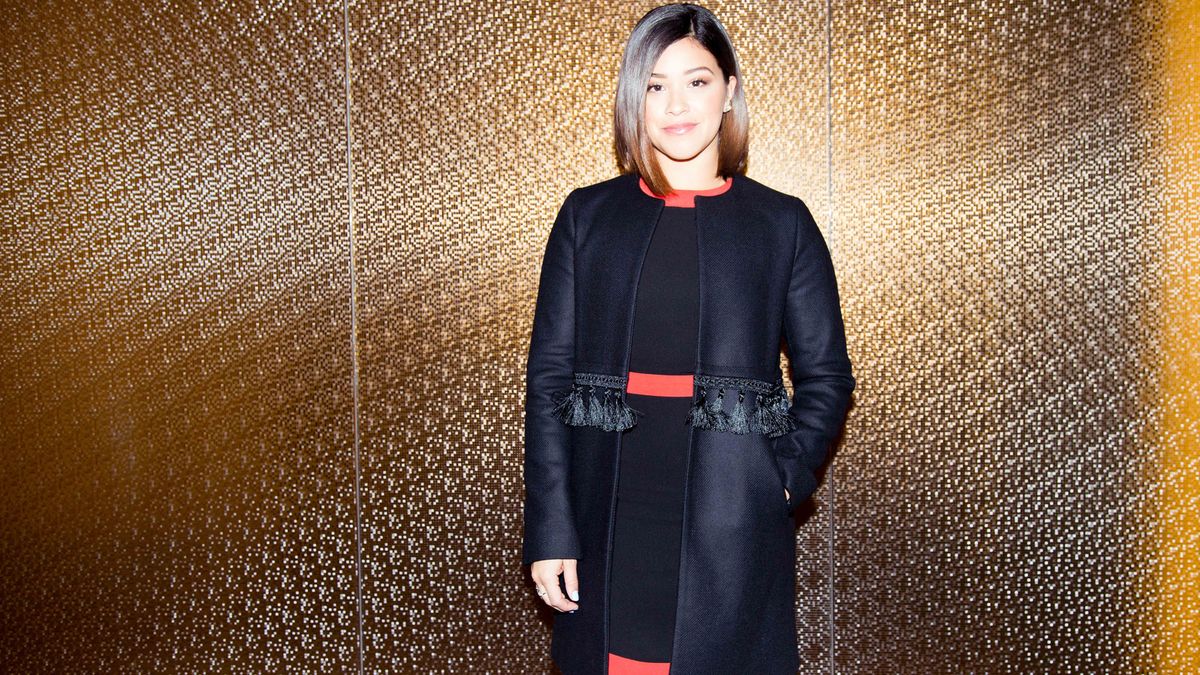 Celebrity
Jane The Virgin Star Gina Rodriguez Wants Your Dreams to Come True
The actress on her first ever Young Women's Honors awards.
Travis Schneider
As much as we want to say that 2016 sucked, we've found it's way more encouraging to focus on the good things that happened this year. There were tons of amazing people doing amazing things—more specifically, young females. For one, actress and Jane the Virgin star, Gina Rodriguez created, executive-produced, *and* hosted an inaugural awards show called Young Women's Honors—which celebrates young females who are game-changers, using their skills and time to create and do inspiring things—with the support of female-run companies like Marie Claire and Clinique; plus, everyone from Google's Made with Code to Michelle Obama, Katie Holmes, and Laverne Cox.
The mission of YWH is to discover and spotlight millennials who are changing the world—but it doesn't end there. Rodriguez hopes YWH will influence a chain effect that inspires others to get involved in their communities as well. And to continue the momentum by celebrating 10 more amazing women next year, and the year after, and so on. Needless to say, we're keeping our eyes on this group of women, and you should, too.
---
How the first ever Young Women's Honors came to be:
"The Young Women's Honors was a collaborative effort on many people's parts. Myself and my manager, David, and co-producer, Emily Gibson—who helps me run I Can and I Will Productions—have always wanted to do something to highlight, uplift, and empower young women. Emily is one of three girls; I'm one of three girls; David has a daughter—we all have a very similar mind-set. After I hosted the Teen Choice Awards, producer Mike Berg approached my manager saying that he would love to collaborate further and maybe do a show of our own.
"Directly after that, I did the Kennedy Center Honors, paying tribute to Rita Moreno, who was getting a lifetime honoree award. I was so inspired and moved—I mean, the show brought me to tears. And I thought, 'This is what I want our show to look like, except for a younger demographic.' Because I knew this wasn't being viewed by 15-year-old girls across the country. I thought, 'If we can get to them, show them what other women are doing, and start creating role models that are positive and uplifting—that are doing work in other fields besides the entertainment industry—then we can start creating avenues for people to follow their dreams.'
"I really believe that when you follow your dreams, it gives others the allowance to follow theirs. I think that with YWH, that's exactly what we created. It's been a year of the most difficult undertaking that we've ever gotten ourselves into, but it was worth it when I had my seven-year-old niece come up to me and say, 'I want to be an honoree in engineering,'—this is who we did it for."
On receiving support from Michelle Obama, Google, and everyone in between:
"It was huge! I saw the video that Michelle Obama sent, she would have been there if she could have left D.C. I love that she was willing to make a video for us to support our project. I've worked with Michelle Obama before on Let Girls Learn, and it was just such a perfect collaboration of hearts—the desire to push education and create positive role models. When I saw her video at our rehearsal, I started bawling."
The most moving part of the evening:
"I was floored at the red carpet. Seeing the women there being so humble, taking pictures with the honorees, signing autographs, doing interviews. I was like, 'Who, where, and when did I deserve this?' It was mind-blowing. At the end of the event, when we were done taping, it was so impactful, people were cheering, applauding, and motivated. My boyfriend was like, 'I have to get my life together! These women are kicking ass.' It was incredible to have a dream and get it realized. That's ultimately what we were promoting; have a dream, go after it, and make it a reality. I can't wait until people see it. It was a next-level experience and I love that we have it forever on tape to hold and to cherish as our first year, but I can't wait for year two. We're already trying to find the women that we want to honor and getting together new sponsors and artists that want to come perform and be a part of it. It was a huge blessing."
How they handpicked the 10 female honorees:
"[Choosing the honorees] was the most difficult thing we've ever done, because there are so many women doing incredible things in all fields. It was astonishing to see there are women doing things that no one would imagine. Women in code, an inventor that also has a company to help others' ventures, a paralympic gold medalist, Simone Biles with 19 gold medals, who is so super bad-ass, a girl who made her first plane at the age of 14. They are all exceptional women. We then worked with brands that have similar views in uplifting women and women organizations like Marie Claire, Clinique, Google, Lord & Taylor. We created a blue-ribbon panel of doctors, professors, the president of the ACLU, and we decided on the women to showcase, it was definitely a democracy."
What you'll feel when watching the show:
"I want viewers to walk away knowing that anything is possible as long as they work hard and do it with integrity. I want them to feel like they can start researching different fields that they may find interesting. You rarely see women in code, or women in code glorified in the entertainment industry. Now there is a woman you can look up to, do more research on, and start getting involved with. For anybody in any walk of life at any age, to understand that fear, failure, rejection is the only thing standing in their way of making their dreams come true. If you can see someone else do that, and you see that they survived, you can realize that you will survive as well. Nothing is too small and nothing is impossible."
What she would tell her younger self:
"The advice I would give to my younger self would be start loving yourself today, sweetie. Start today. It's a long process and loving yourself allows you to know that you are deserving of your dreams. You are deserving of having the life you desire. Once you start loving yourself, you know that you are capable. The only person stopping you is yourself."
Grab some tissues and tune in to the Young Women's Honors on The CW December 19th!