Dress, Emporio Armani; Watch, Emporio Armani
Entertaining
An Hour-by-Hour Guide to the Art of the Get Together
The clock's ticking: Here's everything you need to cross off your list. In collaboration with Emporio Armani Watches.
Meagan Wilson
Hair
Brittan White, David Razzano
Entertaining is an art that ultimately comes down to timing. It's the fine balance of managing your time and careful planning, while embracing the fact that last-minute snafus and surprises are kind of inevitable. Like after spending more time than you'd care to admit slaving over an artfully-arranged cheese plate, you find yourself without, say, ice, 15 minutes before guests are due to start arriving. (Don't worry—there will always be some eager beaver who asks if they can bring something. You just found their purpose).
No one knows this better than May Kwok, who, as an event producer and designer by day, and DJ by night, is no stranger to the fact that even the most thoughtfully-planned events are still subject to chance, and that there's nothing to do but expect the unexpected. Here are some of our tips to do just that, in a handy hour by hour breakdown (best tracked on an Emporio Armani watch), including some pointers from Kwok—she's kind of an expert, remember? (And remember: if things start to look hairy, ensuring your guests are, uh, well-hydrated is usually the best solution.)
---
---
24 Hours Before
---
Let's be honest: cleaning sucks. If you can afford it, hire an on-demand cleaning service from Handy or TaskRabbit to thoroughly clean your place top-to-bottom to avoid any last-minute freak outs about dust bunnies in the most obscure corner of your place. Tip well. We also like functional, cute, design-y baskets and storage options for stashing clutter en masse (and quickly).
Figure out what you're wearing and try it on to avoid all possible last-minute emergencies. We're obsessed with anything like May's party outfit, pictured here—a velvety Emporio Armani party dress with brightly-hued, textured embellishments.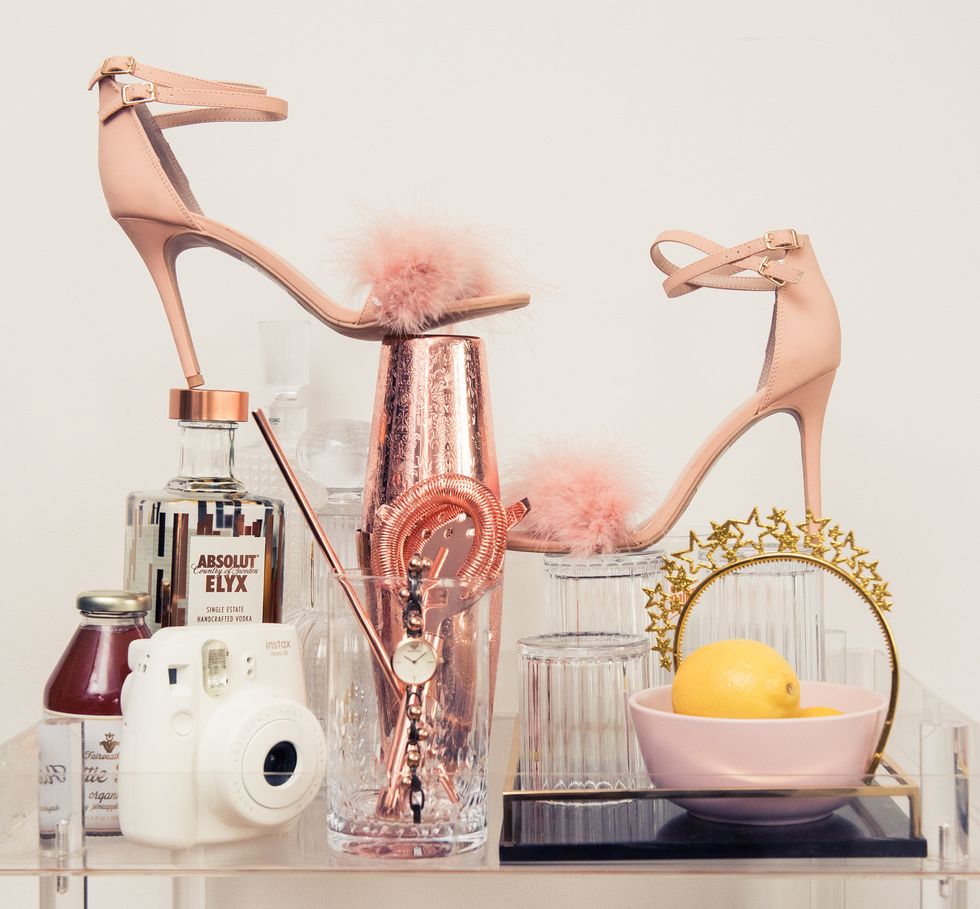 Yep. Pinterest has turned us all into moodboard monsters, in the very best way possible. As Kwok says, "I really like to start by putting together a mood board, pulling images or even just mentally, for how I want my space to look and what the 'theme' is. I'm planning my own housewarming-slash-holiday-party on Saturday, so I've pieced together in my mind what flowers I want to buy, what hors d'oeuvres and cocktails I want to serve".
---
5 Hours Before
---
If you're just having a crew over for late night drinks, a cheese board and some simple appetizers are all you really need. Keep in mind the inevitable dietary restrictions (you know that one friend who asks if there's gluten in your tap water? This is for them). As May says, "one of my friends is gluten free, so definitely offering lots of fresh veggies. Crudités are a really easy go-to—everyone loves veggies and dips—as well as an artisanal cheese board. And you know, I live in Brooklyn, so Bedford Cheese Shop is in the neighborhood. It's an easy one-stop shop to get that. Everyone loves cheese." A signature cocktail's another nice, deceivingly fancy touch.
Now's the time to make sure you have everything else you need, too. That includes any elements of vibe-setting essentials. May explains: "I want to get really nice fresh eucalyptus and citrus elements for my holiday party. Just something simple."
---
2 Hours Before
---
This is when you tackle all those mundane, albeit very essential concerns of entertaining. Is there enough toilet paper? Is it arranged in a cute little pile? Are your throw pillows looking fluffy? Are your mirrors looking streaky? Attend to these little details now—they'll go a very, very long way.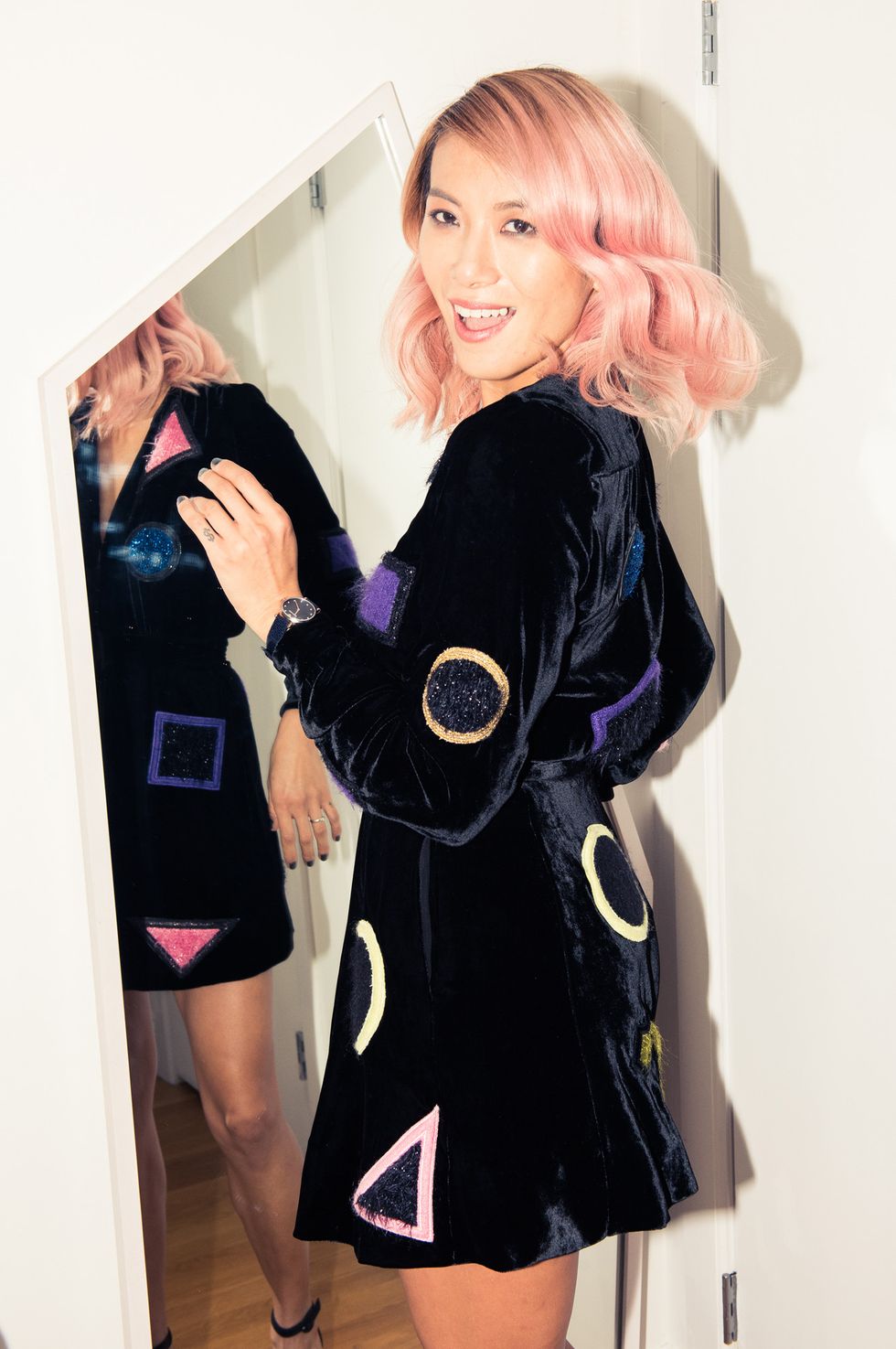 There's nothing more luxuriously mood-setting than taking a long-ass time to get ready. So, start to prep yourself with plenty of time to go. Take a bath or a long shower, blow out your hair, and start on your makeup while queing up your playlist.
---
1 Hour Before
---
As we've learned, a good drink is usually all you need to keep anyone who shows early occupied. Kwok agrees. "If people come in early and I'm still setting up, I'll just excuse myself and pop open a bottle of champagne. And maybe invite them to help me!"
---
30 Minutes to Go
---
"Before guests' arrival, I love to set the mood. Dimming the lights and lighting a ton of candles is optimal. Right now, one of my favorite scents is actually Maison Louis Marie, number four, the more smoky scent. They last a really long time, and they smell great."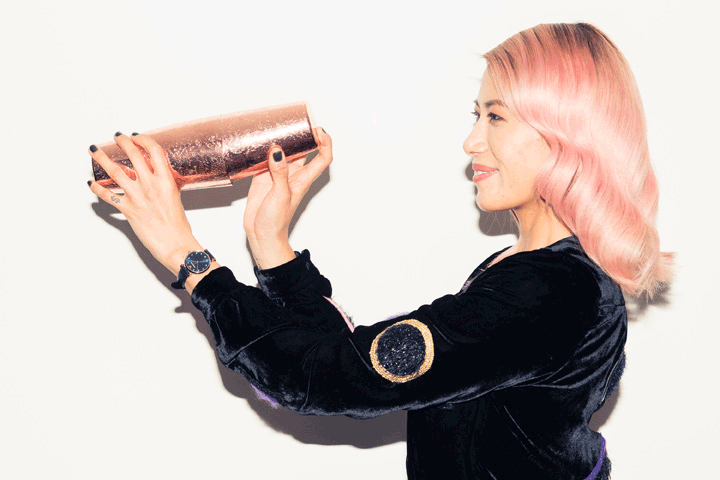 Pour one for yourself, and ensure your ingredients are good to go for guests. May served us a little taste of one of her go-tos for a get together, involving vodka, sparkling cider, lemon and cranberry juice. Make sure your bar car looks on-point and ready to serve.
---
15 Minutes to Go
---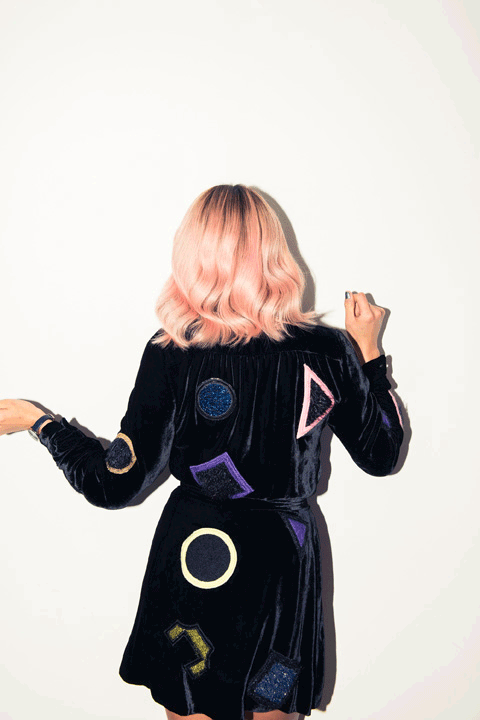 We're going to leave this one completely to May. As she says, "You know, I am a DJ. As the night goes on, we kind of pump up the energy with different songs. I'm so in love with Solange's new album, so I'll probably start this Saturday with that. It's such a feel-good album and it's very empowering to listen to. I would then rev it up with something pop towards the end of the night when everyone's a little happy."