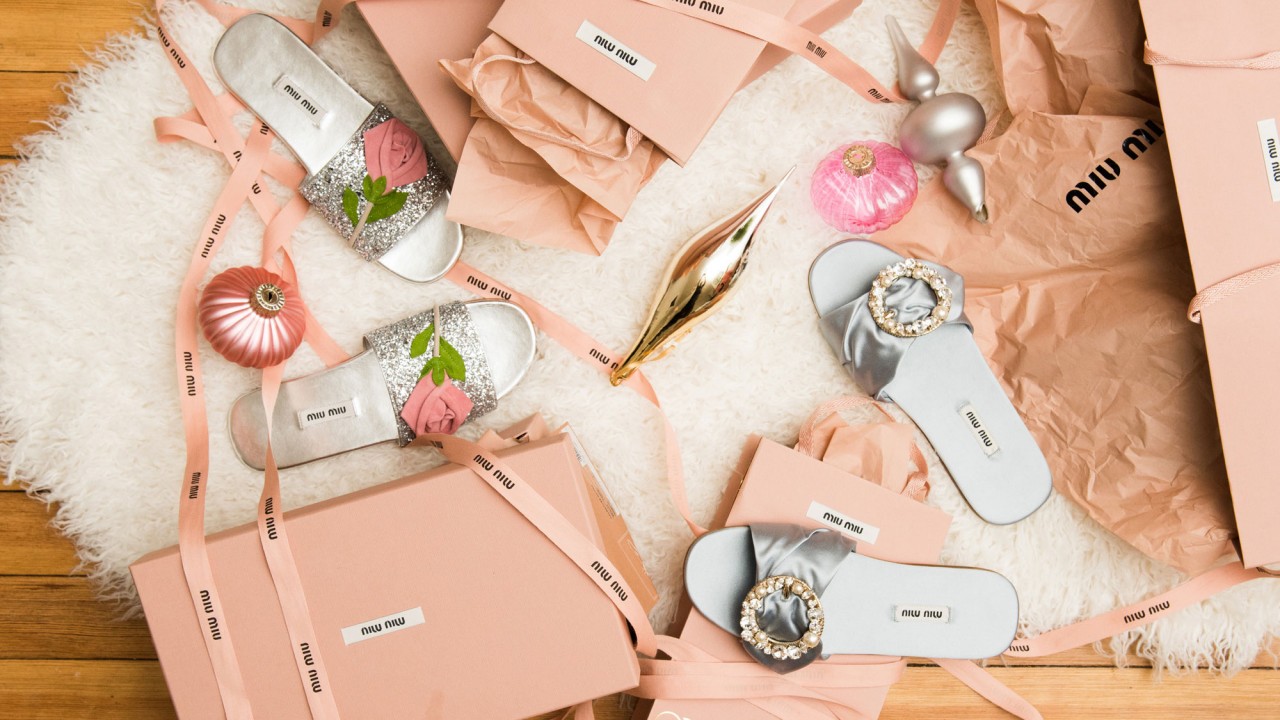 Decorating for the Holidays Just Got Interesting
We're doing things a little differently this year. In collaboration with Miu Miu.
If you know literally nothing else about us, you at the very least know that our M.O. in examining personal style is somewhere at the intersection of what we come across in people's closets, and the environments our subjects surround themselves with on a daily basis. In layman's terms, we like to (loosely) define the act of Coveteur'ing as akin to putting shoes on books—reconsidering fashion items as something not just to be put away on a shelf or hidden in a cupboard, but on display. Like art! And while we don't know about you, in our books, pearl-encrusted, bubblegum-pink shiny satin pumps fit into that exact category.
With all of the above in mind, it was only natural that this year, when it came time to consider decorating, we thought: shoes. And bags. And jewelry. And…well, you get the rest. It's the most wonderful, sparkly time of the year—so what's better than a blindingly blingy Miu Miu pump to sit atop our tree? Here's how we're decking the halls and doing every holiday decorating opportunity a little differently this year…(in a way we're pretty sure those who don't celebrate can appreciate, too).
In our books, twinning Miu Miu handbags with ornate, intricate buckles and bedazzled details dotted along your mantel are every bit as festive as ornaments. And even better than wrapping paper sticking out of your stocking come Christmas morning? Satin-y slides. (We have a very indulgent concept of house slippers, okay?)
We've never seen shoes better suited to decking out a wreath than satin mule slides with a pearl-and-Swarovski-crystal buckle. The ribbons that accompany those Miu Miu flats that everyone in fashion has been collectively losing their mind over for the last several months are an ideal substitution for twinkle lights.
The bar is easily one of the highest-traffic areas of any holiday party for, well, obvious reasons. Pair your signature cocktail with glittery sunglasses and an embroidered canary-yellow cardigan in place of the usual extras, and you'll be all but dragging guests away.
At this point, hanging a cherry-red cocktail dress (with shiny black bows and an embellished collar, respectively) from the fireplace is just second nature to us. And besides—we're pretty sure this is the ideal solution to ensuring those holiday party outfit backups are put to excellent use.
Because cooking an actual turkey is a lot of...work. Suede sandals with a crystal-encrusted heel and a litany of fire engine–red feathers shooting out from the ankle straps is enough to distract guests from the fact that you'd probably burn water trying to bring it to a boil.
Break out your best old-school kitchenware and sprinkle sparkly jewelry throughout as you see fit.
The only thing better than waking up Christmas morning to a pile of pastel pink Miu Miu boxes under the tree is substituting boring old ornaments with actual pieces by the brand. It's not for the faint of heart, sure, but the results are pretty damn spectacular, no? Bonus points if you actually manage to stick a stiletto up top in lieu of a traditional tree-topper (and can resist wearing it long enough to keep it there).