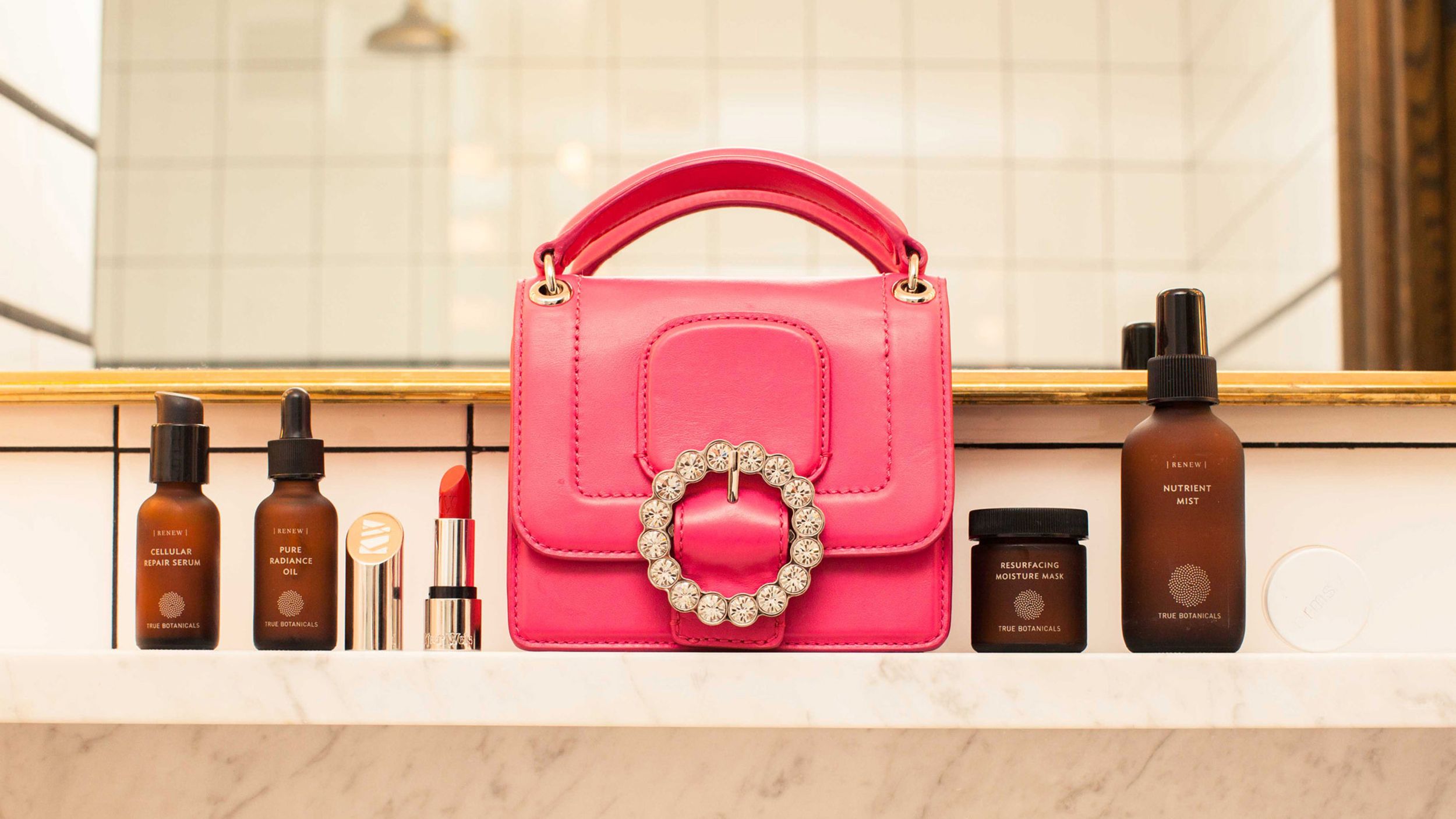 Skin
How I got my skin in check, just in time for all those holiday parties. In collaboration with True Botanicals.
I've never had super problematic skin...but I've also never really had excellent skin. Despite having access to literally thousands of beauty products, it was always good, but never great. Being the relentless obsessive that I am, I wanted my skin to be better than just okay, so when I bumped into an especially chic friend at a work event recently whose cheeks looked like they were actually lit from within, I fully grilled her on her nighttime routine. Lo and behold, she'd been using a line called True Botanicals, an insider-y, non-toxic skin care brand. I've been on a quest to green-ify my life lately, so I was especially pleased that the line doesn't have any ingredients that are harmful to my skin, or to the planet. After all, Mother Nature needs all the love she can get these days.
---
With a non-stop schedule of parties, work events, and family gatherings on the horizon, I wanted my skin to be in as close to perfect shape as humanly possible, so I took the "True Quiz" on True Botanicals' website to get my full product recommendation. As a truly neurotic narcissist, there are few things I love more than a quiz. As it turns out, all I really need are five products—this is after years of doing 12+product nightly routines. Already I was sold. Then I started using them, and surprise, surprise, fewer, cleaner products was what my tired, dull old face needed all along. Here's how I'm getting my holiday glow.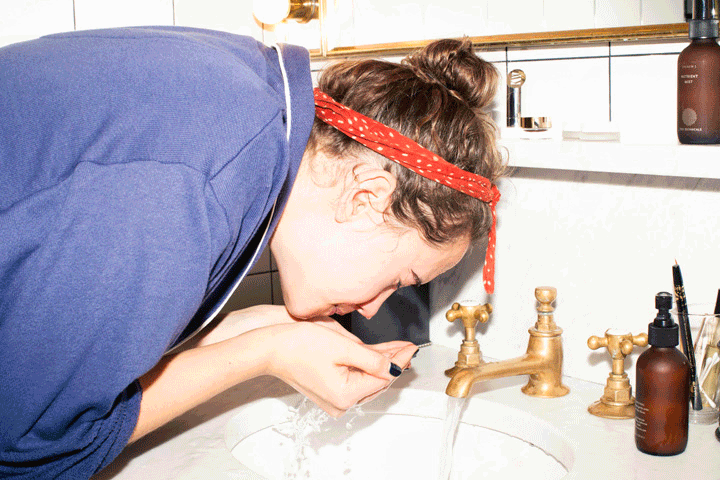 My skin is crazy-dry, especially in the winter, so I'll take any help I can get. I love this stuff because I can double-cleanse (to really get all the nasty city particles out of my pores) without drying out my skin.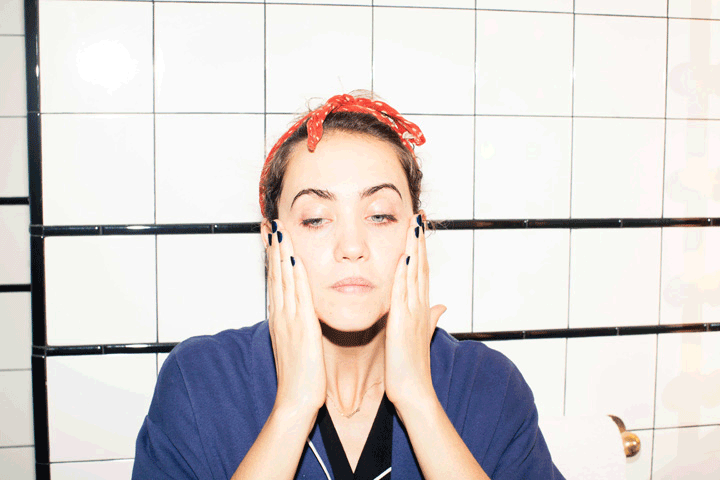 Sensing a theme here? While this mask uses lactic acid to gently exfoliate (a crucial step in the pursuit of glow), it also contains avocado oil to moisturize, and Astaxanthin, which evidently will help me look more *youthful*—something that's especially helpful after my third party of the week, when the red wine and champagne start to show.
This is the magic step. Algae extract and Astaxanthin help nourish my skin with Omega 3's, and passion fruit oil and papaya oil provide Omega 6's. This is all a complex way of saying this stuff sinks in immediately, plumps any fine lines out, and lights my skin up from the inside. I always rub the extra into my neck, chest, and hands, and let this sink in for about 30 seconds before moving on to the next step.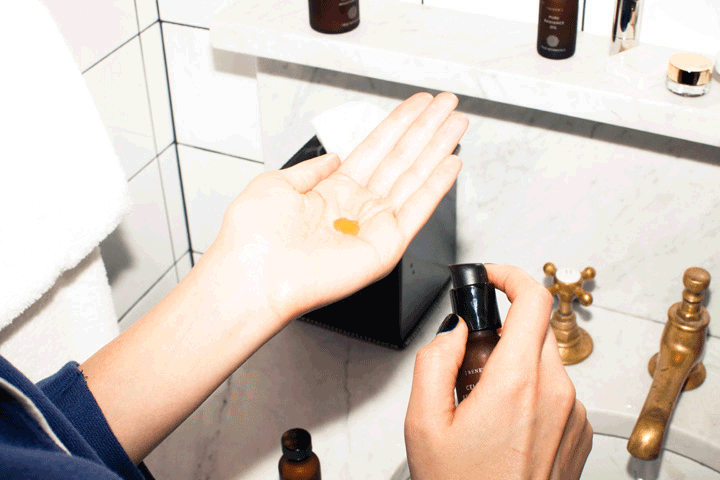 Ok, I've used a lot of vitamin C products in my day (it's an amazing ingredient for anti-aging, since it encourages collagen production and prevents free-radical damage) but most of them are in a liquid format. It turns out that vitamin C begins to lose potency the second you mix it with a liquid, so this system of mixing it with your serum seconds before application means you get the purest, most effective form of vitamin C possible. Combine that with the effects of the Cellular Repair Serum (which helps reverse cellular damage from the sun and free radicals), and you have one of the best defenses against crepey old skin out there.
And that's it! Rather than putting myself through a seemingly endless regimen of chemical-heavy product after product, I now have just four steps to as close to flawless skin as I've ever had. When it's party time, I have a few go-to makeup products that are also non-toxic, and as close to organic as possible. I love Tarte's Clay Pot eyeliner in brown (smudged out for a night out), RMS Lunar Eye Polish (as a highlight on my cheeks), and Kjaer Weis mascara. And because I don't need any powder, concealer, or really anything for touch-ups, I can take the tiniest, most irritatingly adorable miniature baby Barbie-sized bag with me out at night.