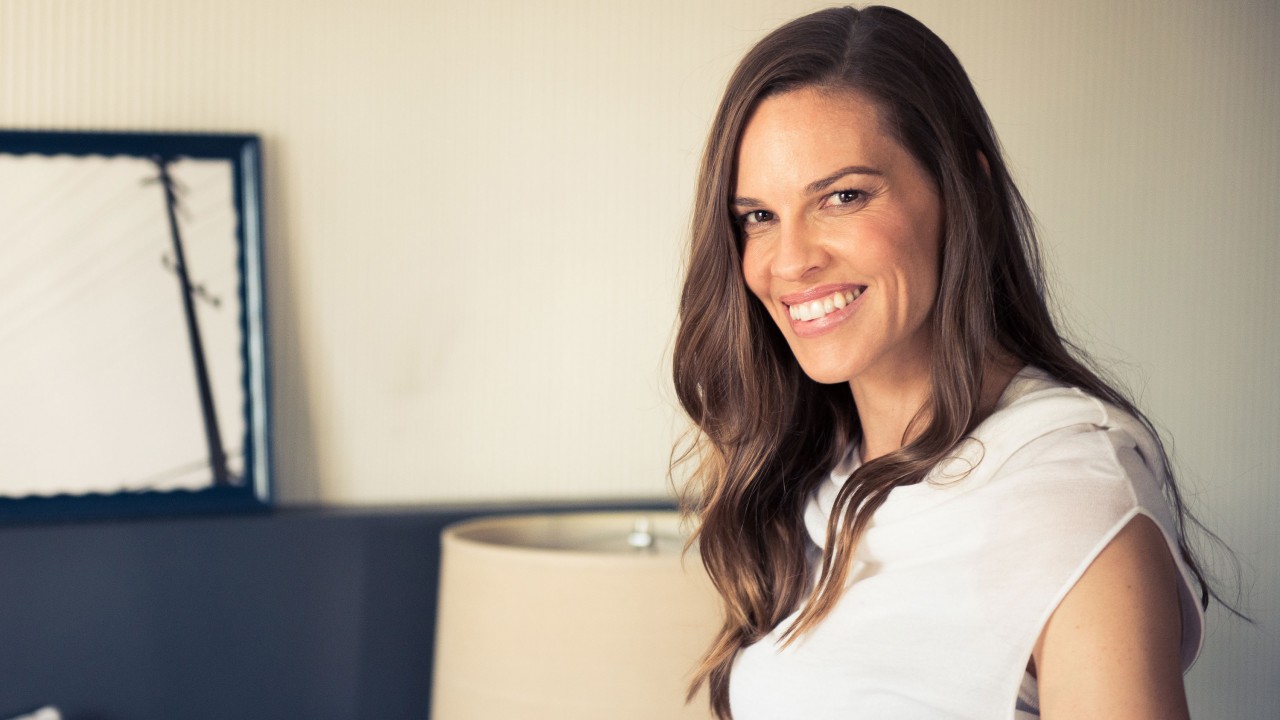 Hilary Swank Never Forgets to Pack Anything
Except her passport.
Hilary Swank is an Academy Award-winning actress—but you knew that already. What you probably didn't know, though, is that she's a wizard when it comes to traveling. More specifically, packing. But then again, what do you expect from someone who has spent the better part of her career (ipso facto life) jetting around the world? If anyone's nailed the edited, essentials-only packing thing, it's her. And if you so much as flipped through a glossy or scrolled through any fashion site in the last month or so, you'd know Swank has created her entire clothing brand, Mission Statement, around that exact ethos—luxurious multi-use pieces that are literally all you need. When we had a chance to peek into the carry-on she'd be taking to Milan to visit the artisans at her brand's factories (and tailgate her throughout her visit), we took it upon ourselves to find out her other genius travel habits—like how she mitigates jet lag, and what she really does once she lands in Italy.
Her carry-on edit:
"For me, the most important thing when packing is to make sure I have all my interchangeables so that I don't have to pack a big suitcase. A carry-on is key, key, key! For any type of travel, I think it's a total rookie move to check a big bag that can get lost."
Her packing strategy:
"I like to always pack in advance, but I never have time because I'm a modern-day woman and I have a myriad of things happening in my day. So I'm always packing last-minute the night before I go. But with all my Mission Statement stuff, I can pack the night before without it being a headache."
What she always has too many of:
"I always over-pack shoes. I'm a crazy shoe person and I pack too many shoes all the time, to the point where they run over into my purse."
Her airport uniform:
"I like to wear a really comfortable but chic pant. I love cashmere because you can wear it when the plane gets cold or too hot. Our Cloud layering pieces are great too—there are four different layers that you can put on, or take off."
She always forgets…:
"I'm pretty good about remembering everything. Oh, my passport—sometimes I forget my passport, and I have to have my friend or my mom rush to the airport with it. I barely make it in the nick of time, or I take the next flight [laughs]."
Her in-flight beauty routine:
"It's super important to always keep moisturized. I feel really dry and dehydrated—especially on long flights—so I use a lip balm that one of my girlfriends makes that's organic and yummy. I always have either a CHANEL or 3lab eye cream—I'm constantly dabbing that on; and then some type of rosewater spray to keep my skin hydrated."
Her next-level water game:
"People say to drink at least eight ounces of water for every hour you're on a flight. I try and triple that. I find that really helps in so many different ways."
The jet-lag trick:
"For me, the best way to beat jet lag is to go straight to the gym as soon as I land. Whether it's a swimming pool or some type of workout where I can sweat, it just feels good to move after being on a plane for a long time. Then I take a really hot bath, I have a really good meal, and then I get a really good night's sleep. I find that if I can push through and get at least eight hours of sleep on my first night, then I can ward off the next few days of jet lag."
Travel snack of choice:
"Always potato chips, but that's off the flight too. It's just my number-one go-to [snack]."
Why she chose Italy to manufacture Mission Statement pieces:
"We have five factories in Italy and two in Portugal. We decided to go there because we wanted to get the best. The artisans there have been doing cashmere and using fabrics which are just so decadent and rich and will last! That was really a part of curating the true high-luxury side of it."
On having a collaborative team in Milan:
"Because I'm the founder, I'm really able to take my time and meet people who understood my vision; who help bring it into focus. I was so lucky to have the group that is surrounding me come on board and say, 'Yes, we believe in this, and it's our mission to see this accomplished.' I wanted to meet everybody who was going to be a part of Mission Statement, and that's why I visit every one of my factories. I know the people who make my coats, my jackets, my sweaters. I know the people who made the technical workout pants. I know them by name, I know them by face, and it's just a beautiful thing to be able to have that collaboration."
Her favorite place in the world:
"Anywhere my dogs are. But, if I could have my dogs in the town that I grew up in, Bellingham, Washington, that's my heaven and oasis."