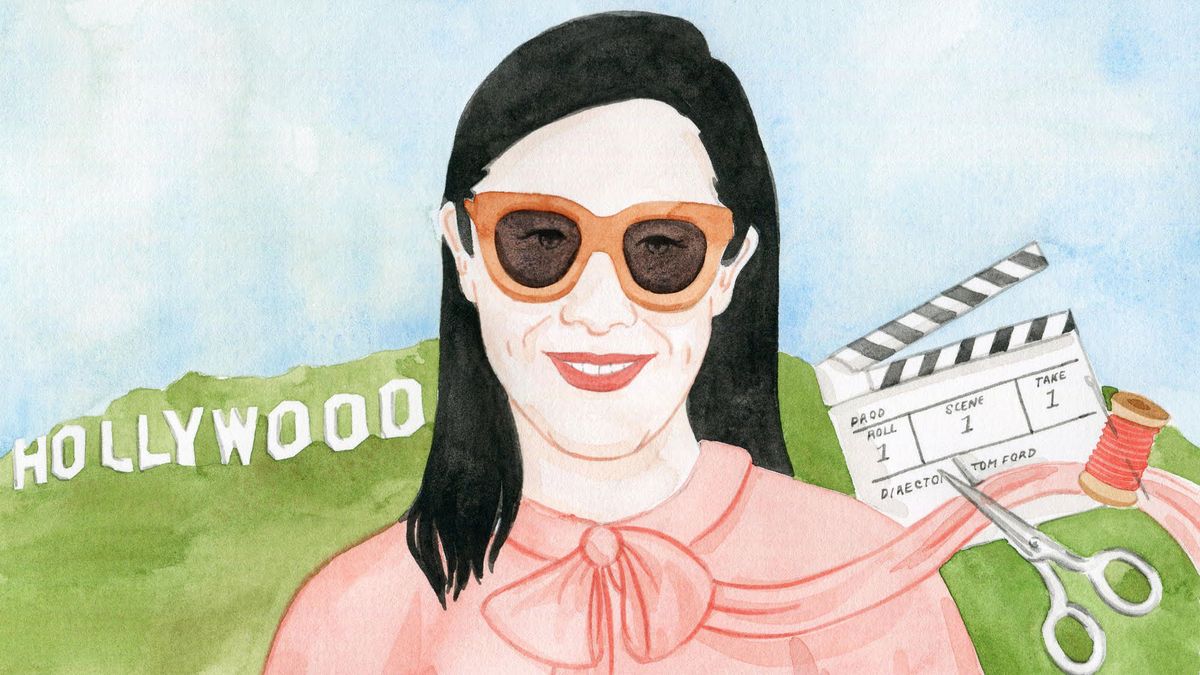 Fashion
Film studios, are you listening? The game's biggest costume designer (she's behind Tom Ford's Nocturnal Animals) has some thoughts for you.
Illustration
Meghann Stephenson
The myriad of issues that have come to define what we talk about when we talk about quote-unquote "Women in Hollywood"—equal pay, female producers, directors, stories, hell, even how many words are scripted for female characters in films that aren't about men (!)—don't occur in a vacuum. And while we work on dismantling said issues everywhere else, it's comforting to know that the likes of Arianne Phillips, the veteran costume designer (she's also Madonna's longtime stylist), is fighting the good fight on the front lines of film.
We spoke to Phillips after completing a master class as part of Through Her Lens: The Tribeca CHANEL Women's Filmmaker Program, the annual mentorship and development program that connects established women in film with a roster of female filmmakers, before awarding one filmmaker with full financing, and four more with grand fund$ to make their project a reality. Here's what she said about the program, and how ones like it are (hopefully) making all of the above a thing of the past.
---
What Hollywood needs to do to really support women in film:
"Tribeca is really putting their money where their mouth is, and investing in women filmmakers. That's what every studio should do when it comes to nurturing new talent: outreach into the universities and the film schools. It really has to start at the grassroots level. I've had many friends who get discouraged, who could use nurturing and mentorship; really creating a community, and incentive to develop content, women directors, and producers. Women cinematographers are a severe minority as well. It's a male-dominated industry."
Her involvement in Through Her Lens:
"I came in to teach the master class on the relationship between costume designer and director, and talked specifically about creating characters, which is what a costume designer does along with the director. Just being in a room full of women filmmakers is thrilling in itself."
What it was like working with the female filmmakers:
"Everybody was interested in the process, the relationships between the costume designer and director, how the actors fit in. I talked a lot about communication and prep time, being able to really get in the director's head. The job of a costume designer is really to create characters, and clothes just happen to be the tool that we use. There's all kinds of subtle visual clues and cues that the costume designer can layer into that process of storytelling."
The value in switching things up completely:
"I told them that the directors I have worked with have stepped up out of the directing box and taken an acting class. In my view, the directors that have taken acting classes have a tendency to have a leg up because they understand where the actor is coming from. Everyone should take an acting class. I, myself, have directed a short film, which I think was invaluable for me to be in the position of a director. To have the experience of working in the filmmaking process outside of your normal lane is really valuable, because it gives you perspective on your job. It gave me so much compassion and understanding to where the directors are coming from, being in the hot seat."
On equal pay for equal work (and what fashion has to do with it):
"I'm certainly not breaking any barriers as a costume designer; it used to be a male-dominated field and now it's a female-dominated field. Our pay reflects that discrepancy, and the difference between production designers and costume designers. We essentially have the same value in a film, and we don't have equal pay. I think it's a sexist issue. A costume designer is seen as a women's role, and I think there's a whole education from the inside out that needs to happen about valuing women in the industry. When you're working in a traditionally women's role, it's frustrating to not be paid the same as your colleagues, like production designers and cinematographers; unlike the theater industry, where all creatives are valued across the board."
How these issues are reshaping the film industry (ahem, Netflix & Amazon):
"There's a huge discrepancy budget-wise in films. You see one end of the spectrum, these huge franchises that are giant blockbusters, then you see very small, struggling independents. I think a lot of [the independent] content has gone to Netflix and Amazon. You see talented actors and directors all going to these other outlets because it's so hard to get films funded nowadays. There's not a lot of films being made, not as many as when I started. Now it seems like a lot of the prolific, worthwhile content is on our iPads or TVs."
How to join the film industry (your homework involves watching movies, BTW):
"Just do it! First and foremost, just getting on the film set as a PA, or intern on any level. There's an apprenticeship part of being on a film. There are certain things you can't teach, that you have to experience. Expose yourself to the process of filmmaking, figure out maybe where you want to be. They're making movies all over the world now with these tax incentives. With so much content out there, there are all kinds of opportunities, so of course, education is super important.
"Find programs at institutions that support the kind of filmmaking you're interested in. There's Tribeca, there's Sundance, there's different film organizations. A lot of people working in film, probably because they don't have time, don't watch a lot of films, so I think it's really important to get educated 'narratively.' Watch a lot of films, and immerse yourself in the language of filmmaking, which anybody can do anytime. That's where inspiration strikes, really."