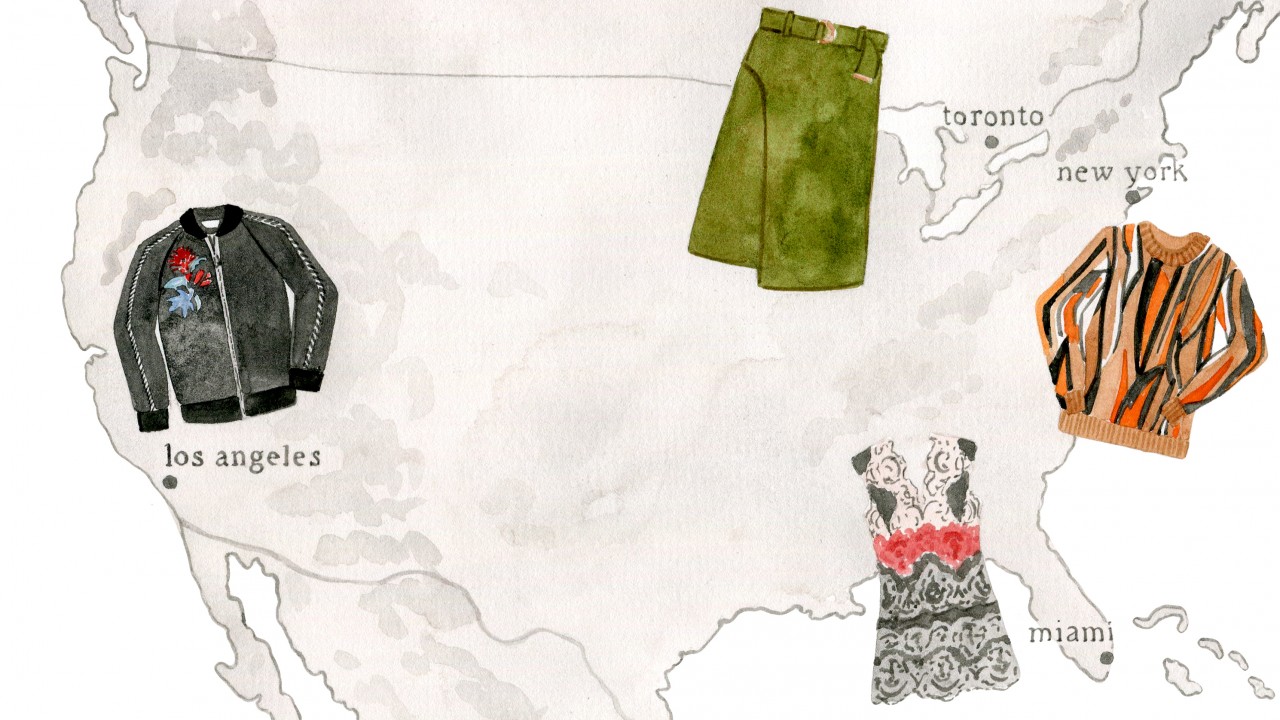 4 Cities, 4 Ways to Do Holiday Style
No matter the climate, this is how we're dressing for the season. In collaboration with Sandro.
The one time of year that we find ourselves scattered across the continent (or world, for that matter) for nothing more than friends and family time, usually accompanied by unlimited glasses of champagne, is over the holidays. It's our time to chill out and over-indulge—and we couldn't be more excited. While half of us are bundling up in cozy sweaters and oversized coats for a quintessential holiday of snow, spiked hot beverages, and strolls through holiday markets, the other half is jetting off for warmer weather, which would be nothing without luggage chock-full of lacey sleeveless dresses and lived-in cool denim (from our favorite so-cool-it-hurts Parisian brand, Sandro), for an effortlessly chic vacation. We'll see you all in 2017!
---
Alicia Cesaro, Senior Editor
Miami
Most of my holidays are spent in Florida—my fiancé is from there, and my parents are full-on snowbirds. And I don't hate it since it means lots of sunshine, shopping, and beach and boat time. In my opinion, Miami in particular has only been getting better in recent years. On a perfect day, I would spend the morning shopping in Aventura (which is where this Sandro suede bag comes in handy for holding my credit cards and phone). Said shopping would be followed by a cool-down tequila at Soho Beach house. The best part of a warm-weather Christmas, though, is getting to wear things like this sleeveless lace dress (sans coat!) with heels to an al fresco dinner at Mandolin (one of my all-time favorite, feels-like-you're-in-Europe kind of restaurants), before capping the night off with cocktails at The Broken Shaker.
Find your Miami Sandro store here.
Noah Lehava, Senior Editor
Los Angeles
There's one thing that we, who live north of the US border, make our number-one priority over the holidays: to get the heck out of the cold and park ourselves on a beach somewhere. Anywhere. The place that's always high on that list for me is L.A.—because sitting outside, eating oysters, and drinking French rosé midday happens year-round. And that's precisely what I plan to do for the entirety of my trip; starting off with lunch downtown at the quaint French bistro Church and State for said oysters and steak tartare, followed by rooftop cocktails at the Sunset Tower. And just how I expect my vacation to be (easy, chic, and full of ~enjoyment~), my outfits need to follow the same sentiment. So I plan to live in this Sandro cropped denim, a chic and ultra-feminine lace camisole, and, for when the ocean air (*sigh*) brings in a bit of a chill, I'll be throwing on this silky embroidered bomber.
Find your L.A. Sandro store here.
Emily Ramshaw, Senior Editor
New York
No city is quite as festive and warm (in the metaphorical sense) as New York at this time of year. And there's something incredibly romantic—in a Meg Ryan movie way—about bundling up and walking through Central Park or Williamsburg with a cup of spiked hot cocoa (yes, I actually do these things—it's New York). But appropriate clothing is a requirement: something sleek, chic, and Parisian, but cozy, too. And Sandro's classic Gilmour overcoat, a fuzzy sweater, and some tailored trousers are pretty much perfect.
Find your New York Sandro store here.
Meagan Wilson, Editorial Manager
Toronto
My last handful of prospective travel plans have unraveled at the last possible moment (insert all of the eye-roll emojis here), which means I'll be in Toronto over the holidays. Don't cry for me, though: I'll be wearing this lace top and imbibing on holiday cheer. I'm sure if I squint my eyes just so, it'll be just like I'm in Mexico City, right? I also love this skirt for being sensible, albeit painfully cool—it's all very Carine Roitfeld. An unexpected winter basic that's just the thing to wear both to family Christmas-y things, but also out at night. When swapping out bags between outfits, a pouch is the ultimate solution to ensuring you actually have all of your essentials (and avoid any of those painful last-minute freakouts, like when you realize you have no credit cards handy).
Find your Toronto Sandro store here.