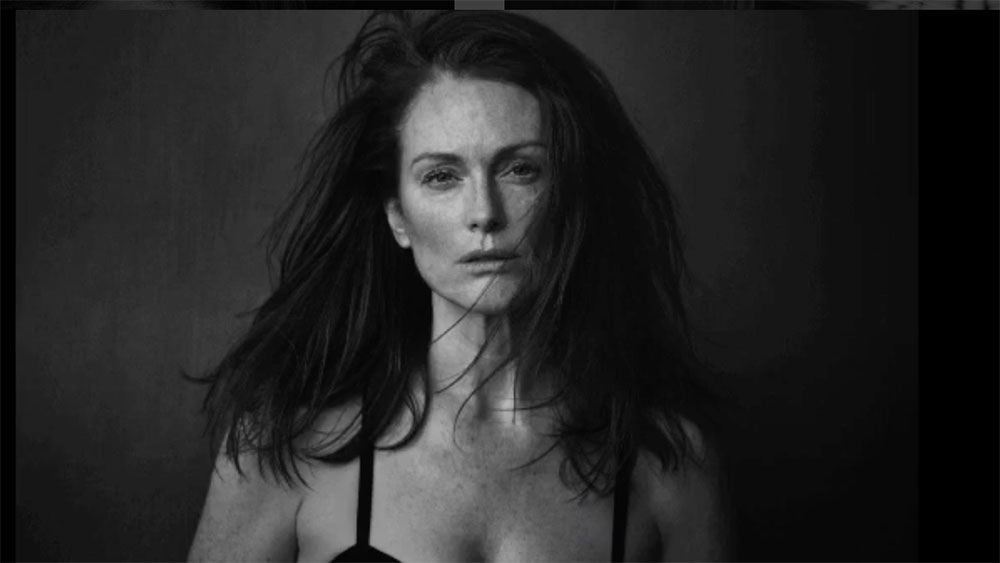 How 4 Major Stars Got Their Skin Ready for the Pirelli Calendar
Everything Julianne Moore, Nicole Kidman, and other (ahem) mature stars do to maintain their ageless skin—did we mention they went barefaced and un-retouched?
When Italian-based tire company Pirelli publishes its Cal™ every year, there's always buzz around who will be featured. From a leather-clad Gigi Hadid to topless Christy Turlington, the calendars have notoriously pushed the envelope. But this year, photographer Peter Lindbergh decided to push back against the youth-and-beauty-obsessed world of Hollywood and the industry it's built via the brazen oversexualization of women.
"I wanted to do something that is a cry against the terror of perfection and youth," Lindbergh stated. To that end, this year's calendar is filled with unretouched photos, which reveal up-close and personal views of Hollywood actresses, many of them over 40, in little to no makeup.
"I [asked] actresses who have always played an important role in my life and to try and get as close to them as possible through my photos," said Lindbergh. "As an artist, I feel I have a responsibility to free women from the idea of eternal youth and perfection. Society's ideal of perfection is impossible to achieve."
The 2017 Pirelli Calendar features Jessica Chastain, Penelope Cruz, Nicole Kidman, Rooney Mara, Helen Mirren, Julianne Moore, Lupita Nyong'o, Charlotte Rampling, Lea Seydoux, Uma Thurman, Alicia Vikander, Kate Winslet, Robin Wright, and Zhang Ziyi. The best part? The majority of actresses over 40 who were featured have publicly denounced going under the knife.
Still, we'd be lying if we didn't recognize that a healthy lifestyle and a few great skin products are at play here. But as Nicole Kidman said, "The courage to be yourself is the epitome of confidence and power." So, in the interest of being the epitome of confidence ourselves, we did a little digging to find out exactly what four of these women do on the reg to age gracefully.
Inner Beauty Routine:
"I really believe in taking vitamins and supporting my skin with inside health," the actress and mom of two reveals. Kidman, a spokeswoman for the brand Swisse Wellness, uses their line of skin, hair, and nails vitamins. "Besides that, I meditate and stay out of the sun."
Outer Beauty Routine:
We love Kidman for admitting that La Mer Crème is her "go-to" (as we all know that this $150-an-oz cream is how the rich stay fabulous), but she has a surprising beauty trick up her sleeve as well. "I love Aquaphor," says the To Die For star, who claims the low-cost drugstore product works wonders on dry skin.
---
Inner Beauty Routine:
Kate keeps it pretty simple. "I try to get as much sleep as possible and drink plenty of water, too," says Winslet.
While the busy mom and Titanic star, who has spoken openly about the pressure Hollywood puts on beauty, body image, and weight, doesn't have a strict workout regimen, she does pop in a 20-minute pilates DVD at home as often as possible. If this is like the Netflix-and-chill version of anti-aging, then we're in.
Outer Beauty Routine:
Winslet says, "Fresh air does wonders for my skin, so I keep a window open in my room at night for a little bit of breeze." And that's it! Ok, not really, she also uses a few key products from Lancôme. To prep for a really big night, Winslet pays a visit to Tracie Martyn for her signature Red Carpet Facial.
Inner Beauty Routine:
The actress aims to practice yoga three times a week, mixing it up with biking, weights, and cardio. But, like most youthful-looking stars, she swears by the two things guaranteed to give you glowing skin forever: SPF and H2o. The fair-toned redhead is an avid sunscreen user (she's been wearing it every day since age 23) and water drinker.
Also, adds Moore, "I drink a tablespoon of chlorophyll in my water in the morning. I'm still not totally sure what it is or what it does…but I think it's working for me!"
Inner Beauty Routine:
Taking hydration to the next level, Thurman says she drinks "gallons of spring water" daily. "It's good for your skin and flushes out your system." The mom of three and New Yorker also sticks to walking as her go-to fitness option.
Outer Beauty Routine:
Thurman admits to indulging in Milk Baths and being addicted to facials. But she has a solid at-home skin care routine as well, which consists of exclusively eco-friendly products like Dr Hauschka's Cleansing Milk, Skinceuticals' Phloretin CF (an antioxidant gel serum rich in vitamin C), and Vita-A-Kombi.