Culture
The Couple Making Wallpaper that Doubles as Art
And how to turn your creative hobby into a career.
Alec Kugler
Launching a business with your significant other, in our imaginations (because it would literally never happen), looks a bit like a living nightmare. But Rachel and Nick Cope, the husband-and-wife co-founders of Calico Wallpaper, make it seem like a dream. It might have something to do with the fact that their business is all about creating the most beautiful things—wallpaper, to be specific (but you already knew that)—and that their entire ethos is about making something functional, pleasurable. It also doesn't hurt that they're both exceptionally lovely human beings, who, when they welcomed us into their Red Hook apartment (the birthplace of their company, which was serendipitously conceived during Hurricane Sandy), offered us chocolate from their collaboration with Mast Brothers (their bars are decor-worthy collectibles) and showed us the technique behind their stunning marble wallpaper. Looking for wall coverings that double as art? Look no further. Looking for inspiration to turn your own creative passions into your business? We've got that here, too.
P.S.: Don't have enough on your Basel to-do list already? Check out Calico Wallpaper's installation at Design Miami with NYC gallery Friedman Benda. And if your list is full, we suggest scratching an item off and adding this one. The Copes' work is too beautiful in person to miss.
---
How Hurricane Sandy led to Calico Wallpaper:
Rachel Cope: "When Nick and I first moved to the Fairway Market building [in Red Hook], we were really excited about the space because it's a mixed work-live space. We had in the back of our mind that one day we would want to do something together. My background is in sculpture—I went to RISD and I studied fine arts. Nick has a background in writing and photography and was working as a contractor and doing interior design. We knew that our skill sets really complemented each other. I was working as an art therapist at NYU in psychiatry, Nick was working on his contracting projects; then Hurricane Sandy hit. Most of his projects were in the blackout zone and my unit was closed at the NYU hospital. I had paid leave for six months and there was a hold on Nick's projects.
"We had a lot of time together to dream up ideas! One day Nick brought home some beautiful marbleized papers from an antique store, and I thought they were really interesting. It was something I hadn't seen before. He was like, 'Do you think you could make this? Do you think you could experiment with paper marbling?' My mom had taught me how to do paper marbling as a kid, and it's something I feel super comfortable with.
"I started marbling in the front space [of our apartment]. I used our shower to wash out the papers and I got really obsessed with the process. I started studying it and researching different types of marbling, the history of paper marbling—I couldn't stop. Nick thought there was a lot of potential and wanted to apply them to his interior design vision. Then it became wallpaper."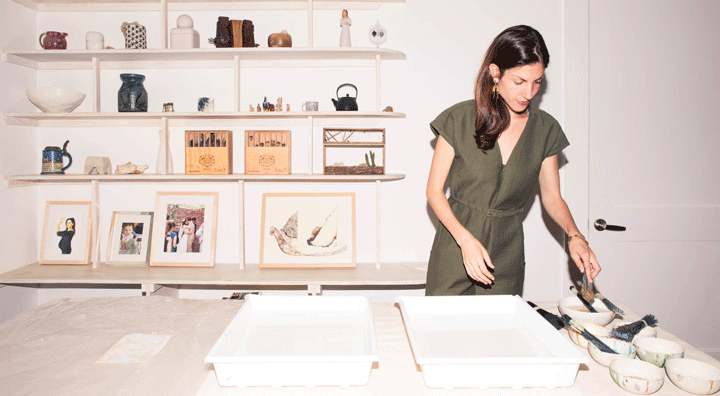 Nick Cope: "When I saw these marbling pieces, I thought they had a relative piece in interior design. The challenge was figuring out how to print them on scale for architecture. It's not as simple as just taking one small piece and scanning it and then printing it. It required making larger pieces and finding a way to expand without losing the quality and the feel of the original artworks using digital printing. We were fond of some vintage wallpapers—foils and pieces with a rich, reflective, dramatic feeling. We tested different reflective base materials. In the end we were using a layering process and printing over a highly reflective material."
How it went from an artwork to a business:
RC: "Nick had a connection at the Architectural Digest home show, and thought that would be the best place to launch our new company. I went along with it. I had been to the AD show a few times with him and it was always very inspiring to see the Made section and all these Brooklyn designers. It felt like something I would really love to be a part of. Through Nick's connection, we were able to get a booth that was in a very nice location and we displayed the second mural that we had ever printed. We had a lot of faith in our design and in our process and we were really excited—we just went for it. We launched at the AD show and the company quickly took off. People loved the designs."
Why the wallpaper is more than just wallpaper:
RC: "In the beginning, I thought about it as art. I was really focused on the composition—I was inspired by Andrew Wyeth's paintings; I was looking at imagery of massive photography of lunar landscapes. I was really thinking about it in the sense of how will this look in a space rather than just making wallpaper. How can we really create an immersive environment? Something that is really different than anything we have ever seen before? Once we honed in on the collections, that's when it became about matching color and recreating the pattern on a large scale. It became a bit more technical, but the original inspiration and compositions were artwork."
NC: "When we started the company, we noticed that there was an opportunity with new technology, a new way of looking at wallpaper—it becomes a site-specific installation. It rides a fine line between design and art. It's meant to be used, it's functional in a sense because it has an aesthetic impact on the space. Art can just exist as this conceptual thing, but design has different types of requirements. This does both."
Why their wallpaper fits into our world of personalized everything:
NC: "I get the sense that people are more excited about tailoring everything right now. People want their custom Nike IDs, their special iPhone case. That idea now comes to their homes—now there's a way for people to have customized wall coverings. I think it's something that will stick around. There are a lot of new wallpaper designers popping up—within ten miles from here, there must be ten new ones!"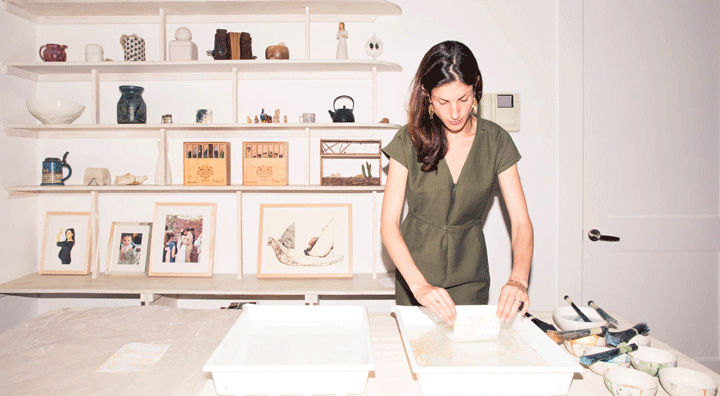 Why it works for them to do business as a couple:
RC: "For us, [working together as a couple] works so well in that we don't have overlapping skills. I don't think I've ever seen Nick pick up and marble. In terms of the digital design, and being out there promoting our work, I couldn't even imagine having to do that. I love being in the studio, I love creating work, I have so many ideas and so many techniques that I want to experiment with. Now I finally have a vehicle to do that. I can be approached by Mast [Brothers chocolate] or other companies to make work! Then Nick can actually book us on the execution and build these relationships. People get into murky water when they are both good at similar things, like, 'Who does what and what's your role?' We actually couldn't even do each other's job. It's complementary."
NC: "We do a good job at keeping work separate from family life and our relationship. The company was founded in this room. It was tricky in the first two years when we were working all day and night, we didn't know when to stop. Once we moved to a new studio, we set new rules."
RC: "We work nine to five, and try not to talk about it afterwards. We do...but we try not to [laughs]."
How they made their creative passion their job:
RC: "Something that was really helpful in the beginning that can be overlooked is the intention to include our friends and other designers from the start. One of the first photo shoots we did, we borrowed furniture pieces from a friend. We utilized the community, and are not afraid to ask. The way to be successful is to not be competitive, but the opposite: be inclusive and reach out to other designers and people you look up to, people you are inspired by, to help you out in the beginning."