Entertaining
Also known as how to be the favorite guest of every party you attend from here on out.
Daniel Kim
Never mind bird noises, or Tom Cruise-y bartender moves, or pretty much anything else that constitutes a party trick. Our favorite—and perennial go-to—is being the one who shows up with a bomb-ass cheese plate that guests are all but fighting one another to get a nibble from. It signals "you are at an adult party now" (um, except, not *that* type of adult party) in a way similar to that of items including (but not limited to) actual corked wine (over screw-tops), champagne flutes (over red Solo cups), and Aesop hand soap (over some drugstore Dial). In other words? It's a skill worth mastering (and truthfully, not nearly as difficult as you'd think).
Of course, when it comes to these things, we always like to turn it over to the experts. Which is how we found ourselves at Toronto's Nuit Social, where our workday entailed taste-testing their always-changing selection of goudas, goat, cheddars, and blue cheese. Your heart aches for us, we know. Of course, we dutifully photographed and got their tips on the whole thing, too—and after much thorough, exacting research, we can say it's just the thing to bring to your next holiday party* (and watch this space for a sequel starring the cheese board's charcuterie brethren, coming soon).
*Said holiday party can totally consist of you, alone, with Season 3 of The West Wing on Netflix.
---
A few things to keep in mind while choosing cheeses: you want anywhere from 3 to 5 cheeses, of varying textures (soft and crumbly to aged and hard), for contrast. Your board should be 60 to 80 percent crowd-pleasers (like brie, or an aged cheddar) and 20 to 40 percent more adventurous stuff (one word: stinky)—make sure there's a little something for everyone, but that people have the option to try something new if they want to. Mix up your milks, from cow and sheep, to goat (maybe even a vegan option or two, depending on the crowd?).
When in doubt? Hand things over to your cheesemonger (the cheese dude at your local Whole Foods totally counts). Explain the situation at hand (how many people? what's the occasion? what other food will be served?), what you're looking for, and don't be shy in trying a little bit of everything. Then you'll know what to pick up next time (and there will be a next time).
Once the cheese you'll have on deck is sorted, it's time to arrange your board. If you're doing this the day of, but ahead enough of time that you'll need to refrigerate, remember to pull the goods out a little bit before so they can adjust to the temperature of the room.
First, cut slices from each wedge or round, and actually cut all the cheese you intend to put out before arranging it. Don't cut it too thin, keeping in mind each piece should be bite-sized. You can arrange it in any order you like, but some like to do this from mildness to boldness. You can space your cheeses out (leaving room in between for accompaniments to come), or pile them in tighter rows for a more layered, robust look.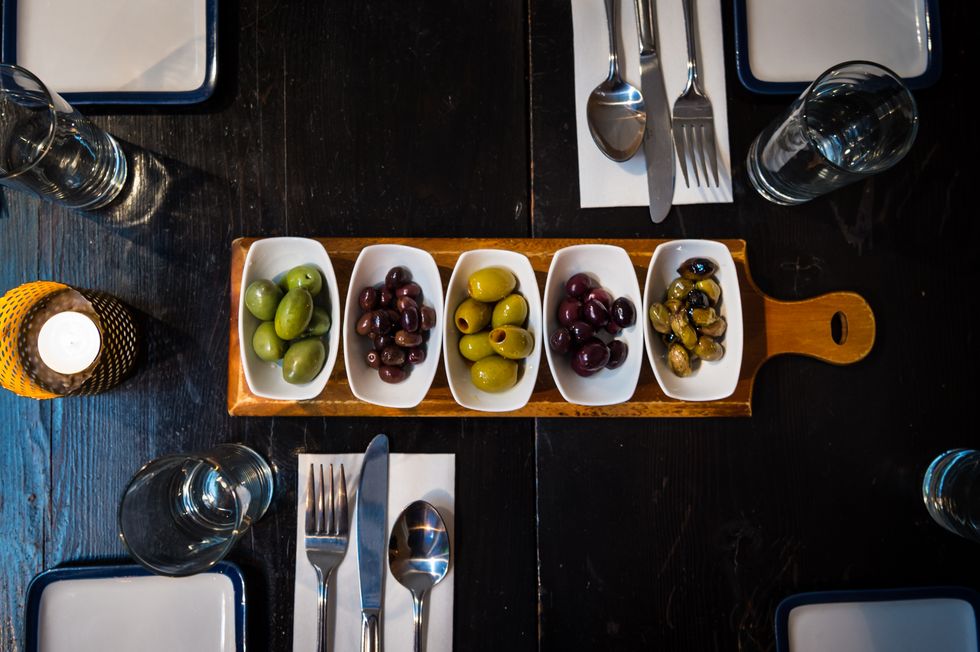 Next, accompaniments. A little compote, jam, or honey for sweet and tartness; cornichons and pickles; dried fruit; olives; nuts (Nuit Social does candied walnuts); and crostini, bread, or crackers. You want to balance the richness and textures of the cheeses with whatever you offer up as a pairing, so keep flavor combinations in mind.
Offer up mini napkins; something for people to stash cheese rinds or olive pits in; and one or two cheese knives (depending on the size of the board) to help your guests deal with the deliciousness.