Career
Equal parts career and pastry inspiration, all rolled into one.
Weston Wells
The other day we came into the office with a freshly baked all-chocolate-everything cake from Mah-Ze-Dahr Bakery. Let's just say the cake didn't last long. But let us back up for a sec, since the reason we were cake-toting employees was thanks to Wall Street financier turned pastry chef, Umber Ahmad, the founder and head chef of the new West Village bakery.
Mah-Ze-Dahr began as an online-only, delivery-based venture, which quickly opened its very own brick-and-mortar location. The bakery—which is the first of its kind under the Tom Colicchio Discovery umbrella—doesn't feature the typical pain au chocolats and blueberry muffins you'd see at any ol' bakery. The goodies here, sitting pretty atop marble slabs, are next-level creations. Think flaky scones that can hardly be defined as such, vanilla cream-filled brioche doughnuts that are probably the next cronuts, and Swedish sweet breads of which we dare you to try to only have one. They are all recipes Ahmad has gathered from a childhood spent traveling the world through the lens of food.
After chatting with Ahmad (over treats, of course), who made a career on Wall Street (like. a. boss.) before founding the bakery, we realized that while she does speak the language of food, Mah-Ze-Dahr is about much more than that—from the music you hear to the deep blue color of the bathroom walls, it has all been carefully curated by her. Ultimately she hopes to create what she describes as "a luxury lifestyle brand that takes the form of pastry." And judging by the way that chocolate cake tastes, we'd say she's already well on her way there.
---
How she went from Wall Street financier to brownie maker:
"I went to MIT for my undergrad in genetics, and University of Michigan for my master's. I got my MBA and worked on Wall Street at Morgan Stanley and Goldman Sachs. I then co-founded Specialized Capital Management, a firm that focuses on helping companies and brands better position themselves in the market.
"Chef Tom Colicchio became a client of ours and he found out that I love to bake, and he told me he wanted to try my food. I remember thinking that's the craziest thing I ever heard in my life. Tom makes people cry on TV about their food, I'm not about to voluntarily to do it. But I suspended my disbelief and made him everything I knew; cheesecake, strawberry cookies, devil and ganache cake, brownies.
"He took a couple of bites, pushed it to the side and we talked about business. I had a meeting with him the next day where I made more food, I did that for three days and finally he took a couple bites, looked at me, and said, 'What do you want to do with this?' I thought he wanted me to throw it away, I was confused. And he said, 'No...what do you want to do with this food, it's out of this world, I have not tasted pastry like this in a very long time.' I told him I wanted to build a luxury lifestyle brand for myself that takes the form of pastry, that has a longevity, is global and can cross generations. And he said, 'Great, let's do that together.' And so we started Mah-Ze-Dahr Bakery, a Tom Colicchio Discovery."
"We're all the same ingredients just mixed together in different ways."
Why food and family is all about storytelling:
"I always loved baking. I come from a Pakistani family that celebrated food. I had a Finnish caregiver growing up who became like a surrogate grandmother—she would wrap me in a blanket, put me on the counter while she baked and told me stories. Storytelling is inextricably linked to food for me.
"My family would travel around the world, spending time in Pakistan, France, and Sweden where my parents would find the local restaurants where the taxi drivers and shop owners ate. My mom would make us take bites, close our eyes, and tell her what we tasted. If I tasted cinnamon, she'd say, 'Where do you remember cinnamon from?' I'd say, 'I remember it from the oatmeal at home.' In a very brilliant way she taught us that we're all the same ingredients just mixed together in different ways. That's why food has been such an important part of the way I communicate."
Her favorite thing on the menu:
"My recipes have come from a combination of falling in love with things no matter where we are, and taking what's special and unique about one culture and putting it into something different. I want you to taste it, I want this to become part of your story, but not in a way that it's so unique that you may never have it again. We do a pistachio raspberry tart with a bit of rose water, which for us is trickling in the influence of other cultures and making them part of our story.
"The one thing I really wanted to put on the menu, which we didn't do until about eight months ago, was Finnish nisu—the first thing I ever learned how to make from my Finnish gram. I waited to put it on the menu until it was the right time and I was really happy with it."
"I believe that brands are built in the silence and not the noise."
How she's creating a whole world, not just a bakery:
"Building this brand has been very personal to me—there are a lot of elements of me in the brand. Food is very personal, emotional, and intimate, but eating the food is the last thing that happens. You see, smell, hear, and touch it first; I wanted to create a world in which all of those other senses were activated before you actually put the food in your mouth. For me, that's making the space luxurious without being impersonal; modern without being cold. There's marble, quartzite, and brass and we chose a very deep blue as the paint color.
"The music is curated. We really wanted to make sure that every component of the experience was a special one. Even the bathroom is really beautiful. It's the number-one place to take selfies apparently. I guess because you're alone and the lighting is usually pretty good and you have a big mirror, so we actually branded the bathroom."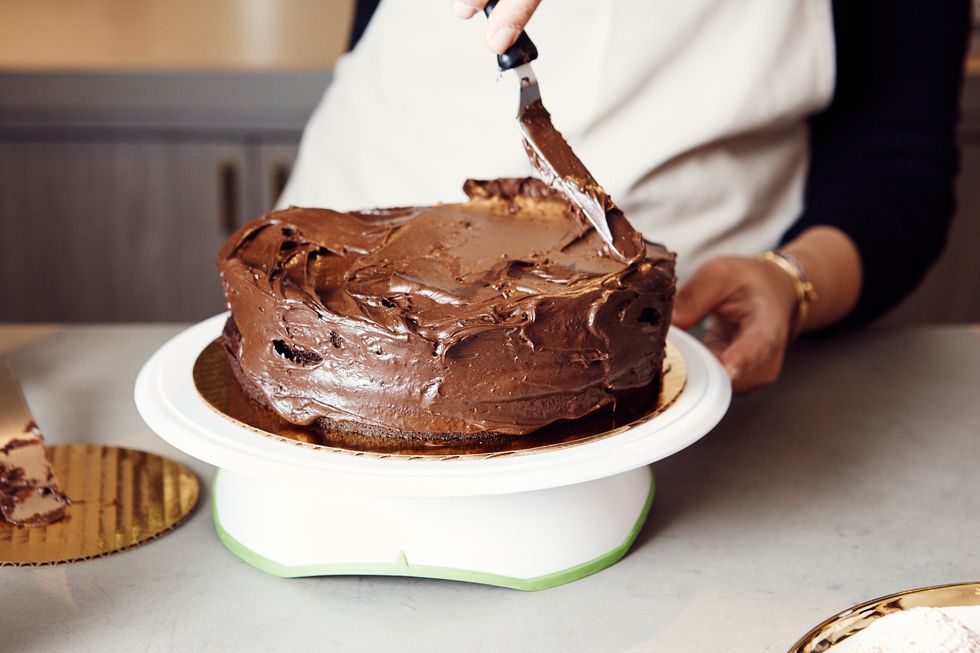 On keeping her eye on the end game:
"A lot of brands want to do everything, but they don't necessarily do it well. Mah-Ze-Dahr intentionally didn't have a retail presence for the first three years. I approach this as a luxury lifestyle brand, and as a banker, I think about my ultimate objective. I set a goal and then worked backwards. So we started online in a lower-risk way with wholesale clients, getting our name and food out there.
"I believe that brands are built in the silence and not the noise. True brands with longevity have built themselves in the silence and that's what I'm trying to do."