Series
Why a Coffee Cocktail Is Going to Be Your New Go-To
Wondering if this means we can have one in the morning?
Jaclyn Locke
If we narrowed it down to the two beverages that give us the most pleasure, it would be coffee and cocktails. And when the two are mixed together into a caffeine-filled libation, perfect for the holidays, we have an even harder time resisting. Hand us one, put us in front of a cozy fire, and game over—we're hibernating for the rest of winter. So when it came to creating the perfect balanced drink, we asked our friends at Electric Mud BBQ to create an exclusive coffee-infused cocktail that can take us all the way through to the new year. Without further ado, we present: The Coffeteur (see what they did there?).
---
INGREDIENTS

1 1/2 oz bourbon
1/2 oz Amaro Averna
1 oz apple smoked espresso vinegar*
1/2 oz espresso syrup
3/4 oz lemon juice
1 oz egg white
1 tablespoon coffee beans
DIRECTIONS
 
1. Add egg whites to a cocktail shaker and shake vigorously.
2. Add in the remaining ingredients, plus ice, and shake well.
3. Strain into a rock glass and serve on ice.
4. Garnish with coffee beans.
*APPLE SMOKED ESPRESSO VINEGAR
1 cup apple cider vinegar
1 apple (sliced, dehydrated and smoked for three hours)
1 tablespoon coffee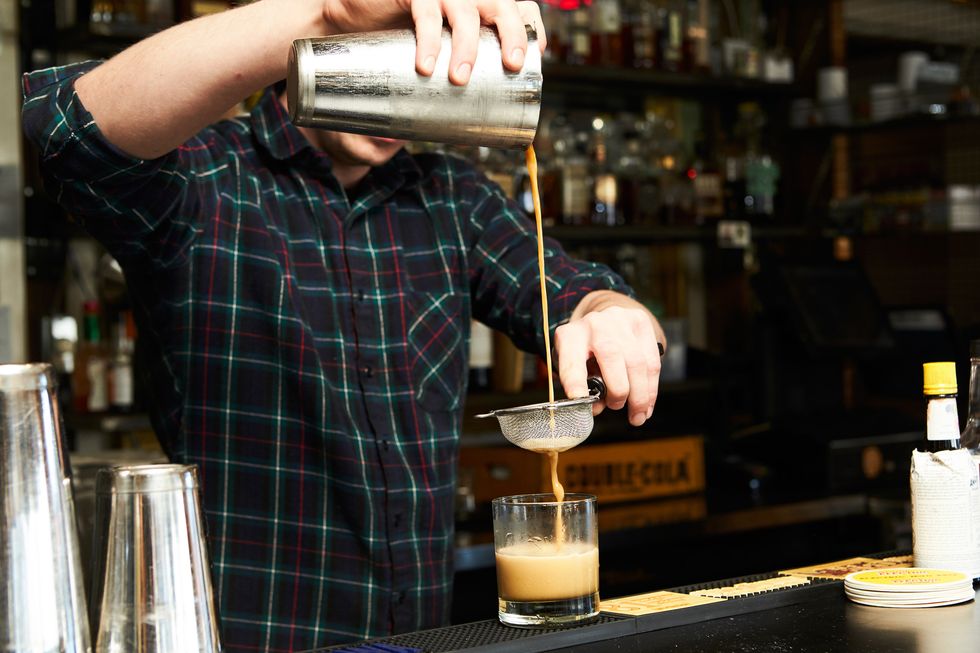 DIRECTIONS
 
1. Mix all ingredients together, cover, and let sit at room temperature for two days.
2. Strain and use in cocktail.