Down to Party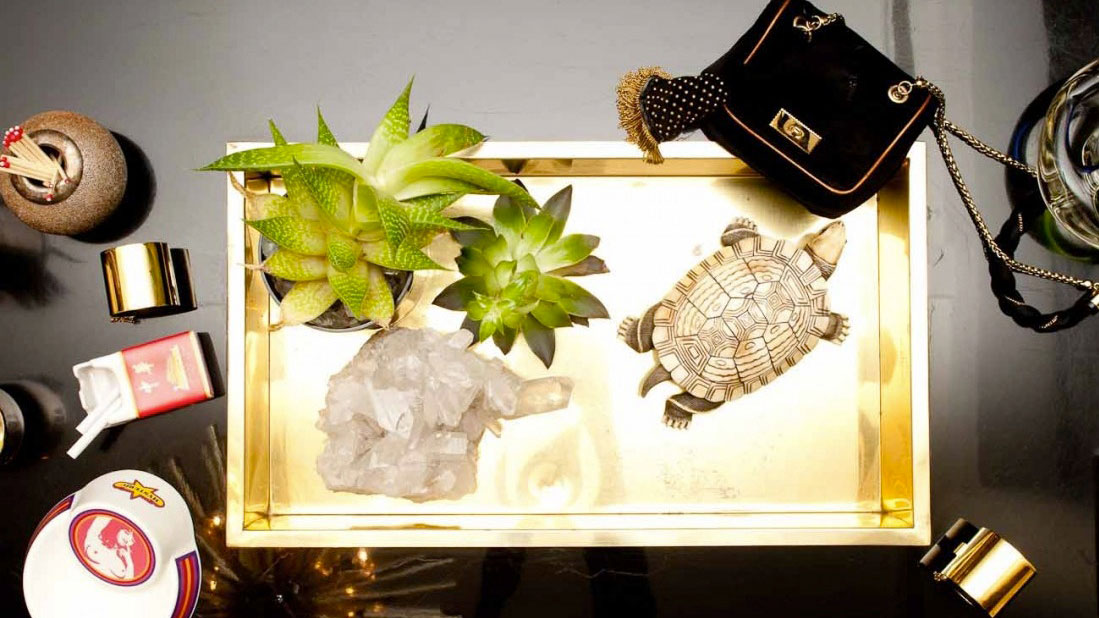 Buy These Fancy Things, Impress Everyone Who Comes to Your House
Adulthood is an illusion, guys. These home decor items are proof.
While it's tempting to do the whole frantic, frazzled, holy-shit-people-are-coming-to-my-house song and dance, anyone whose apartment has been the setting for a pre-drink or two will tell you that making a good first impression comes down to just a few things. Those few things being, of course, anything that successfully distracts your guests from what you're silently freaking out over in your head—the sudden realization that there's no toilet paper, or a stray dust bunny in the corner. You've experienced this sort of thing out in the wild, too—think about anything that feels decidedly adult that you've spotted at a friend's house and thought to yourself, "Well, damn." Matching, perfectly folded, fluffy towels (bonus points if they're in abundance). Cloth napkins. A plant that's not just alive, but thriving. But it doesn't just stop at things: there's certain moves you can use to pull the proverbial wool over your guests' eyes (in a good way! Promise.). Hitting play on the pitch-perfect playlist, having a signature cocktail, having a personalized take-home item for guests. You get the idea. For more, we consulted with experts in the field.
Parker Bowie Larson
Market Director, Architectural Digest
1. Wineglasses: "[Everyone needs] sophisticated wineglasses that even a wine connoisseur would be impressed by. The Denk'Art collection by Zalto Glass are my favorite. These are the ones Charlie Bird and Pasquale Jones's owners use for their restaurants."
2. Water Tumblers: "To add more pop to your table, I would recommend buying these fun water glasses in a range of styles and colors."
3. China: "Having nice china is always something that immediately elevates your table. Not all china has to break the bank, though. I love this collection by Oscar de la Renta for Vista Alegre. It has a really high-end look, at a not-too-terribly-expensive price."
4. Napkins: "If you don't want to have to deal with cleaning or ironing, I would buy these hemstitch faux-linen napkins. They are so luxurious-looking that my husband freaked out when I threw them away after a dinner party!"
5. Flowers: "Having a beautiful arrangement of flowers completes your table. I love wildflowers, so my favorite place to get bouquets from is Farm Girl Flowers. Starting at $45, they aren't crazy expensive either."
Monica Khemsurov
Co-founder, Sight Unseen
1. Small tree: "Yes, it's trendy, but it works: A tree in the corner of a room gives it added dimension and subconsciously communicates to others that you put more effort into decorating your place than just tossing a fern in your cart during your last Ikea run. We recently did a story on the best oversized planters to put your tree in, including Yield's colorful spun-metal pots that can go either indoors or out."
2. Daybed: "If you have the space, invest in a daybed. Not only are there some insanely good options out there right now (here are a few more), having a daybed in your living room implies that you live a life of leisure, even if that couldn't be further from the truth. Elite Greeks and Romans used to recline on them during dinner parties. Channel those vibes."
3. Home Bar: "Provided you're a drinker, a home bar is a must if you want to look like you've got your shit together. In addition to a bottle of fancy whisky, a bottle of fancy gin, a bottle of Campari, and a few bar tools, a great decanter is a must. We love this new ribbed-glass version by Ferm Living that's only $42; or splurge on Anna Karlin's. We're also wild about these cocktail, wine, and pint glasses by Mazama—the colors are so perfect."
P.S. Learn how to put together the perfect at-home bar here.
4. Designer Vase: "You definitely need a Natalie Weinberger Donut Vase—preferably styled with a few long, green leaves—as your table centerpiece. They're perpetually sold out on her site, but we're guessing you can special-order one; if not, start searching online for vintage ikebana vases by the Japanese company Toyo. For those with more adventurous taste in ceramics, we also recommend Ria Leigh's decanter and chalice set."
5. Beautiful Ashtray: "When you're entertaining, it's the little, unexpected things that throw you off your game, like having to use a wine bottle as an ashtray when you have guests who smoke. That's why I started Tetra. Pieces like this make you look like you thought of everything (plus it doubles as an ambiguous styling object when it's not in use)."
6. Pieces with a Story: "Nothing feels classier to us right now than celebrating the achievements of historically overlooked women, like the Finnish designer Alvar Aalto's wife, Aino Aalto, who's responsible for one of our favorite dishware lines. She also collaborated with Alvar on the iconic Savoy vase, but we all know who got all the credit for that one. It's always nice to be able to tell these kinds of little stories about your possessions when you entertain."
1. Set the Scene: "Entertaining is all about mood. I typically start by picking the right playlist (Chet Baker, Tom Jobim, Julie London, or Getz) and lighting a Diptyque candle. From there, setting up the bar with the necessary accoutrements to make a few of my favorite cocktails and prepping the dinner table. Fresh flowers are a requisite, but nothing over-the-top—you want your guests to feel relaxed and at home. During colder seasons, we build a fire for extra coziness."
2. Buy Yourself Time: "Dim the lights, plug in your iPhone, and prepare a few strong cocktails. That should keep guests entertained and will buy you a little more time to finish all other preparations."
3. Cover Your Bases: "Fresh flowers and good tableware—a nice Belgian linen napkin and appropriate glassware—go a long way."
4. A Classic Cocktail: "An old fashioned is my go-to aperitif, something I picked up from my grandfather."
Mat Sanders
Co-founder, Consort Design
1. Oversized Art: "The dining room is an exceptionally great space for an oversized, dramatic artwork because you have a captive audience. Whether it's a 10' taxidermy shark or a large scale canvas, it can fill in the awkward silences or be the great top of conversation at a dinner party."
2: Marble: "There is nothing more luxurious than marble. Marble has the ability to elevate any homeware."
3. Place Settings: "Place cards are an easy and important way to make guests feel welcome and lets people know you thought of them. Metallics are a great way to add a little shine and we love these modern geometric shapes."
4: Table Linens & Napkin Rings: "Think of it as your meal's first impression. They're essential to your kitchen aesthetic. Paired with the right napkin ring, it can pull together a whole meal."
5. Matte Black Cutlery Set: "This matte black finish gives a subtle twist of drama, adding an unexpected elegance to any table."