Travel
Your Guide to the Fall Getaway
There's actual nature just outside Manhattan.
Tjibbe Lambers
So it's been a rough few months, to say the least. Between the election and impending holidays, sometimes spending the weekend at home just doesn't feel all that relaxing. There's chores and work at home, laundry to be done and bills to be paid, and recently we've needed some real time away. Our go-to prescription for this is usually a little staycation, but the brisk temperatures of fall were calling us way outside the concrete streets, upstate for some legit quiet...and yeah, we really just wanted to see the foliage, okay? So we headed up to both Cooperstown and Woodstock to check out the aforementioned ~nature~ and eat our body weight in apples and burgers. And you know what? It was exactly what we needed—a weekend of unplugged (almost, we are guilty of Instagramming a bit, but with those views how could we not?) IRL relaxation. The kind that bottomless brunch or a day cooped up in bed with Netflix and an iPhone just doesn't get you. Since we knew we had to report back to you guys, though, we did take notes on some of our favorite spots to stay and eat and what to do while you're up there—if you're not just reading and taking baths, that is.
---
Stay
 
Let's get one thing sorted out off the bat (you'll see what we did there in a sec): Cooperstown is a baseball town—maybe even *the* baseball town, since it's the birthplace of the sport. But beyond all that, Cooperstown also revolves around its other town jewel, Otsego Lake—the most picturesque, foliage-rimmed lake ever. And thankfully, the town's main resort, The Otesaga (which, with its tall white beams, rocking chair-filled porches and old-world charm is picturesque in its own right), is built around it. Waking up with coffee in hand at The Otesaga is the kind of morning that makes you promise to leave city life behind, in exchange for all this.
See
 
Cooperstown is also the kind of place that is so quiet that if you stop talking and just listen, you'll literally hear nothing. And while some, especially diehard city dwellers, may find that kind of creepy, it's also deeply, deeply calming. Strolling from The Otesaga (yup, you can also walk most anywhere in Cooperstown) over to the Fenimore Art Museum is a horn-, siren-, and noise-less stroll that's a perfect prelude to taking in some American art in the museum's neo-Georgian mansion.
Eat
 
Consider yourself forewarned: Cooperstown is not the place to continue on your Dr. Junger program or green juice for breakfast kick—nor should any vacation or weekend away be, in our book—on the contrary, it's all about comfort food, especially during the fall. Think: greasy lunches from the iconic Cooperstown Diner, where you sit among locals in the tiniest cafe and eat the biggest burgers. And reuben sandwiches piled high on top of french fries at the Doubleday Cafe. And truthfully, whichever establishment you choose dotted across historic Main Street or the lake, you're bound to have a good meal.
Do
 
While you're way upstate in the countryside, the obvious autumnal choices are always there—apple, pumpkin, and raspberry picking at Middlefield Orchard (where, side note, there are acres of unpicked spoils). Then you can actually make something with your hands! From scratch! Like apple pie, cobbler, or candied apples (sugar doesn't count this weekend). Or you can eschew all fall-y things, go the spooky route, and book a candlelit nighttime ghost tour to learn the backstory of the "friendly" spirits inhabiting the homes and, eek, cemeteries in town.
---
Stay
 
You're in Woodstock, after all, the place that inspired the likes of Bob Dylan, The Band, Van Morrison, and Jimi Hendrix, so it's only fitting to immerse yourself in the hippie lifestyle. Hotel Dylan has eclectic decor and a laid-back vibe, and is just a short drive from town. Want something within walking distance? The Woodstock Way cabins right in town are the perfect solution. And if all else fails, Airbnb houses are aplenty in and around Woodstock and definitely worth looking into.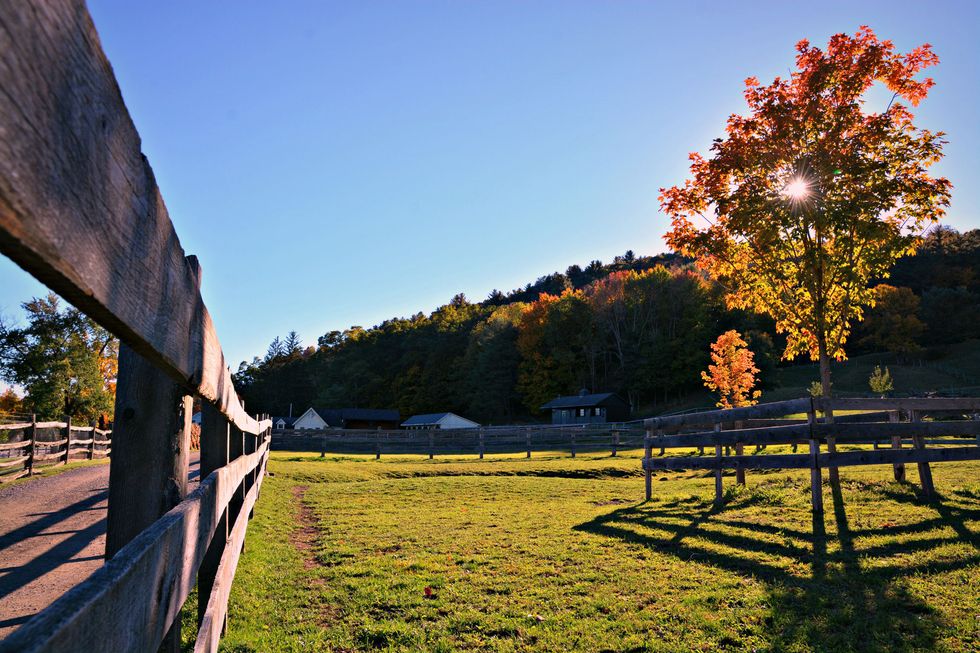 See
 
Going in and out of the stores, art galleries and antiques shops on Tinker Street in Woodstock can provide hours of entertainment, and if you're there on a Saturday, be sure to check out the Mower's Flea Market. But as soon as the sun sets, you'll want to book tickets for a show at either Woodstock Playhouse or The Midnight Ramble at Levon Helm Studios, or, y'know, both?
Eat
 
Eating in Woodstock is something we don't take lightly. You'll want to plan ahead for most things, as the best places book up quickly (just like NYC!). For breakfast head to nearby Phoenicia Diner. Get there early, there will likely be a wait, but it is totally worth it—and come hungry. For a post-shopping lunch in town, we recommend trying a few things at a couple of places—just to cover all your bases. Tinker Taco Lab and Yum Yum Noodle Bar definitely are two favorites. Book in dinner at Cucina right in town; while the menu is impressive, don't overlook the pizza. Peekamoose is a bit further outside of town but completely worth the drive. You can have cocktails outside by the fire pits while you wait, which is half the fun anyway.
Do
Counteract the fact that you just ate and drank your way through all of Woodstock by hiking Overlook Mountain. Part way up you'll get views of the old Overlook Mountain House ruins (which you've also probably seen on Instagram). And if skiing is more your scene, there's Hunter Mountain—while it's certainly not west coast skiing, we promise the après ski beer tastes just as good.
What to Wear