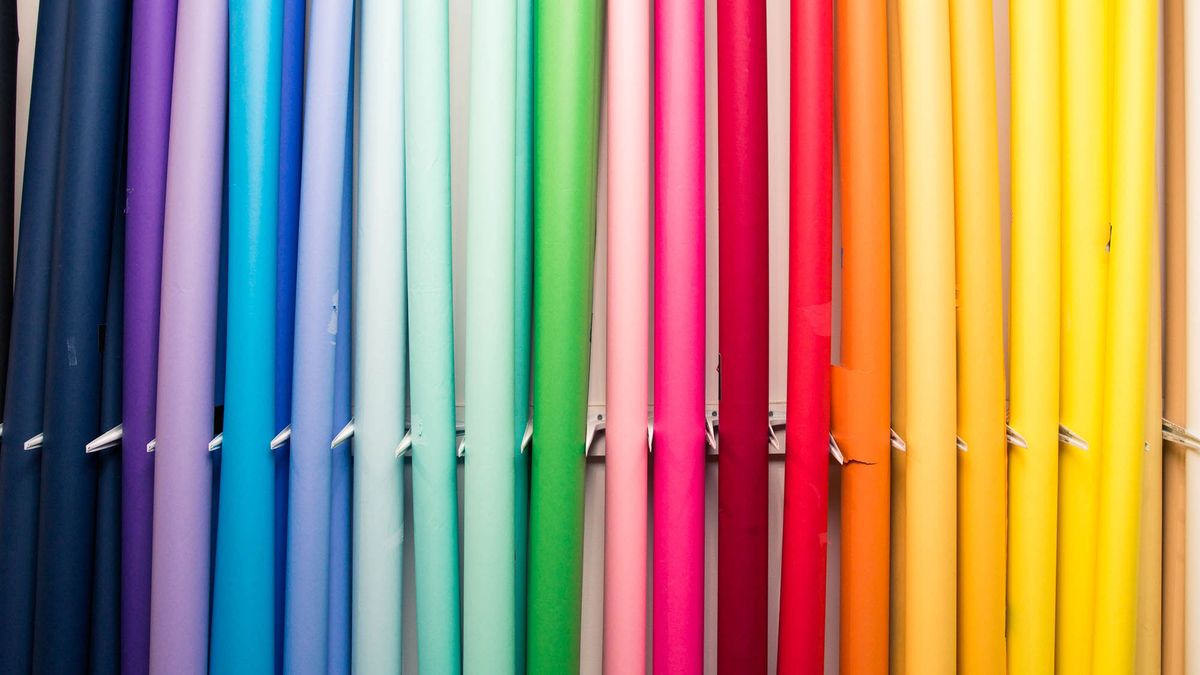 Career
Meagan Cignoli and Amber Lee are the geniuses behind the stop-motion videos we can't stop watching.
Alec Kugler
If you've ever dreamt of making art your job, but have no idea where to start, may we present your new role models: Meagan Cignoli and Amber Lee, the business (and life) partners behind Visual Country. For one thing, their Lower East Side studio, where they have 20 very creative employees working daily, is a cross between crafting heaven and a Pinterest board come to life. For another, creative director Cignoli, who began making stop-motion videos on Vine when she became disenchanted with her gig as a fashion photographer, has turned what was a creative obsession into a full-blown business, complete with a client list that includes everyone from Sephora and Starbucks, to Gap and General Electric (and a whole lot more).
While Lee, the CEO, brings clients in and deals with the business side. It's the kind of partnership artists dream of. With their first long-form video coming out with SCAD FASH tomorrow, all about the history of millinery, we visited Cignoli and Lee, pet their hilarious pugs, Stevie and Pickle, and heard about the most rewarding aspect of having their own company, why overnight popularity on social media doesn't mean there wasn't a ton of work involved, and why luck is a dirty word.
---
How Visual Country took off out of experimentation on Vine:
Meagan Cignoli: "My background is in fashion design and photography. I started playing with video and I kept saying I want to get into film, but I didn't know how. But within a few weeks of playing with video [on Vine], we had more interest than I ever had in anything else I was doing. It really picked up and I saw an opportunity for short-form video there in terms of engagement with brands—just to have so many people want[ing] to hire you right out the gate of trying something. At that point I was just like, 'Fake it until you make it.' I experimented for four years. I really didn't know what I was doing. I had no animation background."
Amber Lee: "You were really using your style from fashion photography and turning it into animation, which created this unique aesthetic which you now see everywhere. The application of stop-motion and short-form video was really important because videos were getting shorter, attention spans are getting shorter and messages still had to be as detailed. Stop-motion allowed us and brands to tell a story very quickly and succinctly that it was a lot more difficult to tell in live action or through one still image. What really resonated with audiences was this DIY approach that still had clean colors and lighting. It felt more accessible to people, like something they could almost make themselves that made brands more authentic and approachable. There was this combination of artistry and commerce coming together to make content that viewers were not even realizing was an advertisement. That's why it became so successful for us and the brands we are partnering with, it's giving them cool factor and letting them sell a product without being sales-y."
The timing just happened to work:
AL: "Video has been around for a while, but not in social. Instagram video wasn't out, Vine had just come out, you couldn't post a video to Twitter, on Facebook you were sharing YouTube videos. These platforms hadn't come out with native video, and at the same time Meagan was working tirelessly to the point where I was like, 'Maybe you should focus on other things? Because you are spending so much time on this!' I didn't see the vision as quickly as she did. I'm really happy that she didn't listen to me.
"Before Visual Country started it was just Meagan trying to create art and find herself after years of being a photographer. From my perspective, I had a background in running businesses and working at startups, mainly in tech. I was at eBay when this started to come together and I quickly left to help her pursue this full-time. That is when we dove headfirst and got a studio that wasn't a living room in Brooklyn [laughs]."
What their "average" days look like and how that's changed:
MC: "In the beginning I was shooting everything by myself. I started [filming] with a phone and then I moved pretty quickly to a camera. Now we can't even use our phone content because it is so low-quality. At that time I was also the account person because I was on the phone and explaining to clients how we do everything and the rates, and if they had a problem they would come to me. Now I don't talk to anyone. The account team brings it through and when everything is contracted they come to my team. My day-to-day is writing or reading or deciding things like, 'Okay! This is Taco Bell, I need a more masculine person writing for them. Or, this is Carolina Herrera and they are going to want something really dainty, so I need to find someone else writing for them.' And from a technical level, who is going to be shooting this? I look at everything. And there are shoots going on at the same time, so I'm peeking on to every set, checking the lighting and the layout. If they are not here, they are sending screenshots of every scene so that I can approve it. It's all visual and concepting for me. Once it gets to edits, I'm out. Then the account team and editors take over."
AL: "I'm more focused on making sure we make money and get paid. From the beginning it was Megan, myself and two other people. Now it has evolved into 20 people and we've been handing off pieces of our role to individuals that we trust to free ourselves up to focus. We have worked with over 250 brands in the last three years, creating hundreds of videos and shooting about three videos a day on average. It takes an army of people to bring it all together. We work very collaboratively. Everyone has their specialty but they are generalists, too, where they can pick up and find a place in every project. You are not just getting one mind. It's not just Meagan's creative insight—it's 20 of us. Even the account team is very creative and can look at it from that angle as well."
How they stay ahead of the crowd:
MC: "We are best known for our stop-motion, but over the last year and a half we have also started experimenting with slo-mo, live action and telling stories that are longer-form. We started with very short six- to 15-second videos. Now we've just finished a film that is five minutes long, that has these very elaborate sets, and is all 4k video. It's about constantly looking for new styles and new techniques to stay fresh. We started the trend in a big part on social with stop-motion. We are looking to start new trends on these platforms. I think brands are looking for that too. They want to stay fresh and relevant."
AL: "To facilitate that, we produce a lot of creative in-house that is not for brands—it's just for our channels to help create engagement. Across all our channels we reach about a million people. We want to keep giving them content that's not just branded. That is an opportunity for our creative team to explore. Some of those videos will never see the light of day. But there's also a lot of videos that come out of it that are cool and compelling. We put up one of these videos and suddenly the next day a food company is like, 'Oh, I want that!' Those creative videos not only keep our channels engaged and keep us fresh and relevant and exploring new things, but also generate new business."
The most rewarding aspect of their jobs:
AL: "Being able to provide a job for people. Obviously I'm proud of the art and videos we create, but we have a family feel within our company and it's exciting to know that; it's also scary and stressful to know you are someone's life source in a lot of ways. But there is something very cool about being able to build something as a company and to see it out in the world and have it be distributed far and wide."
How to turn your creative outlet into your job:
MC: "It's like anything: Practice makes perfect. Also: Try a lot of things. I was really hard on myself for trying so many things—why can't you just figure out what it is that you want to do?! Why are you all over the place? But now I do all of the things I've done over the years. Everything plays a part in what I'm doing. Exploration is really important in every field, but especially with creative. Open yourself up to trying new things and being inspired by things that you wouldn't have expected. I thought I was going to be an illustrator or a fashion designer. It was really hard when I realized I wasn't going to be. There was a lot of times where I was like, 'I am not going to succeed.' But I also was like, 'I AM GOING TO SUCCEED!' I did not want to be a starving artist.
"With creative careers, once you think you are onto something and you are doing it well, it's really important to build a name and cheerlead yourself. You are worth a lot more when your name is known. You can absolutely be a talented artist and be starving, or you can say you are the greatest and not be starving. Put yourself out there and learn how to price your work. On our website there is an article on how to price that Amber wrote, and I'm so glad she wrote it because we have so many emails from so many creatives, 'How do I charge people for their work?' I didn't ever want to charge anyone. Have that backbone to put a price behind your work. Value it as work. When people say I got lucky, I'm like, 'Ugh! No, this is hard work.'"
How to succeed on social media:
AL: "At the same time as Meagan came up on social media, there was a whole group of people that were similarly rising and seizing the same opportunities in different ways. They had totally different types of content, but similarly gaining a lot of followers on social. Every single one of them had dedicated themselves to doing just that and they are still doing that, creating videos every day. She created a video on social every day for a really long time. It is a lot of hard work and a lot of time invested, and your own money, too. Eventually the brands come and jobs start small and then they grow, and you have to know how to adapt and how to price yourself as an artist. A huge part of being an artist has nothing to do with art. It's all commerce and business. The conversation is about what your expectations are and deliverables and pricing: you learn how to say no to something that doesn't fit your budget anymore. You adapt and grow through it. You can change your mind quickly and often if you need to!"