Travel
No, the nation's capital isn't all politics.
Alec Kugler
Yes, we know, everyone thinks DC is all politics—and it especially feels like that lately. But we swear to you, there's a whole lot more going on (although the locals do like to talk about the election, we won't lie)—including some great food and drinking options, which as far as we're concerned, is all that really constitutes a fun weekend. So how about it? Here's everything you need to know to have a grand old time in our nation's capital—with a couple museum visits sprinkled in, because a little bit of learning can be fun, too, friends.
---
The best sleep in DC can be found at the Dupont Circle Hotel (1500 New Hampshire Ave. NW)—no word of a lie, their beds are magic. And the comfort theme extends to the oversize rooms and the heated bathroom floors. On top of that, the location, on its namesake roundabout, quite honestly can't be beat: it's 10 minutes on foot to 14th Street, where you'll find every bar and restaurant worth mentioning, and 30-minute walks in each direction to Georgetown and the Mall (not an actual mall, the Mall is a beautiful tree-lined park). On the other hand, if you'd rather not leave, there's plenty of cocktails to be had downstairs at Bar Dupont, the best and most lively watering hole in the neighborhood.
Guys! DC has a food scene—it's not quite as varied and expansive as in New York or L.A., but sometimes that can be a good thing (read: on the wallet). José Andrés is the long time reigning king, and for good reason: his restaurants, as any local will tell you, are all excellent, including Oyamel (401 7th St. NW) (Mexican), China Chilcano (418 7th St. NW) (Peruvian), and Jaleo (480 7th St. NW) (Spanish). Outside of Andrés' orbit, Iron Gate (1734 N St. NW), with its cozy backyard and excellent tapas, and Le Diplomate (1601 14th St. NW), complete with kitschy French bistro decor and truly great steak frites, are two other mainstays where it's more than worth your while to reserve a table.
There's also a collection of newer restaurants where the waits are long, but, again, worth your while. Little Serow (1511 17th St. NW) has some of the best Thai on the East Coast (but beware that the restaurant is teeny-tiny and only seats parties of four or fewer); Kinship (105 7th St. NW) has a seven-course tasting menu with dishes like monkfish pastrami and green tomato soup; Rasika (633 D St. NW; 1190 New Hampshire Ave. NW) makes delicious, modern and very sophisticated Indian food; Bad Saint (3226 11th St. NW) serves sinfully good Filipino food (locals line up as early as 3:30—the restaurant opens at 5:30); Rose's Luxury (717 8th St. SE) has excellent tapas and family-style ~fine American~ dishes and is the kind of place you just want to hang out in.
For something quick, go to Daikaya (705 6th St. NW) for completely satisfying ramen downtown. On the lighter side, there's Slipstream (1333 14th St. NW), which, for breakfast and lunch, serves healthy but filling bowls, sandwiches and toasts in its bright dining room—and serves dinner and drinks at nighttime.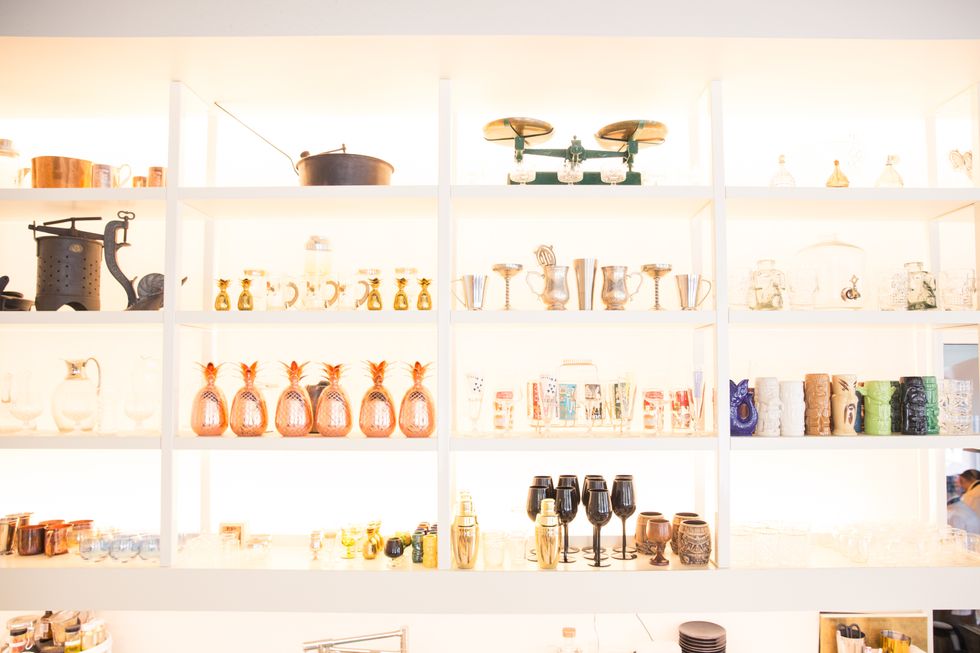 If getting after-work drinks for you means rubbing shoulders with DC's scenesters and power brokers of all stripes, go to Barmini (501 9th St. NW), a bar by José Andrés that actually requires reservations and does two-hour seatings: the decor is surreal and the cocktails even more out of this world. It's fancy AF.
If you're looking for something a little more low-key, head to 14th Street, where every other storefront is a bar filled with people drinking and eating oysters. Sit outside at Garden District (1801 14th St. NW), DC's version of a German beer garden, which also serves inexpensive and mouth-watering BBQ (we dare you not to order a round or two of their fried pickles when late-night munchies strike). Or go for a bottle of Rioja and some charcuterie at Barcelona (1622 14th St. NW), which also has an excellent outdoor space that stays packed late into the evening. And then there's always Black Cat (1811 14th St. NW), the city's original punk club, which still has nightly shows, as well as a bar room that serves cheap beer and plays music off a jukebox that hasn't been updated since the early '80s. And sometimes that's all you need.
For a truly iconic DC experience, however, take an Uber to the newly revamped and renovated Watergate Hotel. Have a drink at the Next Whiskey Bar (2650 Virginia Ave. NW) and bask in the spot-on mid-century design and smooth cocktails.
Shopping in DC is admittedly limited beyond the chains and department stores you'll find in every city, but there are two places worth hitting up. Relish (3312 Cady's Alley NW) in Georgetown sells the Simone Rocha, Marni, Sacai and Dries Van Noten pieces that will help you stand out from the conservative politico types. Redeem (1810 14th St. NW), on the other hand, goes by an all-neutral, Rick Owens–reminiscent dress code and keeps clothes by Assembly and Won Hundred, among others, in stock.
As ever, though, museums are really where DC shines. The newly opened National Museum of African American History and Culture (1400 Constitution Ave. NW), which requires timed passes for entrance, is sold out until March. Something tells us it's very much worth the wait. The Hirschhorn Museum (700 Independence Ave. SW) is the Smithsonian's ode to contemporary and modern art and is currently exhibiting works by the likes of Barbara Kruger, Peter Doig and Francis Bacon, whereas the National Portrait Gallery (8th St. NW & F St. NW) is a slightly more artsy method of absorbing a bit of American history, including a current exhibit on photographs of jazz greats, as well as artworks about national civil rights movements. Outside the Smithsonian universe, definitely check out The Phillips Collection (1600 21st St. NW), a short walk from Dupont Circle. The private museum has a permanent collection that includes Picasso, Monet and Georgia O'Keefe, and is currently showing Jacob Lawrence's hugely impactful 60-panel Migration Series.