Career
Vanity Fair's Celeb Whisperer on How Cover Stories Really Happen
Krista Smith is the reigning talent forecaster in media for a reason.
Mike Rosenthal
Very few people actually earn the right to say, 'I knew them before they were famous.' And unless you're Kanye West, even fewer can think to utter the words 'I helped make them famous' without eliciting an eye roll. But when you're single-handedly responsible for catapulting the careers of industry unknowns into superstars, we'll give you a get-out-of-jail-free card.
No one deserves that exemption more than Krista Smith, Vanity Fair's West Coast Executive Editor, aka Hollywood's humble Fairy Godmother who's not only behind the success stories of rising talent, but also rubbing elbows with every celeb on the planet. Smith won't grant you three wishes, but she'll definitely take a meeting, suss out whether you've got that 'it' quality, and then crown you as the magazine's newest member of Vanities—the most exclusive who's-who editorial club which has become the industry's seal of approval and bible for directors, writers, bookers, casting agents….and on, and on.
Between helping produce VF's annual Hollywood issue, contributing to the magazine's New Establishment Summit, interviewing titans of the screen, running around at the Oscars, Sundance, TIFF, and beyond, Smith has become what we like to call a renaissance journalist who masters it all with her self-proclaimed "high pain tolerance."
---
How she became a part of the Vanity Fair family:
"Five days after I graduated from Colorado College I was already in New York. I couldn't wait to get there! I didn't go to journalism school, I studied English. But for me, I always loved the medium—I also always enjoyed movies, the theater, and I constantly read magazines. I actually never thought I would work in magazines, and I didn't even know at that point that it was possible. My dad was a scientist and my mom was a docent at an art museum.
"When I was first in New York I interned at the Wooster Group [an experimental theater company]. I always loved that world and thought maybe I would be a Broadway producer or something. It definitely spoke to me. I started as a fact checker for a minute at Vanity Fair on a freelance basis, but then I proved myself. I used to do all of the research for Annie Leibovitz and prepare these really intricate packages for her at the time when she really only photographed for Vanity Fair. She loved the research packets I did, so that kind of led me to Jane Sarkin, who worked in features and did the covers and all the Hollywood stuff. I became Jane's assistant, and then later moved out to Los Angeles when there were regime changes and the person out here left. I was bi-coastal between N.Y. and L.A. for really a long time until I had kids."
Graydon knows best:
"I'm dyslexic, so it's deeply ironic and it continues to be deeply ironic that I work at a magazine and I actually write often for it. But I really credit Graydon Carter for that because he said to me at one point, 'Just write like you talk and don't worry about the rest of the stuff. You could learn that.' He was the person who gave me that confidence."
On writing and her first pinch-me moments:
"Reese Witherspoon was the first ever cover story I wrote, but Gena Rowlands was my first interview. When I was coming into really appreciating cinema, John Cassevetes landed on me very strongly. I would watch Faces, [A] Woman Under [the] Influence, and Husbands. These movies were so interesting and incredible and the actors, like Gena, were so dynamic. I just thought (and I still think!) she is one of the most glamorous actresses. That was the first time I'd ever written anything for the magazine. I went up to the house where they actually filmed a lot of the movies, in L.A., over here in [the] Laurel Canyon area and she was lovely. I was terrified."
Vanities over van-ity:
"I think that early on I was good at talking to people and sensing who had the magic potion to actually make it in this business and have the stamina to go over time—that is really what it takes. And I love encouraging new talent. I kinda feel that [the] Vanities [section] is the second cover of the magazine, and there are only twelve a year. It's very competitive, and once you're chosen you become part of the Vanity Fair family. I feel that we invest that time in you and we want to help your career. It's a really special place, and when you look at the track record it is kinda amazing.
"You land on talent when they are just starting out, but it's definitely not easy to stay relevant past a certain point. Your personality feeds into your success. Working in film and television, it's hard, long hours—shooting nights, freezing cold weather—it's grueling…a lot of it is very, very challenging. Are you someone the crew wants to work with all the time? This is one of the hardest businesses where you could put in so much energy and get no return for years and then suddenly you get it."
The ABCs of good reporting:
"I love that there are so many more outlets, and so many more voices can be heard. I do think if you work hard, and you put in the time, effort and the hours, there are so many more opportunities for you than there were when I was coming up. I didn't go to journalism school; it wasn't a reality since I couldn't afford it. But fact-checking really taught me so much. I fact-checked Maureen Orth and Christopher Hitchens and learned so much through these huge titans of journalism—reading what they read, and going through legal and listening to their tapes and going through it gave me a sense of how to tell a story, how to tell it correctly, and the importance of a narrative.
"I also think there's this armchair journalism and this loosey-goosey fact-checking. I am kinda old-new new-old and I'll ride my assistants very hard about it: 'Okay, so you Googled it, now what? You couldn't find it on Google, how else are you going to find it?' I always try to stress maybe it's not always there. The answer isn't always on your computer, sometimes you have to pick up the phone and do some good old-fashioned gumshoe reporting. Whether I'm interviewing someone for three minutes or meeting someone in my office, I've done the background check. I really believe that you can't be too prepared."
It's not always glamorous—but it's always interesting:
"One of the things that's most exciting and interesting about the job, is that my day is always fluctuating—seeing movies, going to meetings, the Hollywood parties and obviously the Oscars, and representing the magazine out here on the west Coast the best I can since I'm the only person out here. So much content is shot out in L.A. because of the weather and the talent, so there are a lot of processes. You have to come up with the idea. Who should we shoot and why? What is the concept? We work with the Style Director, the Creative Director, the photographer, and you have to work with the talent. What are they comfortable with? You have to know when to push them, when not to push them. When hair and makeup is going too long. When hair and makeup is not right, when it's just right. When the photographer is spending too long on the shot. It's not like one big champagne-and-caviar party, which I know people like to think it is. I have that one picture with Madonna from when I was an assistant and it was, like, 200 degrees when we were on Long Island. It was one of the shots for the cover, and I'm holding balloons. She was like, 'Hold my gum.' Madonna did not disappoint. There are moments when you see it all happening and you think, 'Oh my god, this is huge, I cannot wait for people to see this!''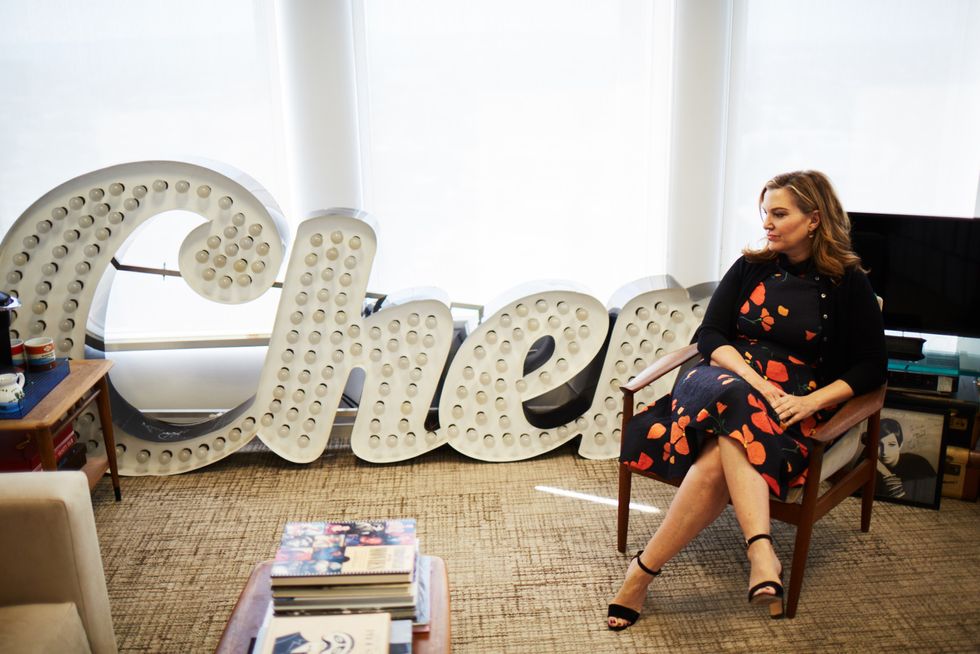 How she snagged that Cher sign for her office space:
"Cher hadn't really been in the public eye for a while and I drove all the way out to Malibu where she lived for the first interview around the time of Burlesque. I remember she sat down and I couldn't believe it was Cher. She was dressed so casually, almost like a teenager in hoodie and jeans. First thing she said to me was, 'How are we going to talk for two hours? What are we going to say? I haven't done an interview in twenty years!' I remember saying, 'Well, let's just start with thirty minutes and see how we do.' I left there at, like, one in the morning! We got along really, really well, and she invited me to her show in Vegas, to fly on the plane with her, and then to come see her after the show and I of course was at her Vanity Fair photo shoot as I normally would be. It was with Norman Jean Roy and we had this Cher sign made for her. There was some talk about possibly being able to auction it off, but it was super fragile, so they had to move it out of the studio and they could only move it once. Otherwise it was going to have to be trashed. I said, 'No, no, no. Move it into this office!' It's a great show piece. It's a funny little thing to look at that is kind of ridiculous but also kind of fabulous at the same time."
Nothing beats the journalistic rush:
"The most fun is the climb up the mountain, not sitting on top of the mountain. This ties into the millennial generation—I could do a stand-up routine on millennials—but I have some great millennials and truly believe in them. They are going to be taking care of me when I'm old [laughs]. But everyone wants everything right now, and you can't blame them because it is a culture of instant gratification. I want to watch this show, I want to watch without commercials, I want this delivered to my door. With the swipe of a finger we forget that most of the fun and most of the learning and the stories that you get come from the struggle, they come from the climb up, from 'How did we end up with this great picture?' 'Oh, this happened and we didn't know what to do with that, with X, Y and Z.' I always believe there is so much fun to be had in hard work, you know?
"Even in your everyday life, there are funny stories from when your car broke down and what you were going to do—what seemed horrible in the moment becomes the joy afterwards. This is just how I live my life. I really believe it. The fun is in the collaborative, in the struggle, that's where I feel the stories and the magic happen. Like I always tell my assistants, 'Don't worry about sitting at the top, just enjoy the process.'"