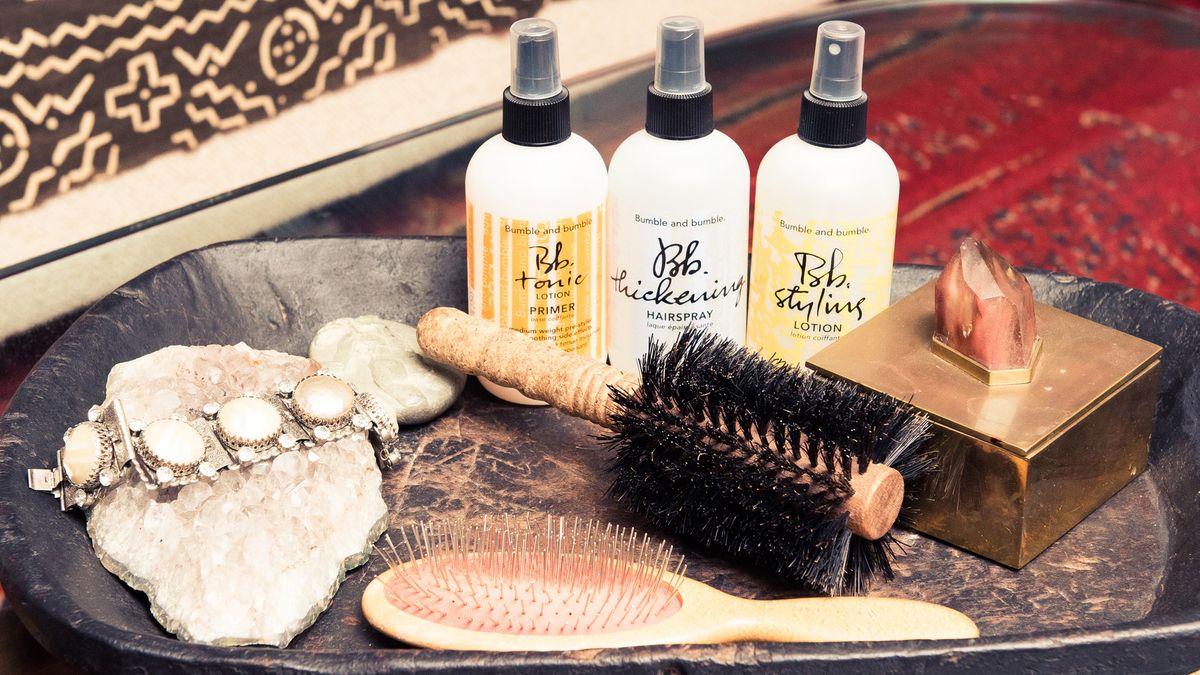 Hair
And that's how you get to work with everyone from Kristen Stewart to Marion Cotillard, Rosie Huntington-Whiteley and more.
Meagan Wilson
Adir Abergel. Where do we even begin? He works almost daily with the kind of A-list talent whose names wouldn't look out of place on an Oscar nominee list. His clients includes the likes of (deep breath) Marion Cotillard, Rooney Mara, Rosie Huntington-Whiteley, Reese Witherspoon (he was on set for our shoot with her), Kristen Stewart, Emilia Clarke... and on and on. He's been in the industry for nearly two decades (he's also worked with names like Nancy Reagan, Tina Turner and Chaka Khan, BTW). But if we're really being honest, it's not just his talent that's behind his success. After all, there are handfuls of hairstylists who know their way around a curling iron and some shears—what really separates Abergel from the rest has nothing to do with hair.
If you've met Adir, you know it's hard to summarize his whole...thing with just words. In a world that's usually shown to be this super cartoonish conflation of Ab Fab, Zoolander and Mean Girls (and occasionally actually *becomes* that), Adir is…the opposite. He's warm and welcoming (he promptly handed us stupidly delicious empanadas and ushered us to his Moroccan-tinged backyard oasis upon our arrival), and is the type of person you instantly want to open up to and share all your secrets with. Simultaneously, he knows how to have a good time—you know said backyard has seen a serious bash or two—and insisted we conduct our interview over glasses of wine (and tequila). He's human magic (not to mention one of our OG Coveteurs), and precisely who you want around to ground you on a weeks-long press tour that spans the globe, or when you're ready to celebrate a film finally wrapping. Is this how Kristen Stewart feels?
---
When he knew he wanted to work in beauty:
"For me, hair was always in my life. At nine years old I used to take all the girls from my neighborhood, do their hair, and then photograph them. The way that I made money is my mom's friends would come and pay me five dollars, and I would apply their hair color. I was ten, eleven, [and I did it] until I was twelve or thirteen."
How he first started working at a salon (by accident):
"My entire trajectory was dancing at the beginning of my life. Then I got injured and I couldn't dance anymore, and realized I would love to do hair. I contacted this guy who was the biggest hairdresser in L.A., Arthur Johns. He used to do everyone from Chaka Khan to Tina Turner, Olivia Newton-John, the Carpenters. I convinced him that I was going to be his assistant. So at 15 and a half, I started assisting him, and I did until I was 21 years old."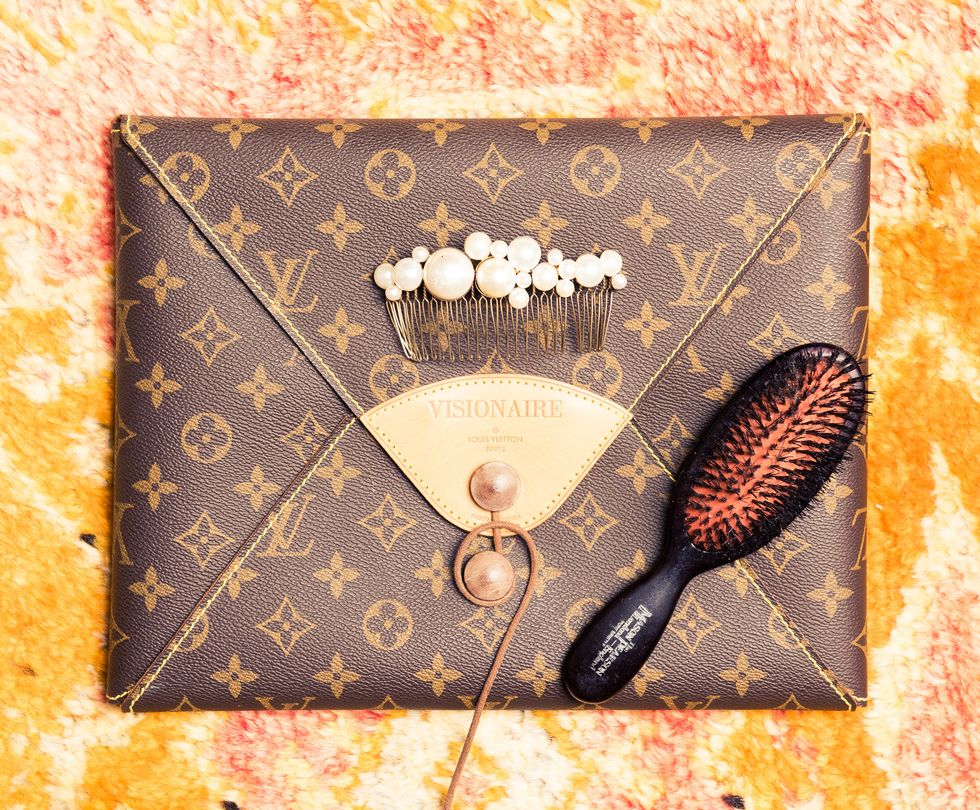 What he learned when he went freelance:
"I started going freelance and just slowly started building my clients. The world back then was very different. I didn't really know what celebrity was! Even when I was working with Tina Turner at the salon, Chaka Khan, and all of that, I never recognized them as celebrities. I didn't grow up like that. Everyone was a human being to me, and so when I left, all I knew was that I loved hair and I wanted to be more creative with it."
How he was low-key behind the hair of every amazing '00s music video:
"I wanted to work more in the music video world. At that point, it was all music videos and that's where all the creativity really came out of. I did videos for Missy Elliot, I did videos for TLC—[I did] 'No Scrubs,'—and Jewel."
How he started working with basically every Best Actress Oscar Winner:
"Then the music video world dwindled down, and I transitioned into [working with] actors. The first person I spent time with was Jennifer Garner during her Alias days. From there I was doing Rosario Dawson, Kristen Stewart, Marion Cotillard, Sandra Bullock, Reese Witherspoon..."
What makes him want to go to work every day:
"The thing that I'm most passionate about is the person that's in my chair and that relationship. Getting to know one another and really building confidence in women. I would say that is truly the thing that inspires me the most, and the woman sitting in my chair is my inspiration."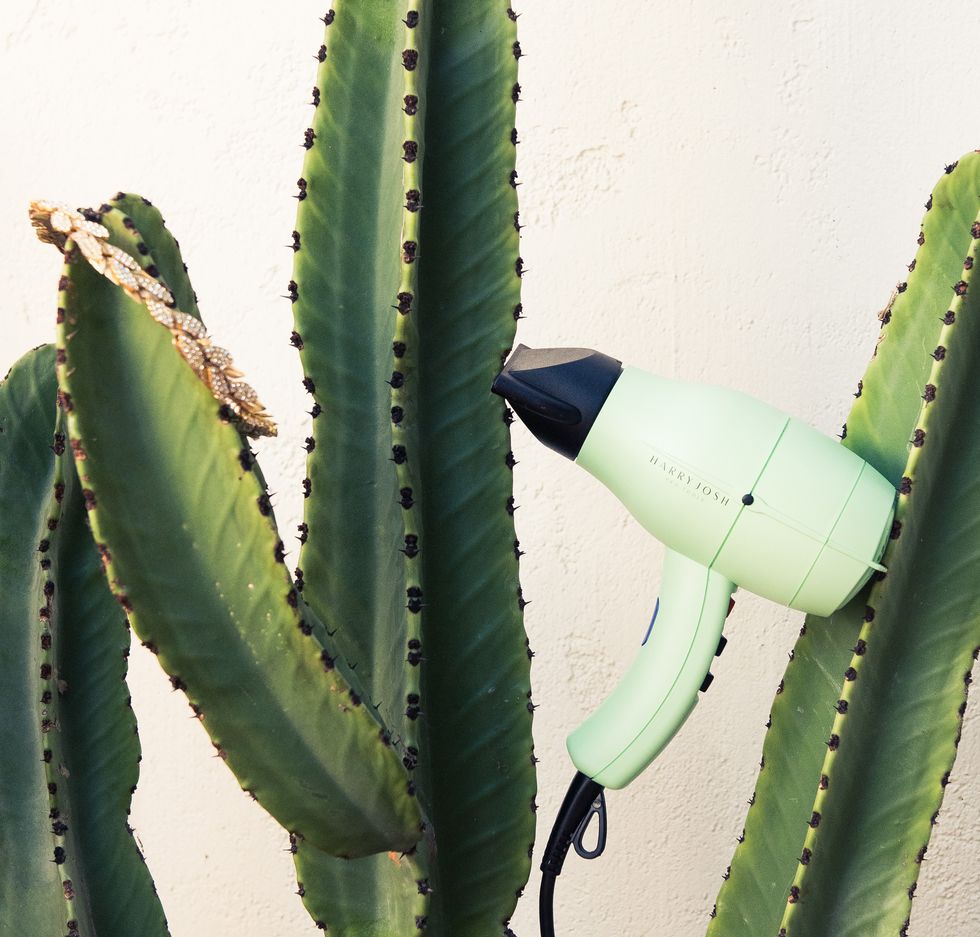 The secret to long-term relationships with clients:
"For me, hair is not about homogenizing everyone and doing the same style on everyone, but bringing out individuality. So if I'm doing Kristen Stewart, she's going to be a little bit more punk. I'm definitely going to leave a rougher texture in her hair, it's going to be deconstructed. Whereas when I'm doing Rooney Mara, I'm doing really sleek and tight, constructed, origami shapes, and all of these really intense, severe up-dos. And if I'm doing someone like Reese Witherspoon or Jen Garner, where it's beautiful and there's femininity, you're bringing out the luxury and all that beautiful shine in the hair. I'm really a hairdresser for every woman because I like to celebrate the individuality of a woman."
Where he finds inspiration:
"I tend to look at street style. When I'm traveling to Paris, I'll just sit in a café and look at all of the young kids, how they're wearing their hair, and how they're wearing their clothes, and how they're knotting something. It also comes down to speaking to the woman that's sitting in my chair, and then [looking at] the collaboration between the outfit, the hair, the makeup, telling an entire story."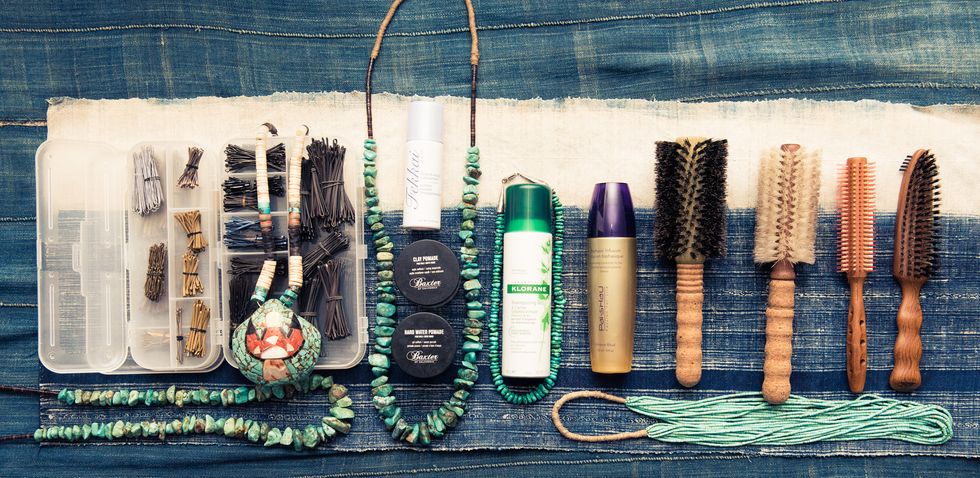 What you'll always find in his kit:
"I can't live without a volumizer. I use Kusco Murphy setting lotion all the time, Maximista by Oribe and Bumble & bumble Mousse. For a great blowout, I use this Leonor Greyl mousse I really love. For hairspray, I love everything from Frederic Fekkai Sheer Hold Hairspray to the Oribe Superfine Hairspray. I love all of the beautiful oils, from marula oil to Rodin oil."
What he *actually* did when he lost his kit:
"I was on a press tour with Jessica Biel, and we were traveling around the world and my kit did not show up the entire press tour! We had a premiere the day that we were landing, and we had an hour and a half to get her ready. She washed her hair, I ended up getting two bobby pins that were in someone's head, I used the blow-dryer from the hotel, I rough-dried the hair, and I made my own salt spray. I took some sea salt and water, and then I took some sugar and water, and I used the sugar and water as volumizer, and I used the sea salt spray as a texturizer. I ended up just wrapping the hair around the pins and then just rough-drying them."
How social media's changed the game:
"It's a little bit more stressful, because you're inundated with imagery, and you have to put out so much of your imagery, and so much of that is your publicity. Not only am I a hairdresser now, I'm also having to think about all of the images. It's really helped, in a lot of ways, to build awareness for myself. It connects people."
On getting recognized in airport from Instagram (!):
"My husband and I were on my way to Paris, and a kid came up to me in the airport, and was basically crying, like, 'You don't understand, I've been following you from the beginning, and you've totally inspired my career.' He was shaking. Those are the moments where you realize, 'Oh, this actually has an impact, the followers that I have actually mean something.'"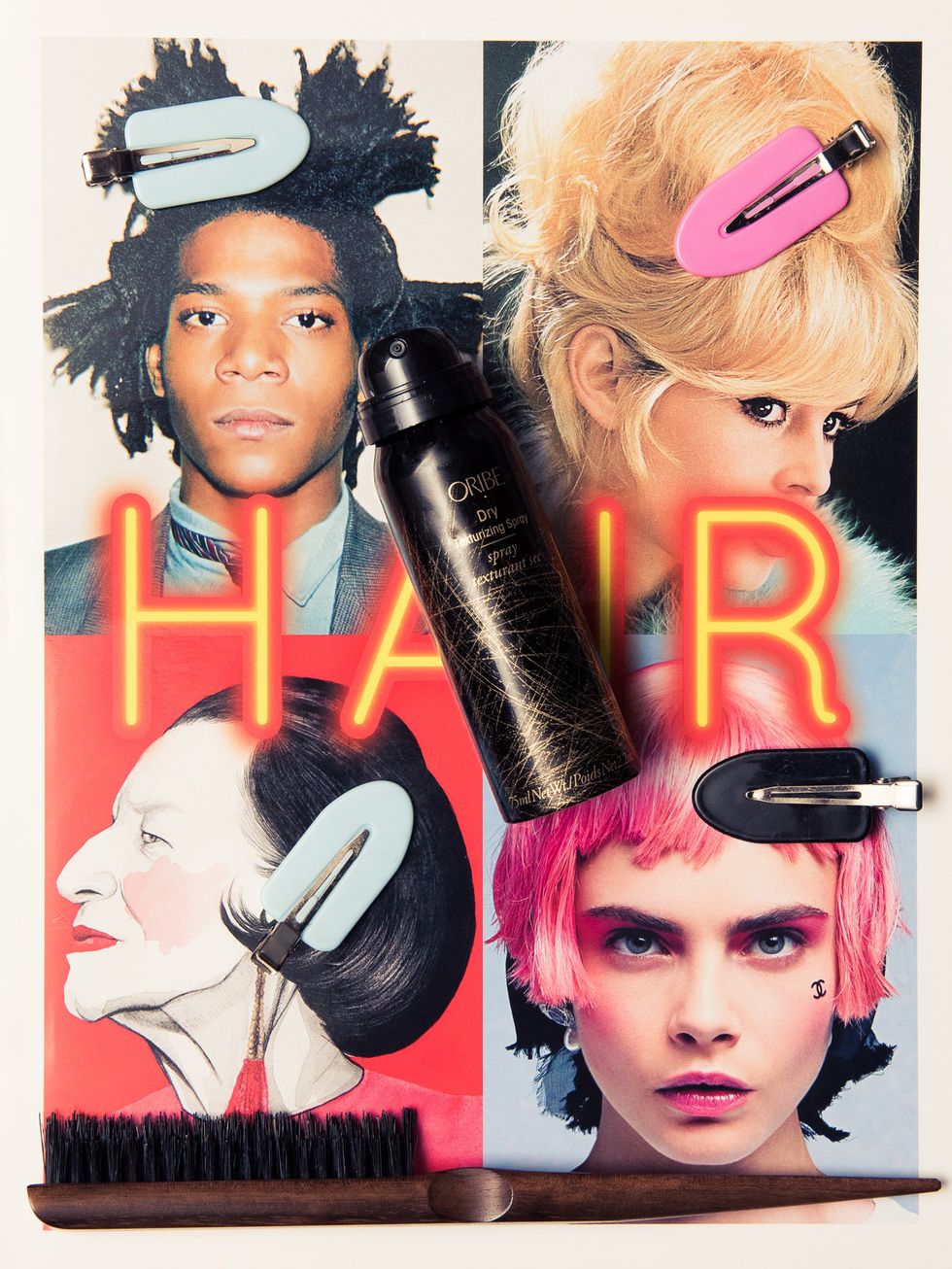 How discretion is part of his job description:
"I would say a huge, huge, huge, lesson was watching my mentor never repeat anything that anyone else had said to them. I don't think I have ever repeated anyone's secrets in my life. You're sitting down and I'm hearing a lot of things. I would never repeat those things because it's our intimate moment.
"I have known a lot of my clients for 15 years, and in 15 years, people evolve, things change, you have heartbreak. You're truly part of someone's life and you're in very stressful environments where you sometimes are jetlagged, you've been traveling the world, you're tired; I do hair, but at the same time I'm a friend. Being a freelance hairdresser traveling around the world, we have to do a lot more than just the hair."
How practice makes perfect:
"I've done some really ugly hairdos on people at the beginning of my career to get to a place where I have confidence, where I can act in 20 minutes and do something really incredible, and that's through practice."
His advice to aspiring hairstylists:
"My advice to other hairdressers is be passionate about what you do, love what you do, get obsessed with it, know your references, read the books, study the photographers, know the editors. Really inundate your whole being into what you're doing, because that is what's going to connect you to your craft, that's what's going to make you better at it."