How Tome is Staying True to the Brand 5 Years In
They're celebrating their BFD anniversary with a capsule collection with Saks and some hard-won time for reflection.
Designers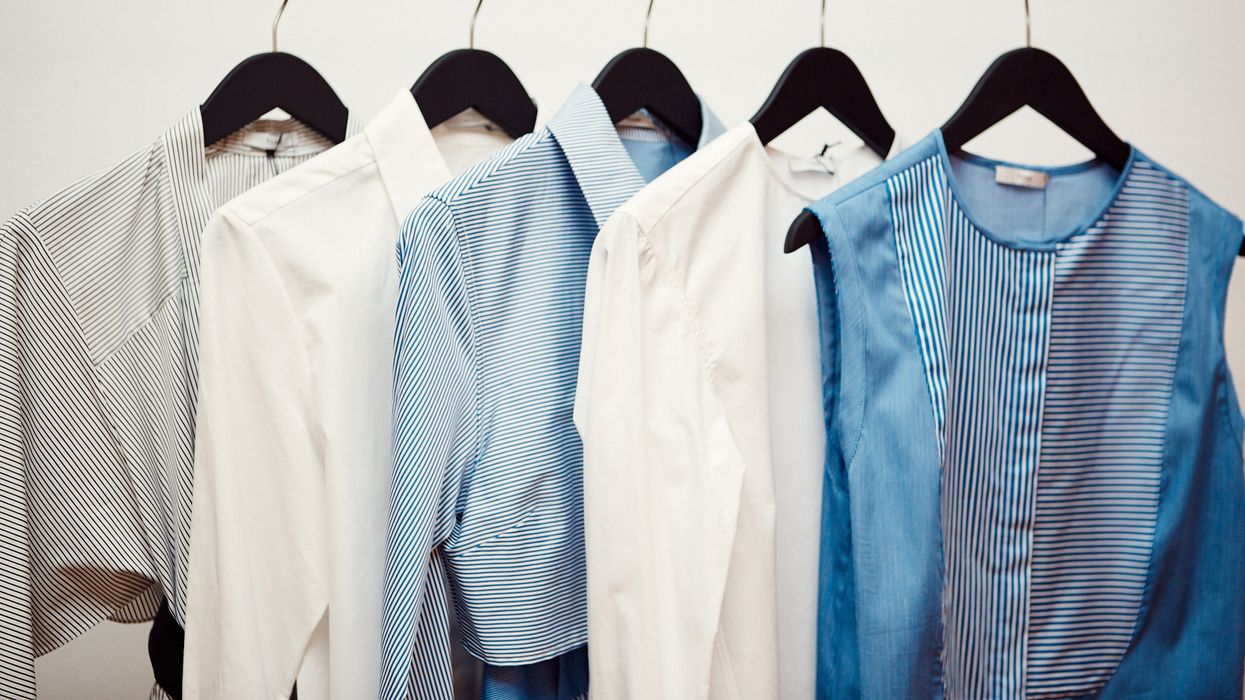 We know y'all know we just celebrated our five-year anniversary, but just for a moment, we're taking the party hat off our own heads and placing it firmly atop those of Ramon Martin and Ryan Lobo, the designers of one of our very favorite lines, Tome.

One of the best things about Tome (aside from the fact that literally everything they make is beautiful and wearable) is the degree to which they respect and think about women. Each collection for them starts with a female muse (or muses!) who's in the arts, and then they build the collection around them. And then there's their White Shirt Project, which is a limited collection of sustainably produced white shirts, whose proceeds benefit the Freedom For All Foundation, which combats slavery around the world. On top of that, Martin and Lobo are more interested in making consistently beautiful, desirable pieces than trendy of-the-moment looks—which, in this era of fast fashion, is extremely refreshing. Can you tell how much we love them?

And so, to celebrate their five-year anniversary, they've teamed up with Saks to release a capsule collection of some of their favorite pieces from those five years, just reimagined in a new way. Not surprisingly, we want all of it, and could imagine wearing every. single. piece. with every. single. item. in our wardrobes. To mark the occasion (the capsule is available at select Saks locations—including the brand-new downtown NYC store!—and on saks.com) we sat down with the designers in their NYC showroom to hear how they feel five years in.
---
What makes up their Saks capsule collection:
Ramon Martin: "The capsule coincides with five years of the brand. We're really lucky that we have a retail partner that wanted to create a capsule with us for their stores. It really speaks to the core of who we are and what we do, and what we've built our business on, which is shirting and shirt dresses. The Saks team has been amazing. They tuned in and said, 'Let's do this, let's see what's at the heart of Tome.' We took some of our classic shapes and stripes and added them together in a new way, and added the personal touch of the monogramming service for the season."
Ryan Lobo: "We started the monogramming idea earlier this year, and we always said that we're most excited about our clothes when someone's personality shows through—there's nothing more personal than a personalized shirt or item. It really speaks to the heart of what we're trying to do with clothes."
RM: "When we put this together we really thought about everything that Saks has bought over the years, and what these pieces can tie back with—not just from the current season that's in store, but everything they've bought in seasons past. It's a very considered way of doing things. It's not just about getting rid of the old and embracing the new."
What it was like to look back on five years, and how they decided what to celebrate with this collection:
RL: "[Looking back,] we instantly felt nostalgic, and then overwhelmed. Because we realized that after almost four collections a year, for five years, there's just so much. There's five pieces in the capsule collection, so to distill all we've done into 'the chosen' is no easy task. We just focused on things that are quintessentially Tome, like the banker stripes, the menswear for women, shirting (obviously), the dress we call the 'SJP' dress because she wore it and then everyone went crazy for it. Things that are part of the DNA and the heart of what we do."
Why staying true to yourself is more important than keeping fresh:
RL: "We're not 180-degree designers, we don't want to flip the switch every season. We grow much more organically, and much more slowly than that. And that speaks to this idea of seasonless clothing that's meant to last.
"We don't throw things away—we don't throw ideas away, we don't throw models, or muses, or people away. Each collection flows to the next. That's a much more interesting conversation for us than this dogmatic notion of newness."
RM: "It's so frustrating as a customer when you find something that works and you love, and you're like, 'Oh, I need five of these in my wardrobe,' and then the designer does a 180 and you can't buy it anymore. We've had customers from the beginning when we first set up, and we don't want to leave them behind. As we evolve we don't just get rid of the things that have worked over the years.
"It's really about how you combine those things in new ways and make them work with the new things we want to explore and add in. We approach the collections like our customers approach their wardrobes. You don't want to get rid of things, but you want to add things and mix them in new ways, so that you're always building on the things you love."
Where their inspiration comes from:
RL: "We listen to women throughout the whole [design] process. We're listening to the buyers, who are often women. We're listening to the customer—we speak to our audience through e-commerce as well. So if they want it, we'll bring it back. We're lucky to say that people hang on to our clothes and keep them in their wardrobes. We have friends who have pieces in their closet from the very first collection from spring 2012—and they still wear them. They ask when they can have a new version of it so they don't have to keep it just for special occasions. That's a really validating and gratifying thing to hear when you're sending things out into the world: that people care about them, and cherish them.
"We don't have that final satisfaction of wearing the clothes ourselves...that often [laughs]! So we have to listen to what women want from us. We can't just assume our way through the process."
How they're feeling at their five-year mark:
RL: "It's funny, we actually said to ourselves at the beginning of this that anybody who survives five years is our hero. So I guess we're each other's hero right now [laughs]! It's great, and we're really proud of what we've achieved. As Australians we characteristically are forced into not talking about how proud we are—it's like a forced humility about everything [laughs]—so it's hard for us to be reflective in a positive way, it's easy for us to be reflective about the things we would change."
RM: "And at the same time, as a designer you're always looking forward, not back. We're like, 'Oh, wow! Five years!' and then we're ready for the next thing."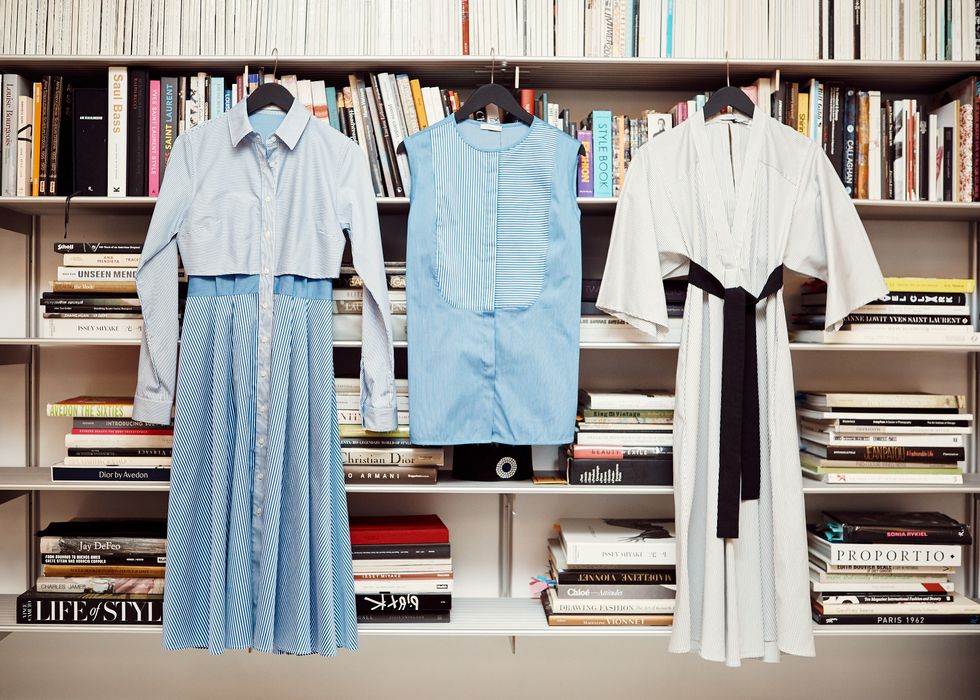 What the next five years have in store:
RM: "What we're discovering now is the possibility of what the next five years can be. Because the last five years was not what we expected when we set up the brand. It always feels like you're just at the beginning of something, or you've just begun to sink your teeth in, it doesn't even feel like we've scratched the surface of what we can do, so we're excited for that and to see just how much we're going to be able to do in the coming years.
"With the Saks capsule, we've had a taste of the pleasure of collaboration. I think we want to explore that more with different creatives as well. Our artists and muses soon become friends, and these are women that we love spending time with and that inspire us, and I think the next step is doing something together. These are things that we talk about with some of the artists we know and could be an exciting next step."
RL: "As twenty year-olds, thinking about these women and how much we love them, we never thought—for example, tonight we're going to a fellowship ceremony and the people being inducted are Yoko Ono, Mickalene Thomas, Judith Bernstein, Catherine Opie—literally people whose works are hanging in our studio. So that, to us, is more exciting than getting tickets to see a Beyoncé concert, or whatever floats someone else's boat. That's a thrill."
Their advice for aspiring designers:
RL: "My advice would be, as much as you should collect as much information as you can from people as you go, you should be equally as instinctive about what you do, and carve your own path."
RM: "Just be passionate. It's what's going to get you through everything. Buckle down, be committed, be excited."
RL: "Do what you care about, as opposed to what people suggest you do. Do what matters to you."