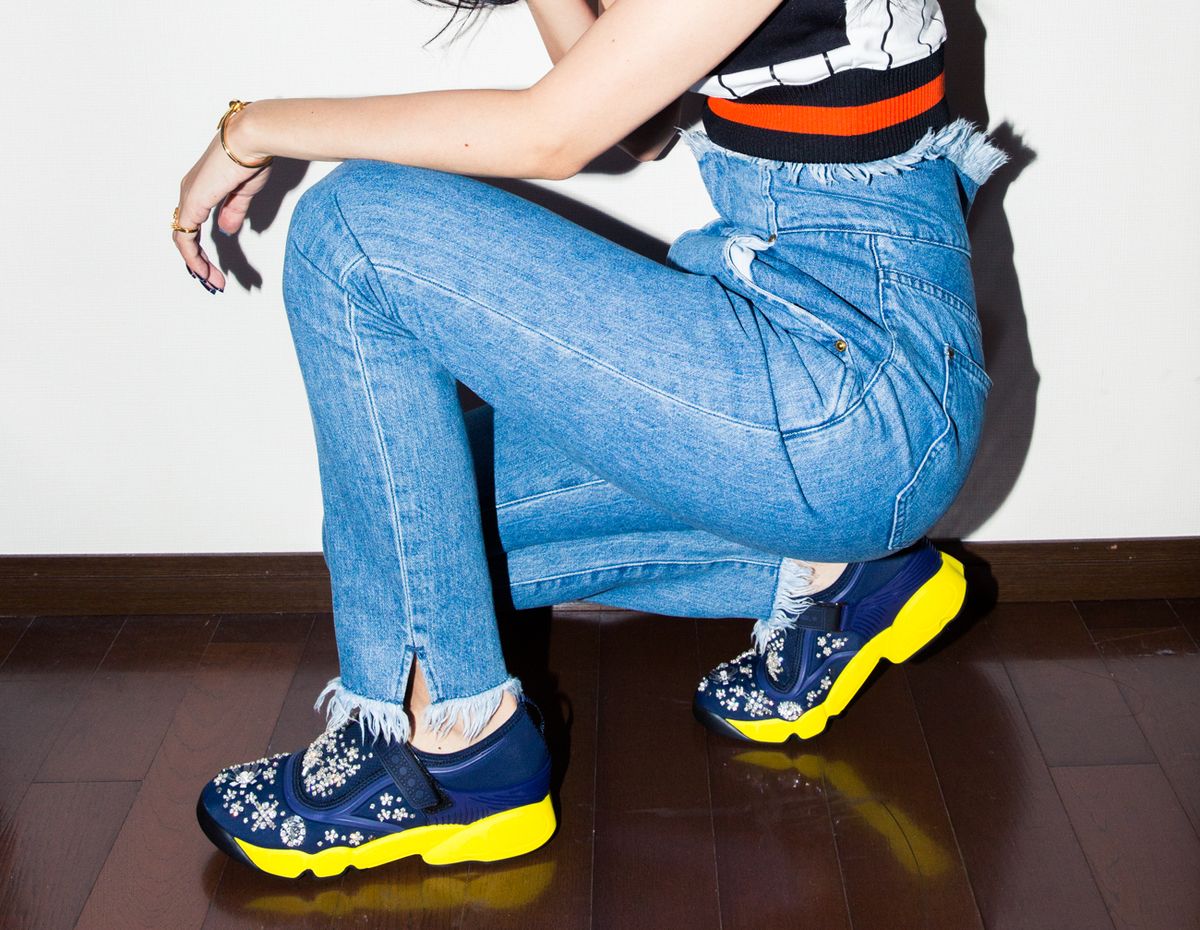 Trends
How To Wear Sneakers Like A Fashion Editor
Refinery29's Rachel Besser shows us how.
Long gone are the days when Carrie Bradshaw and her Jimmy Choos are every woman's fantasy footwear (thankfully). At this point where comfy, cozy, and effortless are #goals, there is no better time to fully embrace incorporating sneakers into your wardrobe. Between the multiple genderless clothing lines available, going for all-oversized everything, and plenty of shopping in the men's department, it's only natural that sneakers will soon become a staple in your everyday rotation if they haven't already.
Ed note: want more Rachel? Keep an eye out for her closet this week!
Refinery29's Fashion Market Editor, Rachel Besser, has been wearing sneakers her entire life and has quite the collection. From New York, Paris, and London Fashion Weeks to buying your wardrobe at the drugstore, you'll frequently see her in anything Air Max Plus to 95s to the pink fuzzy Vans and Nordstroms unisex collab shoe. And she wears them with everything from dresses to wide-leg white Fendi denim to track pants. We talked to Besser about how she shops, cops and effortlessly mixes her sneakers with her favorite looks without looking like a hypebeast in the fashion world, and how you easily can, too.
How she recommends wearing sneakers:
"Wear whatever sneaker you're feeling, regardless of your outfit. The sneaker doesn't have to match [your outfit], or have the 'right' cut. There shouldn't be rules when it comes to styling sneakers because they're low-key as it is."
How she shops for sneakers:
"I like to buy sneakers from re-sellers for sure. In my opinion, some of the best sneakers are the ones that aren't available at regular retailers, whether that's because they were a small-batch release, or because they're old school."
Thoughts on "hype" sneakers:
"An exclusive drop doesn't make me freak out, or make me feel like I have to wait in line, or hit up a connect. I actually like to stay away from huge releases. Like when the Adidas originals Yeezy Boost 350 first dropped, they didn't really have a brand identity behind them yet. A lot of people with varying styles just wanted them because they were hard to get, and because Kanye was attached to them. Since I wasn't obsessed with them aesthetically, I waited to see who would wear them, and how that would dictate what the brand for that specific shoe meant, and if that was something I wanted to buy into or not. It's kind of nice to let a sneaker marinate before you buy it. See what it turns into. If you sleep on a drop, you can still most likely cop them on eBay or down the line (I like eBay because you can haggle), if not right after the drop, then maybe in a year or so. If you don't want them in a year or so, and you're not willing to pay a little for the markup... you shouldn't have gotten them in the first place."
Her all-time favorite sneakers:
"To me, favorite sneaker of all time doesn't mean a hall-of-fame sneaker. It's more of a sentimental thing. So, personally, when I was 15 I bought myself my first pair of expensive sneakers at this rad little sneaker store in Spain. They were maroon-and-yellow SB dunk mids that I would hate now, but at the time I thought I struck gold. I think I still have them at my parents' house... You never know when they'll have a comeback. That was my favorite-sneaker-of-all-time moment, and what made me start saving to buy more sneaks that I could stunt in."
What she's wearing day-to-day:
"I've been wearing my Prada America's Cup sneakers a lot lately."
Tips to wear sneakers:
"Seriously, just put them on those feet of yours. Just get a pair that you personally love. Even Aesics and orthopedic shoes are back, so now is the time to get in on sneakers because the scope of what's cool is quite large. If that still feels intimidating, maybe start with an all-white pair. They tend to feel less scary to style."
Recommendations on personalizing your look:
"When it comes to feet, there are only so many ways to get super creative, so definitely utilize your socks. Whether that's by way of an added texture, a sheer component, a color, or a brand name (I rock a lot of NBA socks), the right sock can really make a sneaker live up to its potential."
Rae Witte is a Brooklyn-based writer who regularly contributes to Complex, Highsnobiety, and Dazed.