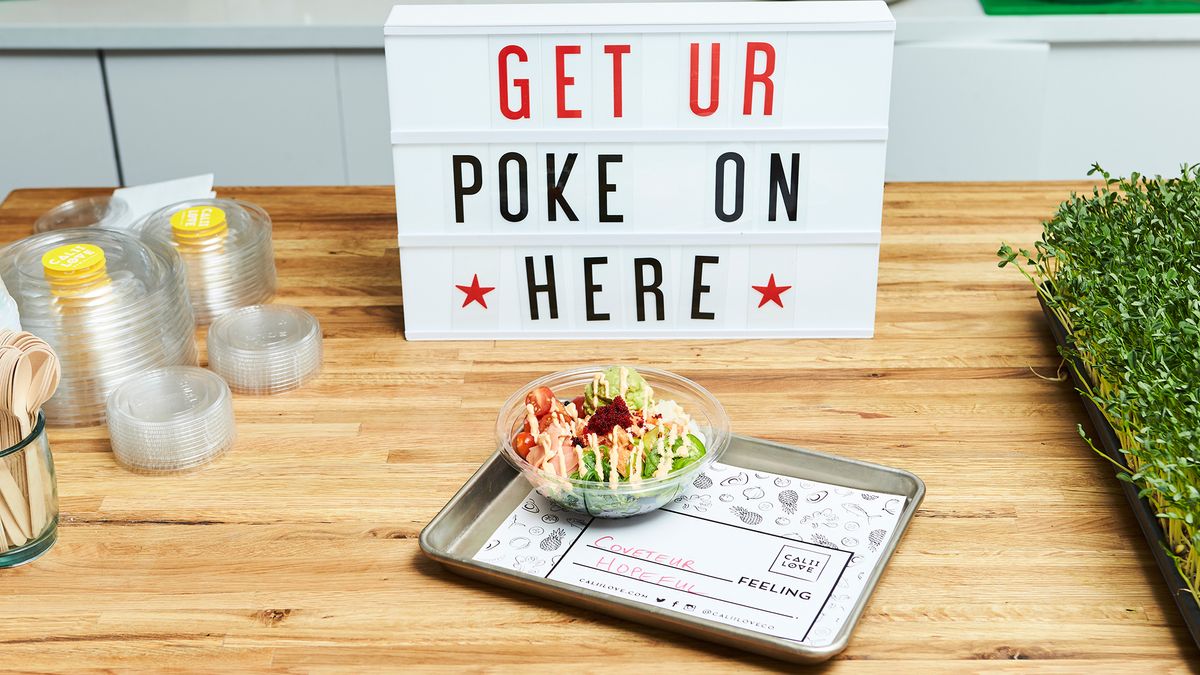 Food
The Ultimate Hawaiian Poké Lunch Recipe
If you like sushi, you're going to love this.
Jaclyn Locke
Most of the time, when we write about food (one of our very favorite topics), it's for completely selfish reasons. Today is no different because if you'd hung out at the Coveteur offices over the last few months, you'd understand the level of obsession around the Hawaiian poké bowl. We like to loosely describe the raw fish salad as a deconstructed sushi roll, but way more customizable. First you pick a base, typically rice (although for an ultra healthy version you can swap for leafy greens), then comes the protein (raw salmon, tuna, or mushrooms for a veggie option), and the garnishes (where things are a bit more to taste)—think wakame salad, sweet onions, and roe. So to satiate our almost-daily cravings, we turned to Toronto's newest poké spot, Calii Love, to show us how to make it at home.
---
Calii Love's Hawaiian-Style Salmon Poke

Yields 1 to 2 servings
Ingredients
1 tablespoon finely diced yellow onion
1/2 teaspoon sea salt (preferably Hawaiian)
1/4 to 1/2 tablespoon crushed red chili flakes (to taste)
1 avocado, puréed
2 tablespoons soy sauce
1 teaspoon sesame oil
1 lb fresh sushi-grade salmon, cut into 1/2-inch cubes
2 ounces cherry tomatoes
2 ounces pickled ginger
3 ounces wakame (seaweed salad)
Lightly toasted sesame seeds for garnish
Preparation
1. Combine the first eight (from the yellow onions to sesame oil) ingredients in a bowl and mix until well-combined to create the sauce.
2. Add cubed salmon and ikura (salmon roe) and mix gently to combine with the sauce.
3. Garnish with a sprinkling of sesame seeds.
4. Cover and refrigerate until ready to serve.
5. Layer steamed rice (recipe below) into a bowl, followed by salmon, goma wakame (seaweed salad), cherry tomatoes and pickled ginger.
Ingredients
3 cups sushi rice
3.5 cups water
1/2 cup rice vinegar
2 tablespoons white sugar
2 teaspoons fine salt
Preparation
1. Prepare the seasoning by heating the rice vinegar with sugar and salt in a pot or microwave. Stir until well dissolved.
2. Cook rice in a thick-bottom pot or rice cooker.
3. Once ready, transfer the rice to a wooden or plastic container. Do not cover.
4. While the rice is still hot, pour seasoning evenly over the rice and mix with a wooden spoon for 1-2 minutes.
5. Before using, let the rice cool down to room temperature by a window or fan, not in the refrigerator.